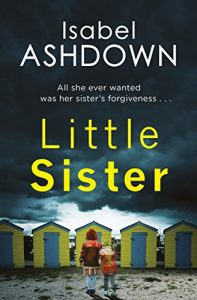 Little Sister by Isabel Ashdown @IsabelAshdown @TrapezeBooks #bookreview #LittleSisterBook
After sixteen years apart sisters Jessica and Emily are reunited. With the past now behind them, the warmth they once shared quickly returns and before long Jess has moved into Emily's comfortable island home. Life couldn't be better. But when baby Daisy disappears while in Jess's care, the perfect life Emily has so carefully built starts to fall apart.

Was Emily right to trust her sister after everything that happened before?
I love a book with an unreliable narrator but this one has two for the price of one!  Emily and her younger sister, Jess (only younger by less than a year) share the telling of the story, centred around the abduction of Emily's baby daughter, Daisy.  Although a lot of the focus is on trying to find Daisy, the real story is that of the sisters and the rivalry and jealousy between them.  I never really took to Emily but Jess I did like, and all the way through the book I never knew if what I was witnessing was the real Jess or not.  What is really clever about Ashdown's writing is that you just don't know who to trust or who to believe and some really tight plotting has taken place to keep up the momentum and the intrigue.
The book is set on the Isle of Wight.  I have holidayed there and loved it so having it as a setting was something that really appealed to me.  Being an island makes it a perfect place for a story like this as the enclosed feeling ramps up the tension.
The story starts with a prologue that sets the scene, or does it?  Only quite a way into the book does the prologue really fall into place and at that point there is a bombshell that I really didn't expect.  And the epilogue was just perfect.  Again it was unexpected but it made me feel quite satisfied.
To say any more would be to give away too much but what I can say is that this is a psychological novel of the highest order.  With twists and turns galore I had a lot of trouble putting it down.  I kept thinking I knew what had happened in the past and what was going to happen and then had my thoughts turned on their heads.
Little Sister is a fantastic look at family dynamics and the far-reaching consequences of secrets within those families.  I absolutely loved it!
Thank you to the publishers and New Books magazine for the review copy.  The ebook of Little Sister is published on 27th April 2017 and the paperback on 27th July 2017 by Trapeze.
Look out for my Author Meets Reviewer feature with Isabel Ashdown coming up on Nudge.