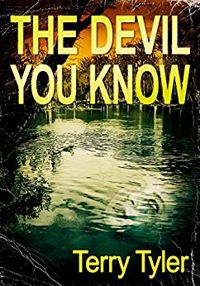 The Devil You Know by Terry Tyler @TerryTyler4 #bookreview #suspense #crimefiction
Every serial killer is someone's friend, spouse, lover or child….

Young women are being murdered in the Lincolnshire town of Lyndford, where five people fear someone close to them might be the monster the police are searching for.
One of them is right.

Juliet sees an expert's profile of the average serial killer and realises that her abusive husband, Paul, ticks all the boxes.

Maisie thinks her mum's new boyfriend seems too good to be true. Is she the only person who can see through Gary's friendly, sensitive façade?

Tamsin is besotted with her office crush, Jake. Then love turns to suspicion…

Steve is used to his childhood friend, Dan, being a loud mouthed Lothario with little respect for the truth. But is a new influence in his life leading him down a more sinister path?

Dorothy's beloved son, Orlando, is keeping a secret from her—a chilling discovery forces her to confront her worst fears.

THE DEVIL YOU KNOW is a character-driven psychological drama that will keep you guessing until the very end.
What I really liked about The Devil You Know is the different angle.  We often read books from the point of view of the killer, or the police who are investigating, and even the victims, but this book is about those people who live with someone they have suspicions about.  We've all seen it on Crimewatch when they ask if someone you know is behaving strangely.  And we've probably all remarked that somebody must know who did it.
The story starts off with Juliet.  She's married to a violent man and is pretty much downtrodden.  I liked her and kept thinking that if her husband was the Lyndford Strangler then at least she could be free of him.  And I also particularly liked Dorothy, the mother of Orlando who is not going to his metal-detecting class even though he tells her he is.
There are more thoroughly likeable characters in this book than there are unpleasant ones.  This makes it a very easy book to enjoy.  Each chapter is told from a different viewpoint as the Strangler keeps on killing and this kept up the momentum and the suspense really well.
The writing has a very human aspect and certainly makes you wonder what you would do in similar circumstances.  I felt for each and every one of the characters who suspected.  Maisie is a lovely teenager looking out for her mum and Steve is a kind man with a misguided loyalty to his oldest friend.
I was kept guessing all the way through.  I just never knew who the culprit was going to turn out to be.  It really could have been any of them and so in a way it wasn't a great surprise when I found out.  But there is a fab twist at the end which was totally unexpected and, without giving anything away, I thought it was the perfect way to deal with one of the characters.
This is a fantastic psychological crime novel.  I very much enjoyed Terry Tyler's style of writing, her astute characterisations and the clever storyline.
Thank you to Terry Tyler for the review copy.  The ebook of The Devil You Know is available now.