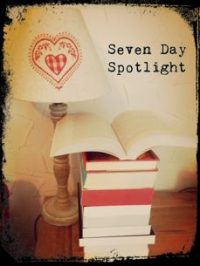 Seven Day Spotlight – week ending 18/12/16
This week I have reviewed A Suitable Lie by Michael J Malone (domestic noir at its best) and Jungle Rock by Caroline James (an entertaining novella).  I've also posted a Friday Book Share feature about one of my favourite books, Star Gazing by Linda Gillard and I've been lucky enough to be featured over on the Portobello Book Blog in a Blogger in the Spotlight feature.
Now to acquisitions and you will see that it's been a very restrained week for me.
Review books – first up is Erin Kelly's new one, He Said/She Said which sounds fab.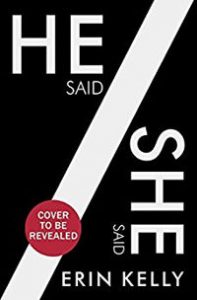 He said it was consensual.
The woman said nothing.
But Laura saw it…
… didn't she?

In the hushed aftermath of a total eclipse, Laura and Kit interrupt something awful.

Laura is sure about what happened. Later, in a panic, she tells a little white lie – and four lives are changed irreparably.

When the victim turns up on their doorstep, her gratitude spills into dangerous obsession. Laura and Kit decide to run – but Beth knows they have pledged to see every eclipse together. They will never be able to entirely escape her.

As the next eclipse draws near, Laura must confront the fallout from what she saw in the darkness. Confessing will cost her marriage; keeping the secret might prove fatal.

But all secrets, sooner or later, will come to light.
Then there is Highbridge by Phil Redmond, creator of Brookside which I used to love back in the day.  This one has been out for a while but popped up recently on Netgalley.
Three years ago, Janey Nolan was murdered in the centre of town.

Today, no one knows who did it.

Sick of waiting for the powers that be to rid the streets and school gates of dealers, druggies and parasites, Janey's brothers want to avenge her death. While Sean decides to explore the routes and corridors of political power, Joey chooses more direct action in and among the alleys and pathways of the neighbourhood itself.

But can the brothers find Janey's killer without bringing more danger to their town?

THIS IS JUST THE BEGINNING.

THIS IS HIGHBRIDGE.
Baby Doll by Hollie Overton, another one that has been out a while but popped up on Netgalley.
You've been hold captive in one room.

You've been mentally and physically abused every day since you were sixteen years old.

Then, one night, you realise your captor has left the door to your cell unlocked.

For the first time in eight years you're free.

This is what happens next.
The Fifth Letter by Nicola Moriarty
Joni, Trina, Deb and Eden.

Best friends since the first day of school. Best friends, they liked to say, forever.

But now they are in their thirties and real life – husbands, children, work – has got in the way. So, resurrecting their annual trip away, Joni has an idea, something to help them reconnect.

Each woman will write an anonymous letter, sharing with their friends the things that are really going on in their lives.

But as the confessions come tumbling out, Joni starts to feel the certainty of their decades-long friendships slip from her fingers.

Anger. Accusations. Desires. Deceit.

And then she finds another letter. One that was never supposed to be read. A fifth letter. Containing a secret so big that its writer had tried to destroy it. And now Joni is starting to wonder, did she ever really know her friends at all?
Kindle Bargain: Only the Dead by Malcolm Hollingdrake is a book I keep hearing a lot about and is only £1.99 at the moment.  I find that gas mask on the cover quite scary.
Meet DCI Cyril Bennett, a man with a passion for manners and efficiency, as well as an eye for the ladies. His partner, DS David Owen, is naïve and untidy but keen. Together they make a formidable pair.

When the discovery of two infants' bodies is made at a Teacher Training College, Bennett and Owen are given the case. Soon a number of suspects are identified.

At the same time, a killer is on the loose staging attacks using sulphur mustard.

Is there a link between the infants' bodies and the sulphur mustard attacks?

Do the answers lie in the past or the present?

Bennett and Owen must work together to bring to justice a killer with revenge on his mind.
And finally, straight from the author, The Devil You Know by Terry Tyler, which sounds right up my street.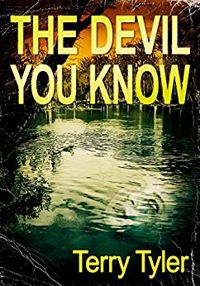 Every serial killer is someone's friend, spouse, lover or child….

Young women are being murdered in the Lincolnshire town of Lyndford, where five people fear someone close to them might be the monster the police are searching for.
One of them is right.

Juliet sees an expert's profile of the average serial killer and realises that her abusive husband, Paul, ticks all the boxes.

Maisie thinks her mum's new boyfriend seems too good to be true. Is she the only person who can see through Gary's friendly, sensitive façade?

Tamsin is besotted with her office crush, Jake. Then love turns to suspicion…

Steve is used to his childhood friend, Dan, being a loud mouthed Lothario with little respect for the truth. But is a new influence in his life leading him down a more sinister path?

Dorothy's beloved son, Orlando, is keeping a secret from her—a chilling discovery forces her to confront her worst fears.
And that's it for this week.  Anything I can tempt you with?