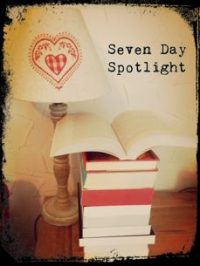 Seven Day Spotlight – week ending 13/11/16
This week I finished and reviewed The Prodigal Daughter by Prue Leith which I really enjoyed, not least because of all the descriptions of food.  I made a good start on My Sister's Bones by Nuala Ellwood.  It's full of twists and turns and I have no idea where it is going at the moment.
I also took part in the TBR Book Tag which was fun to do.
And now to this week's acquisitions:
From Netgalley I received A High Mortality of Doves by Kate Ellis which is set in that interesting time just after the end of WWI.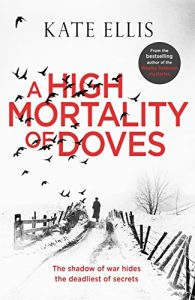 1919. The Derbyshire village of Wenfield is still reeling from four terrible years of war, and now, just when the village is coming to terms with the loss of so many of its sons, the brutal murder of a young girl shatters its hard-won tranquillity.

Myrtle Bligh is found stabbed and left in woodland, her mouth slit to accommodate a dead dove, a bird of peace.

During the war Myrtle worked as a volunteer nurse with Flora Winsmore, the local doctor's daughter, caring for badly wounded soldiers at the nearby big house, Tarnhey Court.

When two more women are found murdered in identical circumstances, Inspector Albert Lincoln is sent up from London, a man not only wounded in war but damaged in peace by the death of his young son and his cold, loveless marriage. Once in Wenfield, Albert begins to investigate the three recent murders and the Cartwright family of Tarnhey Court and their staff fall under suspicion as their hidden lives and secrets are uncovered.

With rumours of a ghostly soldier with a painted face being spotted near the scene of the murders, the village is thrown into a state of panic – and with the killer still on the loose, who will be the next to die at the hands of this vicious angel of death?
Am I Crazy by Joy Hindle was a Kindle freebie when I got it but is only 99p now.
No one understands…

Liam has ADHD.

It makes concentrating difficult, and school is even worse because none of his teachers understand his condition.

Well, one teacher in particular, Mrs. Crumb, doesn't get it at all.

She doesn't like Liam, and he doesn't like her, but it's Liam's mother who really detests Mrs. Crumb.

When Liam is tasked with writing his autobiography for school, he learns more about his father, the man who he assumed walked out on his mother when she got pregnant with him.

At first Liam's mother tells nice stories of how they met, but then she shuts down and Liam knows not to ask anymore.

According to Liam, someone with ADHD having a best friend is rare, but he has one.

Louise is in his class, and lives nearby.

They become inseparable, until tragedy strikes.

Liam's world is thrown into chaos when he discovers why Mrs. Crumb hates him, and that his father is not that far away after all…

Told as a memoir of what happened when he was in his Year 7, Liam's journey is one of hardship, perseverance, misunderstanding and grief.

Am I Crazy? is also a story of kindness, forgiveness and the power of love.
Lily's House by Cassandra Parkin is another at 99p for Kindle.
When Jen goes to her grandmother's house for the last time, she's determined not to dwell on the past. As a child, Jen adored Lily and suspected she might be a witch; but the spell was broken long ago, and now her death means there won't be any reconciliation.

Lily's gone, but the enchantments she wove and the secrets she kept still remain. In Lily's house, Jen and her daughter Marianne reluctantly confront the secrets of the past and present – and discover how dangerous we become when we're trying to protect the ones we love.
Another Netgalley acquisition, Lies by TM Logan, sounds like an excellent psychological thriller.
When Joe Lynch sees his wife enter an underground car park in the middle of the day, he's intrigued enough to follow her down.

And when he sees her in an angry altercation with family friend Ben, he naturally goes to her defence – and doesn't for a minute believe the accusations Ben makes against her.

It's pure misfortune that, just as the clash becomes violent and Ben is knocked unconscious, Joe's son has an asthma attack, and Joe has to take him to safety.

It's just that, when Joe comes back to check Ben's OK, he's disappeared.

And that's when Joe receives the first message . . .
A Life Between Us by Louise Walters was sent to me by the author herself after I mentioned to her on Twitter how much I had enjoyed her first book, Mrs Sinclair's Suitcase.
Tina Thornton's twin sister Meg died in a childhood accident, but for almost forty years Tina has secretly blamed herself for her sister's death. During a visit to her aging Uncle Edward and his sister Lucia, who both harbour dark secrets of their own, Tina makes a discovery that forces her to finally question her memories of the day her sister died. Who, if anyone, did kill Meg? As Tina finds the courage to face the past, she unravels the tangled family mysteries of her estranged parents, her beautiful French Aunt Simone, the fading, compassionate Uncle Edward, and above all, the cold, bitter Aunt Lucia, whose spectral presence casts a long shadow over them all. A Life Between Us is a beautifully evocative story of a family torn apart at the seams, which will appeal to readers who enjoy family sagas and modern-day mysteries.
Behind Her Eyes by Sarah Pinborough is another fantastic sounding psychological thriller, courtesy of Netgalley.
David and Adele seem like the ideal pair. He's a successful psychiatrist, she is his picture-perfect wife who adores him. But why is he so controlling? And why is she keeping things hidden?

As Louise, David's new secretary, is drawn into their world, she uncovers more puzzling questions than answers. The only thing that is crystal clear is that something in this marriage is very, very wrong. But Louise can't guess how wrong – and how far someone might go to protect their marriage's secrets.
Another Netgalley book, The Food of Love by Amanda Prowse, a very popular and current author.
Freya Braithwaite knows she is lucky. Nineteen years of marriage to a man who still warms her soul and two beautiful teenage daughters to show for it: confident Charlotte and thoughtful Lexi. Her home is filled with love and laughter.

But when Lexi's struggles with weight take control of her life, everything Freya once took for granted falls apart, leaving the whole family with a sense of helplessness that can only be confronted with understanding, unity and, above all, love.

In this compelling and heart-wrenching new work by bestselling author Amanda Prowse, one ordinary family tackles unexpected difficulties and discovers that love can find its way through life's darkest moments.
A Suitable Lie by Michael J Malone is getting lots of rave reviews so I was pleased to receive a copy from Nudge/New Books.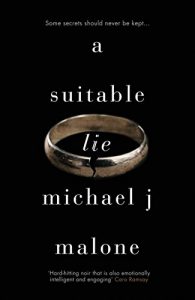 Some secrets should never be kept… Andy Boyd thinks he is the luckiest man alive. Widowed with a young child, after his wife dies in childbirth, he is certain that he will never again experience true love. Then he meets Anna. Feisty, fun and beautiful, she's his perfect match … and she loves his son like he is her own. When Andy ends up in the hospital on his wedding night, he receives his first clue that Anna is not all that she seems. Desperate for that happy-ever-after, he ignores it. A dangerous mistake that could cost him everything. A brave, deeply moving, page-turning psychological thriller, A Suitable Lie marks a stunning departure for one of Scotland's finest crime writers, exploring the lengths people will go to hide their deepest secrets, even if it kills them…
And last, but definitely not least, Christmas Days: 12 Stories and 12 Feasts for 12 Days by Jeanette Winterson.  I don't buy many printed books these days but I made an exception for this one. The cover is absolutely beautiful. I'm planning to read one story a day for the 12 days of Christmas.
Everybody loves a Christmas story. The tradition of the Twelve Days of Christmas is a tradition of celebration, sharing and giving. And what better way to do that than with a story?

Read these stories by the fire, in the snow, travelling home for the holidays. Give them to friends, wrap them up for someone you love, read them aloud, read them alone, read them together. Enjoy the season of peace and goodwill, mystery, and a little bit of magic.

There are ghosts here and jovial spirits. Chances at love and tricks with time.

There is frost and icicles, mistletoe and sledges. There's a cat and a dog and a solid silver frog. There's a Christmas cracker with a surprising gift inside.

There's a haunted house and a SnowMama. There are Yuletides and holly wreaths. Three Kings. And a merry little Christmas time.

And for the icing on the Christmas cake, there are twelve festive recipes from Yuletides past and present. Red cabbage, gravlax, turkey biryani, sherry trifle, Mrs Winterson's mince pies and more.
I'd love to hear thoughts and comments on any of these books.