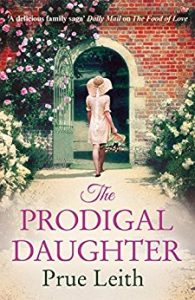 The Prodigal Daughter by Prue Leith
The Prodigal Daughter is the second in Prue Leith's Food of Love trilogy, which started with The Food of Love: Laura's Story. It can be read as a standalone but I think you would miss a lot of the background if you did that. This latest offering follows Laura's daughter, Angelica Angelotti, who is a budding chef in the late 1960s. We see her fall in love with a charming but unpredictable man, go to cookery school in Paris, work at The Savoy and then run a village inn whilst following a career in TV and food writing.
I am a fan of Prue Leith's writing, having read several of her other books. She doesn't always write about food but in this book she has written about what she knows best and I really enjoyed it. She clearly used her own experiences to write about Angelica's TV and food writing and I suspect that some of the things that happen in the book are Leith's own anecdotes or ones that she has heard about.
There are lots of descriptions of food, both menus and preparation, which was something that I relished (!) and I loved reading about the various restaurants that feature in the story.
It was lovely to meet the Angelottis and their extended family again. I thought Angelica was a feisty force of nature, although she did seem to be good at everything she turned her hand to! This is a book that I looked forward to picking up. It's a good old-fashioned family saga and I'm looking forward to the final book in the trilogy which will hopefully be published in the autumn of next year, particularly as this one ended very abruptly and left me hanging somewhat!
The Prodigal Daughter is an engaging read with some likeable characters and fascinating settings. I'd recommend it if you like reading books where food is almost a character in its own right.
With thanks to the publishers and Netgalley for the review copy.  The Prodigal Daughter was published on 15th September 2016 by Quercus.