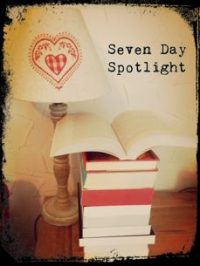 Seven Day Spotlight – week ending 08/01/17
As everything got back to normal after the Christmas period so did my time for reading (I surprised myself with my productivity!) but I'm pleased to still have managed to review two books this week.  The first was Everything You Told Me by Lucy Dawson which is an excellent psychological thriller.  The second was Miss Treadway and the Field of Stars by Miranda Emmerson which didn't quite hit the mark for me but I think it will do well.
Normal book acquisition service has also resumed and I have added a few to the pile this week.
Review books:
The Marsh King's Daughter by Karen Dionne
'I was born two years into my mother's captivity. She was three weeks shy of seventeen. If I had known then what I do now, things would have been a lot different. I would have been a lot more understanding of my mother. I wouldn't have adored my father.'

When the notorious child abductor known as the Marsh King escapes from a maximum security prison, Helena immediately suspects that she and her two young daughters are in danger.

No one, not even her husband, knows the truth about Helena's past: they don't know that she was born into captivity, that she had no contact with the outside world before the age of twelve – or that her father raised her to be a killer.

And they don't know that the Marsh King can survive and hunt in the wilderness better than anyone… except, perhaps his own daughter.
Autumn 2004
In Bampton, Derbyshire, Lena Fisher is arrested for suffocating her husband, Andrew.

Spring 2016
A year after Lena's release from prison, Andrew is found dead in a disused mortuary.

Who was the man Lena killed twelve years ago, and who committed the second murder? When Lena disappears, her sister, Kat, sets out to follow a trail of clues delivered by a mysterious teenage boy. Kat must uncover the truth – before there's another death . . .
Turn Towards the Sun by Emma Davies
Lizzie wants nothing more than to start over and put the past behind her. So when she is offered the chance to live and work at Rowan Hill, a beautiful country estate and bustling community of artists, it feels like a dream come true.

But soon after her arrival a series of accidents and misunderstandings begins to threaten the happiness and livelihoods of everyone at Rowan Hill. And when suspicion quickly falls on Lizzie, she discovers that the past is not so easily forgotten.

To keep the life she has just begun to build, Lizzie will have to race to uncover the truth before there are disastrous repercussions for everyone involved. In this heartwarming story of friendship, loss and love, the stakes are high but so are the rewards. If Lizzie can find a way to stay true to herself, she might have a chance at something she has always wanted: a place to call home.
The Secret Lives of the Amir Sisters by Nadiya Hussain
The four Amir sisters – Fatima, Farah, Bubblee and Mae – are the only young Muslims in the quaint English village of Wyvernage.

On the outside, despite not quite fitting in with their neighbours, the Amirs are happy. But on the inside, each sister is secretly struggling.

Fatima is trying to find out who she really is – and after fifteen attempts, finally pass her driving test. Farah is happy being a wife but longs to be a mother. Bubblee is determined to be an artist in London, away from family tradition, and Mae is coping with burgeoning Youtube stardom.

Yet when family tragedy strikes, it brings the Amir sisters closer together and forces them to learn more about life, love, faith and each other than they ever thought possible.
The Lie of the Land by Amanda Craig
Quentin and Lottie Bredin, like many modern couples, can't afford to divorce. Having lost their jobs in the recession, they can't afford to go on living in London; instead, they must downsize and move their three children to a house in a remote part of Devon. Arrogant and adulterous, Quentin can't understand why Lottie is so angry; devastated and humiliated, Lottie feels herself to have been intolerably wounded.

Mud, mice and quarrels are one thing – but why is their rent so low? What is the mystery surrounding their unappealing new home? The beauty of the landscape is ravishing, yet it conceals a dark side involving poverty, revenge, abuse and violence which will rise up to threaten them.

Sally Verity, happily married but unhappily childless knows a different side to country life, as both a Health Visitor and a sheep farmer's wife; and when Lottie's innocent teenage son Xan gets a zero-hours contract at a local pie factory, he sees yet another. At the end of their year, the lives of all will be changed for ever.

A suspenseful black comedy, this is a rich, compassionate and enthralling novel in its depiction of the English countryside, and the potentially lethal interplay between money and marriage.
The Missing Ones by Patricia Gibney
The hole they dug was not deep. A white flour bag encased the little body. Three small faces watched from the window, eyes black with terror.

The child in the middle spoke without turning his head. 'I wonder which one of us will be next?'

When a woman's body is discovered in a cathedral and hours later a young man is found hanging from a tree outside his home, Detective Lottie Parker is called in to lead the investigation. Both bodies have the same distinctive tattoo clumsily inscribed on their legs. It's clear the pair are connected, but how?

The trail leads Lottie to St Angela's, a former children's home, with a dark connection to her own family history. Suddenly the case just got personal.

As Lottie begins to link the current victims to unsolved murders decades old, two teenage boys go missing. She must close in on the killer before they strike again, but in doing so is she putting her own children in terrifying danger?

Lottie is about to come face to face with a twisted soul who has a very warped idea of justice.
Kindle Bargains:
The Winter Over by Matthew Iden was my Kindle First choice for January.
Each winter the crew at the Shackleton South Pole Research Facility faces nine months of isolation, round-the-clock darkness, and one of the most extreme climates on the planet. For thirty-something mechanical engineer Cass Jennings, Antarctica offers an opportunity to finally escape the guilt of her troubled past and to rebuild her life.

But the death of a colleague triggers a series of mysterious incidents that push Cass and the rest of the forty-four-person crew to the limits of their sanity and endurance. Confined and cut off from the outside world, will they work together or turn against one another? As the tension escalates, Cass must find the strength to survive not only a punishing landscape but also an unrelenting menace determined to destroy the station—and everyone in it.
So You Have Been Publicly Shamed by Jon Ronson puts the fear of God into me so I'm not sure why I find it an interesting subject!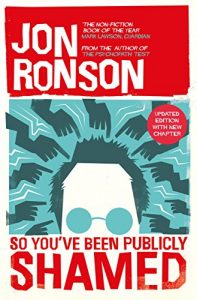 'It's about the terror, isn't it?'
'The terror of what?' I said.
'The terror of being found out.'

For the past three years, Jon Ronson has travelled the world meeting recipients of high-profile public shamings. The shamed are people like us – people who, say, made a joke on social media that came out badly, or made a mistake at work. Once their transgression is revealed, collective outrage circles with the force of a hurricane and the next thing they know they're being torn apart by an angry mob, jeered at, demonized, sometimes even fired from their job.

A great renaissance of public shaming is sweeping our land. Justice has been democratized. The silent majority are getting a voice. But what are we doing with our voice? We are mercilessly finding people's faults. We are defining the boundaries of normality by ruining the lives of those outside it. We are using shame as a form of social control.

Simultaneously powerful and hilarious in the way only Jon Ronson can be, So You've Been Publicly Shamed is a deeply honest book about modern life, full of eye-opening truths about the escalating war on human flaws – and the very scary part we all play in it.
The Sleeping Angel by Margarita Morris
Something is astir in Highgate Cemetery. The dead want justice and so do the living.

January 1870: Isabelle Hart has a secret. It lies buried in Highgate Cemetery, beside the statue of the sleeping angel. The enigmatic medium, Madeleine Fox, seems to offer Isabelle hope, but is it all a terrible lie?

March 1970: Strange happenings of a sinister nature are reported at Highgate Cemetery. Who or what is lurking amongst the gravestones? A teenager discovers an obsession that will consume him for the rest of his life.

July, present day: Lauren reluctantly participates in a séance only to discover that someone is trying to contact her from beyond the grave.

Tom doesn't believe that his father's death was an accident. He is determined to find his father's killer.

As Lauren uncovers Isabelle's story and Tom chases his father's murderer, everything points towards the sleeping angel, a Victorian statue in Highgate Cemetery. Lauren and Tom must discover the truth before the killer strikes again.
Gone Without a Trace by Mary Torjussen
No one ever disappears completely…

You leave for work one morning.

Another day in your normal life.

Until you come home to discover that your boyfriend has gone.
His belongings have disappeared.
He hasn't been at work for weeks.
It's as if he never existed.

But that's not possible, is it?

And there is worse still to come.

Because just as you are searching for him
someone is also watching you.
So what can I tempt you with?