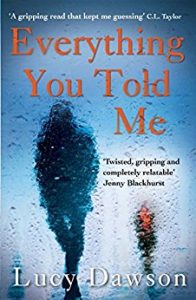 Everything You Told Me by Lucy Dawson @lucydawsonbooks @CorvusBooks
You went to bed at home, just like every other night.
You woke up in the back of a taxi, over 250 miles away.
You have no idea how you got there and no memory of the last ten hours.
You have no phone, no money; just a suicide note in your coat pocket, in your own writing.
You know you weren't planning to kill yourself.
Your family and friends think you are lying.

Someone knows exactly what happened to you.
But they're not telling…
Everything You Told Me is narrated by Sally Hilman, a woman with two young children.  She thought having the first, Chloe, was hard but when Theo came along, the child that doesn't sleep, she feels exhausted.  So when she wakes up 200 miles away and has no recollection of how she got there everybody is very worried about her.  But Sally knows there's more to it than that.
Right from page 1 this is a book which packs a punch and it left me guessing all the way to the end (although I had thoughts that weren't far from the mark).  Sally is what they call an unreliable narrator.  Can you trust what she says?  Can even she trust herself?  I thought the author portrayed Sally's confusion and bewilderment really well.  But what is really clever is how the author plants that confusion and bewilderment into the mind of the reader.  There were several key moments where I was left wondering whether Sally really was struggling to cope and trying to convince herself otherwise, or whether she was absolutely fine and it was everyone else who didn't believe her.
All the story takes place within a week or two but there's enough background story given to make sure we have a good sense of Sally's life, both past and present.  This all builds up to make us question everything that happens.  Like most psychological thrillers, it's a bit fantastical but there was also a hint of plausibility.  I quite liked Sally, despite her sometimes erratic behaviour and I did hope things would come good for her.
I raced through this book as I couldn't wait to find out whether Sally really did have suicidal thoughts and if not, then how did she end up in that taxi. The conclusion was a mixture of me thinking "oh, of course" and "gosh, I didn't expect that".  I thought this was a really excellent read and a look at how easily family life can implode.
Thank you to the publishers and Netgalley for the review copy.  Everything You Told Me is published on 5th January 2017 by Corvus.