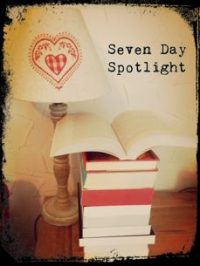 Seven Day Spotlight – week ending 04/12/16
This week I have finished and reviewed Hold Back the Stars by Katie Khan and Spring Fever by Emma Davies.  Whilst the former was not quite my cup of tea I do think it is going to be a big success, and I loved Spring Fever.
Now to this week's acquisitions, boosted by quite a few books on my wishlist becoming temptingly priced on Amazon.
Firstly, review books.
From Netgalley:
Sometimes I Lie by Alice Feeney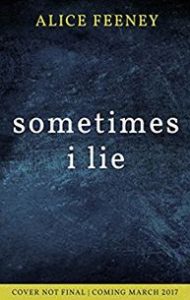 My name is Amber Reynolds. There are three things you should know about me:

1. I'm in a coma.
2. My husband doesn't love me anymore.
3. Sometimes I lie.

Unnerving, twisted and utterly compelling, you won't be able to put this new thriller down. Set to be the most talked about book in 2017, it's perfect for fans of Behind Closed Doors, The Girl on the Train and The Widow.
The perfect daughter. The perfect girlfriend. The perfect murder?

Jenna is given another shot at life when she receives a donor heart from a girl called Callie.Eternally grateful to Callie and her family, Jenna gets closer to them, but she soon discovers that Callie's perfect family is hiding some very dark secrets …

Callie's parents are grieving, yet Jenna knows they're only telling her half the story. Where is Callie's sister Sophie? She's been 'abroad' since her sister's death but something about her absence doesn't add up. And when Jenna meets Callie's boyfriend Nathan, she makes a shocking discovery.

Jenna knows that Callie didn't die in an accident. But how did she die? Jenna is determined to discover the truth but it could cost her everything; her loved ones, her sanity, even her life.
And from Amazon Vine:
The Heart's Invisible Furies by John Boyne, one of my favourite writers
Cyril Avery is not a real Avery or at least that's what his adoptive parents tell him. And he never will be. But if he isn't a real Avery, then who is he?

Born out of wedlock to a teenage girl cast out from her rural Irish community and adopted by a well-to-do if eccentric Dublin couple via the intervention of a hunchbacked Redemptorist nun, Cyril is adrift in the world, anchored only tenuously by his heartfelt friendship with the infinitely more glamourous and dangerous Julian Woodbead.

At the mercy of fortune and coincidence, he will spend a lifetime coming to know himself and where he came from – and over his three score years and ten, will struggle to discover an identity, a home, a country and much more.
Perfect Remains by Helen Field
On a remote Highland mountain, the body of Elaine Buxton is burning. All that will be left to identify the respected lawyer are her teeth and a fragment of clothing.

In the concealed back room of a house in Edinburgh, the real Elaine Buxton screams into the darkness.

Detective Inspector Luc Callanach has barely set foot in his new office when Elaine's missing persons case is escalated to a murder investigation. Having left behind a promising career at Interpol, he's eager to prove himself to his new team. But Edinburgh, he discovers, is a long way from Lyon, and Elaine's killer has covered his tracks with meticulous care.

It's not long before another successful woman is abducted from her doorstep, and Callanach finds himself in a race against the clock. Or so he believes … The real fate of the women will prove more twisted than he could have ever imagined.
A Dangerous Crossing by Rachel Rhys
It was a first class deception that would change her life forever

1939, Europe on the brink of war. Lily Shepherd leaves England on an ocean liner for Australia, escaping her life of drudgery for new horizons. She is instantly seduced by the world onboard: cocktails, black-tie balls and beautiful sunsets. Suddenly, Lily finds herself mingling with people who would otherwise never give her the time of day.

But soon she realizes her glamorous new friends are not what they seem. The rich and hedonistic Max and Eliza Campbell, mysterious and flirtatious Edward, and fascist George are all running away from tragedy and scandal even greater than her own.

By the time the ship docks, two passengers are dead, war has been declared, and life will never be the same again.
From the author, Jungle Rock by Caroline James
Handsome young chef Zach Docherty is feeling the heat. Following an exposé in a national newspaper, his fiancée Poppy Dunlop has broken their engagement. Heartbroken at the thought of life without Poppy, Zach drowns his sorrows and, when his agent suggests that Zach becomes a contestant in a reality TV show, Jungle Survival, he reluctantly agrees. Plunged deep in the jungle, into a bizarre mix of talent and trials, Zach meets glamour model Cleo Petra, and the cameras go crazy.
Will Zach survive and be crowned Jungle King? Or will his latest exploits push Poppy further away…
Kindle freebies (at the time I bought them):
Dawn French Bought My Lava Lamp by Lisbeth Foye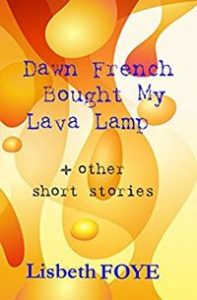 Seven short stories
1.Together Again – It's all about the choices we make – in this life, and the next…

2.History Of A Stick – The ongoing repercussions of a murder committed in 1899 are still felt today.

3.Dawn French Bought My Lava Lamp – It seems that this could be the solution to everything, or then again, perhaps not.

4.Peculiar Ways – An old man recounts his life and how fate forced him along the road to his destiny.

5.The Whistleblower – A coward hides under the protection of the Whistleblowing policy to cheat on a friend and comes a cropper.

6.The Story Of Thomas Cotter – This tale of a man who lives a mundane life, at least, that's what his new neighbours believe.

7.Luca – A brief encounter in the 21st century
No Kiss Goodbye by Janelle Harris
Kids change your life, they said.
Things will never be the same again, they said.
Isn't it wonderful, they said.
But no one knows what to say now.

My husband wants to take the kids.
My husband thinks the accident was my fault.
My husband thinks I need help.

But I think he wants rid of me.
Other Kindle bargains:
The Story of Before by Susan Stairs
I wonder today how no one else could see the bad thing coming. Not that I knew back then what the bad thing was; and if I had – if I'd known one of us was going to die – would there have been anything I could have done to prevent it? I play it all back in my mind, over and over. The clues were all there.

On New Year's Eve, eleven-year-old Ruth and her brother and sister sit at a bedroom window, watching the garden of their new Dublin home being covered in a thick blanket of snow. Ruth declares that a bad thing will happen in the coming year – she's sure of it. But she cannot see the outline of that thing. She cannot know that it will change their lives utterly, that the shape of their future will be carved into two parts; the before and the after.

Or that it will break her heart and her family.

This is Ruth's story. It is the story of before.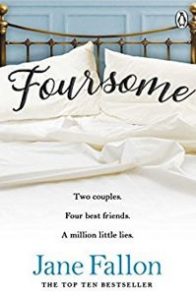 Rebecca, Daniel, Alex and Isabel have been best friends since university. Rebecca married Daniel, Alex married Isabel and, for twenty years, they have been inseparable. But all that is about to change…

When Alex walks out on Isabel, Rebecca thinks things can't get any worse. But then she finds out the reason why and she's left harbouring a secret she'd rather forget…

And there's more upheaval to come in Rebecca's life as her emaciated, neurotic, self-obsessed colleague, Lorna – her arch nemesis at work – suddenly becomes a regular feature in her social life.

Rebecca's once-happy foursome is now a distant memory and with hearts broken and friendships fractured, it seems that change is never a good thing. Or is it?
Gone Astray by Michelle Davies
When a Lesley Kinnock buys a lottery ticket on a whim, it changes her life more than she could have imagined . . .

Lesley and her husband Mack are the sudden winners of a £15 million EuroMillions jackpot. They move with their 15-year-old daughter Rosie to an exclusive gated estate in Buckinghamshire, leaving behind their ordinary lives – and friends – as they are catapulted into wealth beyond their wildest dreams.

But it soon turns into their darkest nightmare when, one beautiful spring afternoon, Lesley returns to their house to find it empty: their daughter Rosie is gone.

DC Maggie Neville is assigned to be Family Liaison Officer to Lesley and Mack, supporting them while quietly trying to investigate the family. And she has a crisis threatening her own life – a secret from the past that could shatter everything she's worked so hard to build.

As Lesley and Maggie desperately try to find Rosie, their fates hurtle together on a collision course that threatens to end in tragedy . . .

Money can't buy you happiness.
The truth could hurt more than a lie.
One moment really can change your life forever.
Learning to Speak American by Colette Dartford
Having suffered in silence since the tragic death of their young daughter, Lola and Duncan Drummond's last chance to rediscover their love for one another lies in an anniversary holiday to the gorgeous Napa Valley.

Unable to talk about what happened, Duncan reaches out to his wife the only way he knows how – he buys her a derelict house, the restoration of which might just restore their relationship.

As Lola works on the house she begins to realise the liberating power of letting go. But just as she begins to open up, Duncan's life begins to fall apart.

After all the heartbreak, can Lola and Duncan learn to love again?
A missing husband. Mysterious calls. And the biggest lie of them all.

Read with caution – you may never want to answer your phone again…

Will and Amanda Thorne are living the dream until, one day, their phone rings. Within 24 hours, Will is missing and Amanda's world is shattered.
Who was on the phone? Where has Will gone?

Amanda is determined to find her husband and is drawn into a world of drug dealers, criminal masterminds and broken promises.

As the truth becomes clearer, she has to face the terrible possibility that she may never have known her husband at all…
And two pre-orders:
Gooseberry Fool and Blackberry Way by Emma Davies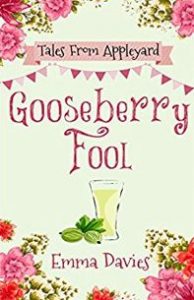 Jude Middleton is a very lucky man. He is also terrified of being poor…

Willow's strawberry fields are bursting with fruit and open for business. This heralds the start of a long hot summer, and for Willow the chance to reap the rewards of all her hard work; but Willow is not the only one with a project. It seems that her husband, Jude, has plans of his own and when Willow has a horrifying glimpse of the future he is proposing for their land, she knows she must come up with something to make him change his mind, and fast…

With help from her friends, Freya and Merry, Willow builds her love of all things fruity into a brilliant new business venture. But will she have enough time to get Willowberries Nectar off the ground before Jude sets the seal on the biggest deal of his life…?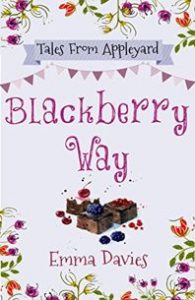 Laura Ashcombe wasn't always a forager, but no-one knows the lanes and fields around Much Marlowes like she does. As autumn settles in, her kitchen is filled with tempting blackberry and coconut cream truffles and the heady perfume of quinces; Laura can go for days without seeing a soul, and that's just the way she likes it…

For Freya and Sam the next few weeks will be the busiest of their year as the harvest comes to Appleyard – and also the happiest, as they plan for their wedding. If only Freya had more hours in the day… She's bursting with ideas for a harvest-inspired theme, but seriously short on help to make it happen. So when she spots the most beautiful floral decorations in the churchyard, she's desperate to find out who made them…

Stephen Henderson is finally beginning to get his life and business back on track, with his brother Sam's help, but when his life quite literally collides with Laura's it awakens in him something he's never felt before…

Suddenly, it seems, Laura is surrounded by people; but there's a reason she likes being on her own, and revisiting that past is something she couldn't bear to do. Can the warm and mellow season bring about a change in Laura, or will her heart always remain as cold as winter?
I'd love to hear thoughts on any of these.