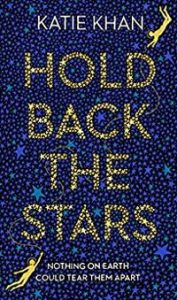 Hold Back the Stars by Katie Khan
'We're going to be fine.'
He looks around, but there's nothing out here: nothing but the bottomless black universe on their left, the Earth suspended in glorious technicolour to their right.

Carys and Max have ninety minutes of air left.
None of this was supposed to happen.
But, perhaps this doesn't need to be the end…
Adrift in space with nothing to hold on to but each other, Carys and Max can't help but look back at the well-ordered world they have left behind – at the rules they couldn't reconcile themselves to, and a life to which they might now never return.
For in a world where love is banned, what happens when you find it?

Hold Back the Stars is a love story like no other.
I will say right from the start that Hold Back the Stars is out of my comfort zone but I thought it sounded like a fascinating premise for a book.  Max and Carys are out in space, unable to get back to their ship with only 90 minutes of air left.  As they try to come up with ways to survive they look back on their lives and their love for each other.
This is a sci-fi romance and I thought it read, in tone, very much like a young adult novel.  There are references that made me think it's set not so very far into the future, but it's far enough away for our whole system of living to be a thing of the past.  Max and Carys are interesting and complex characters and I found their story to be quite readable but somehow I wasn't completely engaged by it.  It's supposed to be a grand love story between forbidden lovers but it didn't always feel like it and I think it lacked the depth of emotion that I needed to really be pulled in by their story.
I suspect this will be a book which divides opinion and it's already getting lots of publicity.  I would definitely say it will appeal to those who enjoy YA sci-fi, which isn't me, but don't get me wrong, I finished the book and found it an easy read and I think Katie Khan is a very promising new author.
With thanks to the publishers and lovereading.co.uk for the paper review copy and Netgalley for the digital review copy.  Hold Back the Stars is published by Doubleday on 26th January 2017.