Seven Day Spotlight – w/e 17/09/17
Hello and happy Sunday everybody. We went this week to see The Addams Family at the theatre which is great fun and was brilliantly done. I highly recommend it if it comes to a theatre near you.
This week on my blog:
I had a Meet the Author guest post from Ray Britain, author of The Last Thread.
I took part in the blog blitz for Thorne Moore's new book, Shadows. I posted a fab guest post from Thorne about bad guys and shared a short extract from the book as well.
I also took part in the blog tour for Deadly Burial by Jon Richter which is a crime novella with an unusual theme and I shared my review for that book.
One of my highlights of the year in books has to be Maria in the Moon by Louise Beech so I was over the moon (ahem!) to take part in the blog tour and share my review for such a wonderful read.
And finally, I posted an extract from Dreams of a Broken Man by Roger Bray which left me wondering what on earth was going to happen next to Hazel!
---
And now it's time to find out what was added to my TBR pile this week.
First up is An Almost Perfect Christmas by Nina Stibbe which sounds like a fun look at the madness that is Christmas.
"My mother is not a foodie. But for as long as I can remember, once a year, she becomes possessed of a profound and desperate need to serve up a perfect roast turkey. Faced with a walk into the village though, she might think 'oh, f*** it' and decide to get a frozen one from Bejams on the 23rd and leave it to defrost in the downstairs toilet for not quite 48 hours."

From perennially dry turkeys to Christmas pudding fires, from the round robin code of conduct to the risks and rewards of re-gifting, An Almost Perfect Christmas is an ode to the joy and insanity of the most wonderful time of the year.
Nobody Told Me: Poetry and Parenthood by Hollie McNish – I saw the author reading a section of this and thought it sounded really interesting.
There were many things that Hollie McNish didn't know before she was pregnant. How her family and friends would react; that Mr Whippy would be off the menu; how quickly ice can melt on a stomach. These were on top of the many other things she didn't know about babies: how to stand while holding one; how to do a poetry gig with your baby as a member of the audience; how drum'n'bass can make a great lullaby. And that's before you even start on toddlers: how to answer a question like 'is the world a jigsaw?'; dealing with a ten-hour train ride together; and how children can be caregivers too.

But Hollie learned.

And she's still learning, slowly. Nobody Told Me is a collection of poems and stories taken from Hollie's diaries; one person's thoughts on raising a child in modern Britain, of trying to become a parent in modern Britain, of sex, commercialism, feeding, gender and of finding secret places to scream once in a while.
Ours is the Winter by Laurie Ellingham – I find the Arctic a fascinating setting in books so this appealed straightaway.
Erica, Molly and Noah are embarking on the challenge of a lifetime, driving teams of Siberian huskies 260km across the frozen wilderness of the Arctic.

In sub zero temperatures the team sled across a terrain of snow, frozen lakes, and a gruelling mountain range, pushing them all to breaking point, and it isn't long before the cracks in their lives begin to show.

Erica has it all. A loving husband, a gorgeous one-year old daughter, and a high-flying career as a TV producer. But Erica has been living a double life, and as she nears her 40th birthday her lies threaten to come crashing down.

Molly used to have it all, but when her brother died, so did Molly's dream to become an Olympic champion. Now her days are filled with grief, anger, and picking up the pieces of her Mother's shattered life.

Noah has a darkness inside him, hounding him with nightmares from the mistakes of his past. He knows the challenge will be no escape, but try telling his girlfriend that.

Three Strangers are running away from their lives, but in the Arctic wilderness there is nowhere to hide!
A Cornish Gift by Fern Britton – kindly sent to me by Emilie Chambeyron from Harper Collins.
Christmas comes to the little village of Pendruggan and Cornwall's very own Mr Rochester, Piran Ambrose, discovers the true meaning of the festive season when even he can't resist the village celebrations. Meanwhile, best friends Penny and Helen are embarking on a stolen weekend of blissful indulgence but best laid plans often go awry and the ladies are in for a big surprise. In an idyllic cottage on the Cornish cliffs, the Appleby family and their bearded collie, Molly, are having a holiday to remember. It's time for a little Cornish escape for all.
Nothing Stays Buried by P.J Tracy – kindly sent to me by Jenny Platt from Michael Joseph after I won it through Steph's Book Blog.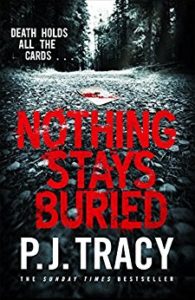 There's a search for a missing girl, and another for a serial killer: death holds all the cards . . .

When Marla Gustafson vanishes on her way to her father's farm, her car left empty on the side of an isolated country road, even Grace MacBride and her eccentric team of analysts are baffled.

Meanwhile in Minneapolis, homicide detectives Gino and Magozzi have a serial killer on their hands – two women murdered in cruelly similar fashion, with playing cards left on the bodies. But one card is an ace, the other is a four – it seems the killer is already two murders ahead.

With both teams stumped, it slowly becomes clear the evidence is inexplicably entangled. And they have little time to unravel the threads: a twisted killer is intent on playing out the deck…
Mr Dickens and His Carol by Samantha Silva – kindly sent to me by Ailsa from Allison & Busby and it was beautifully wrapped with the added pleasure of chocolate coins.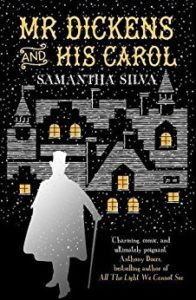 Charles Dickens should be looking forward to Christmas. But when his latest book, Martin Chuzzlewit, is a flop, his publishers give him an ultimatum. Either he writes a Christmas book in a month or they will call in his debts and he could lose everything. Dickens has no choice but to grudgingly accept…
The Great St Mary's Day Out by Jodi Taylor – I'm very behind with the St Mary's books but I'm hoping to catch up at some point and this is one of the short stories.
A Chronicle of St Mary's Short Story
Astonishingly, Dr Bairstow has declared a holiday. Even more astonishingly – he's paying for it.
Needless to say, there are strings attached. They have to record the 1601 performance of Hamlet, with Shakespeare himself in the role of the Ghost.
It doesn't go well, of course. With Dr Bairstow and Mrs Mack turning a simple visit to a street market into a public brawl, Professor Rapson inadvertently stowing away on a vessel bound for the New World, and Shakespeare himself going up in flames, it would seem that Max, of all people, is the only one actually completing the assignment.
A Thousand Paper Birds by Tor Udall – I have heard so many good things about this one.
After the sudden death of his wife, Audrey, Jonah sits on a bench in Kew Gardens, trying to reassemble the shattered pieces of his life.

Chloe, shaven-headed and abrasive, finds solace in the origami she meticulously folds. But when she meets Jonah, her carefully constructed defences threaten to fall.

Milly, a child quick to laugh, freely roams Kew, finding beauty everywhere she goes. But where is her mother and where does she go when the gardens are closed?

Harry's purpose is to save plants from extinction. Quiet and enigmatic, he longs for something – or someone – who will root him more firmly to the earth.

Audrey links these strangers together. As the mystery of her death unravels, the characters journey through the seasons to learn that stories, like paper, can be refolded and reformed. Haunted by songs and origami birds, this novel is a love letter to a garden and a hymn to lost things.
Away for Christmas by Jan Ruth – I couldn't resist this novella about Christmas and bookshops.
Jonathan Jones has written a novel. Losing his job a few days before
Christmas means the pressure is on for his book to become a
bestseller, but when his partner drops her own bombshell, the festive
holiday looks set to be a disaster. When he's bequeathed a failing bookshop in their seaside town, it seems that some of his prayers have been answered, but his publishing company turn out to be not what they seem, and when his ex-wife suddenly declares her romantic intent, another Christmas looks set to
be complicated. Is everything lost, or can the true meaning of words, a dog called Frodo, and the sheer magic of Christmas be enough to save Jonathan's
book, and his skin?
It Was You by Jo Platt – the book group in this one was what appealed to me most of all.
When life falls apart, friendship will keep you together

Alice Waites has been happily single for almost two years.

When her close friends in The Short Book Group gently question her current distinct lack of interest in men, she accepts that maybe it is time to deal with the past and open herself up to new possibilities.

Oh yes, the time has come to go dating again.

However, things soon unravel for Alice as she uncovers the secret heartache and hopes of those around her. And her most surprising discovery is the life-changing truth which she has kept hidden, even from herself…
I'd love to hear thoughts on these books. Have you read them yet? Do you want to read them? Have any gone on your wish list? Thanks for reading!