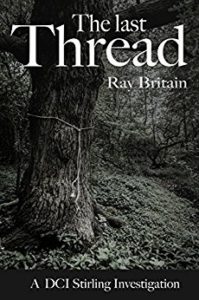 #guestpost – The Last Thread by Ray Britain @ray_britain #CrimeFiction
I'm very pleased today to be posting a guest post from Ray Britain, the author of The Last Thread. Here's what it's about:

Accused of pushing a boy to his death in a failed suicide intervention, DCI Doug Stirling is suspended from duty. Attacked in the media and haunted by the boy's smile as he let go of Stirling's hand, he must look on helplessly as an incompetent colleague intent on destroying him investigates the boy's death, supported by the vindictive Deputy Chief Constable, McDonald. Weeks later, an anonymous call leads the police to a remote location and the discovery of a burnt out car containing the body of an unidentified man who has been savagely murdered. Short of experienced senior investigators, ACC Steph Tanner has no choice but to take a professional risk. Throwing Stirling the lifeline he needs to restore his reputation, Tanner appoints him as SIO to lead the investigation. But with no witnesses, no forensic evidence and more theories than investigators, Stirling's investigation has far too many 'loose threads' as he uncovers a complex, interwoven history of deception, betrayal and sadistic relationships. Was the victim connected to the crime scene? Is the murder as complex as it appears? Or is there a simpler explanation?
Still traumatised by the boy's death and with time the enemy, does Stirling still have what it takes to bring the killer, or killers, to justice before McDonald intervenes? Things are already difficult enough when DC Helen Williams joins the investigation, a determined woman who seems intent on rekindling their past relationship. And is Ayesha, the beautiful lawyer Stirling has grown fond of, connected to the murder somehow?
Now over to Ray for an introduction to himself and his background.
---

About the Author
Thank you Nicola for allowing me to introduce myself in your excellent blog.

My debut novel, 'The Last Thread' draws on my 30-year career as an investigator, culminating in being a Senior Investigating Officer (SIO). As an SIO I led complex investigations which occasionally engaged with national, sensitive arrangements and the Official Secrets Act still applies. So, for personal and family security, I use a pen name as some of the criminals I secured convictions against are not nice people and, for 15 years, I was also a hostage and crisis intervention negotiator, attending firearms incidents and numerous suicide interventions, not all which ended happily.

Why did I write this book? It was an unfulfilled ambition for many years but with a demanding career and a busy family life, I could only turn my mind to it recently. I have long been frustrated by the frequently inaccurate representation in television dramas of crime investigation where every technology appears to be immediately available. Adopting the maxim of "stick with what you know about" I decided to put my money where my mouth is and have a go. I sat down and wrote, and wrote, and wrote!

Two winters later and a lot of painful proof reading and editing, here I am, placing myself at the mercy of my readers. Am I nervous? You bet. I've faced angry men armed with guns and knives but this is more frightening!

Is Doug Stirling autobiographical? Apart from drawing on memories of my Father, no. Doug Stirling is a thoughtful, reflective professional who is notoriously private with an intriguing, untold back story. He expects his people to work hard but works harder still. Stirling is easily drawn to intelligent, interesting women which causes complications when his private life conflicts with his professional responsibilities. The story has strong female characters, some of whom are frustrated and intrigued by his reserve and avoidance of an emotional commitment.

All my characters are drawn from my imagination but they are informed by my experiences working alongside many wonderful professionals over the years. The story is authentic too in that it is informed by the realities of leading investigations in a cash strapped public service.

My next DCI Stirling story is scoped and underway with the intention of publication in 2018.

Apart from reading for pleasure, naturally, my interests include mountain walking, theatre, sailing, rugby and Dad dancing just to embarrass my kids!
Thank you for such an interesting post, Ray. I wish you all the best with The Last Thread.
If you like the sound of it then you can get the ebook here.