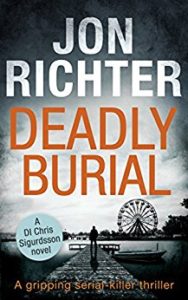 #blogtour – Deadly Burial by Jon Richter @richterwrites @NeverlandBT #bookreview #giveaway #CrimeFiction
Welcome to my stop on the blog tour for Deadly Burial by Jon Richter. I'll be sharing my review with you and there's also a fabulous giveaway running at the moment, but first here's what the book is about:

When DI Chris Sigurdsson is assigned a grisly murder case on remote Salvation Island, he knows that it might be his strangest yet.

A forgotten wrestling star of the 1980s has been poisoned whilst in the ring, and amidst the slippery lies of his dangerous opponents, unravelling the victim's murky past is almost impossible.

And as a storm threatens to cut Salvation Island off from the mainland, the race is on for Sigurdsson to find the ruthless killer before he strikes again…
---
Deadly Burial would probably be termed a novella as it has the equivalent of 149 pages but it felt like a longer read because it has so much packed into it. DI Chris Sigurdsson is sent to a remote island called Salvation to investigate the (possibly) mysterious death of a professional wrestler and a series of unusual and interesting things happen to him during his time there.
I'm not a fan of wrestling but did actually find myself being drawn into the whole theatre of it. However, the main reason I chose to read this book was the setting. I love reading about island life and especially remote ones. Salvation is a quite bleak and desolate sort of place and yet this huge wrestling event takes place there. There's also the added interest of the massive rabbit colony that lives there.
I liked Chris a lot. He has his troubles but he's hugely likable. And the officer he is sent to Salvation to help is also a great character. Carin Mason is prickly and feisty but she and Sigurdsson end up forming a great alliance.
This is quite a hard-hitting thriller. No punches are pulled. Along with the story of the two detectives trying to work out whether the wrestler, Vic Valiant, was murdered or not we are treated to sections from Vic's memoirs. It makes for quite an unusual and unique read and I thought it was very well done.
As this book is billed as a DI Chris Sigurdsson novel and it's a debut I'm guessing the author has more in store for readers where Chris is concerned. I'm not sure, given the ending (which I won't reveal) how that is going to work so I shall be interested to see what Jon Richter comes up with next but I hope it's as eclectic a read as this one is.
With thanks to HQ Digital and Neverland Blog Tours for the review copy and the place on the blog tour. Deadly Burial is available now in ebook.
---

If you like the sound of Deadly Burial then here's your chance to win an ebook copy of your very own.
---
And don't forget to check out the other blogs taking part in the tour.
---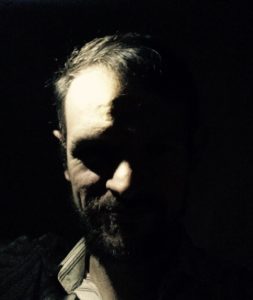 Jon Richter lives in London and spends most of his time hiding in the guise of his sinister alter ego, an accountant called Dave.  When he isn't counting beans, he is a self-confessed nerd who loves books, films and video games – basically any way to tell a good story.  Jon writes whenever he can and hopes to bring you more disturbing stories in the very near future.  If you want to chat to him about this, or about anything at all, you can find him on Twitter or at his Facebook page.