Seven Day Spotlight – w/e 04/06/17
This week on my blog I had a lovely guest post from Morven-May MacCallum about her debut novel, Finding Joy, and about living with Lyme Disease. I also had a great guest post from Rachel Amphlett about her favourite things as part of the blog tour for her third Kay Hunter novel, One to Watch. And I posted a review of The Man in the Needlecord Jacket by Linda MacDonald, a book which I loved.
My acquisitions have thankfully been a bit more restrained this week.
Finding Alison by Deirdre Eustace – currently only 99p and recommended by lovely Joanne at Portobello Book Blog.
Grief and guilt. Love and resentment. A community divided.

No one in Carniskey has ever truly understood what led Sean Delaney, a seasoned local fisherman, to risk his life in a high storm in the dead of night. Now, three years on from that tragic night, his wife Alison is still struggling with her unresolved grief and increasing financial worries.

After three difficult years, Alison has grown distant from her daughter and estranged from her friends and fellow villagers, particularly her best friend Kathleen who harbours a deeply guarded secret of her own. Isolated by its stunning yet often cruel surroundings, this is a community used to looking after its own but the arrival of an outsider, artist and lifelong nomad, William offers Alison a new perspective on life and love that threatens to unearth the mysteries of the past.
The next three I bought because of enjoying The Man in the Needlecord Jacket so much.
Meeting Lydia by Linda MacDonald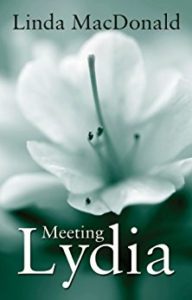 Now 46, when Marianne finds her charming husband in the kitchen talking to the glamorous Charmaine, her childhood insecurities resurface and their once-happy marriage begins to slide. Teenage daughter Holly persuades her to join Friends Reunited, which results in both fearful and nostalgic memories of prep school as Marianne wonders what has become of the bullies and of Edward Harvey. Frantic to repair her marriage, yet rendered snappy and temperamental by her plummeting hormones, her attempts towards reconciliation fail. The answer to all her problems could lie in finding Edward again… But what would happen if she found what she seeks? Meeting Lydia is a book about childhood bullying, midlife crises, obsession, jealousy and the ever-growing trend of internet relationships. It will appeal to fans of adult fiction and those interested in the dynamics and psychology of relationships. Author Linda is inspired by Margaret Atwood, Fay Weldon and David Lodge.
A Meeting of a Different Kind by Linda MacDonald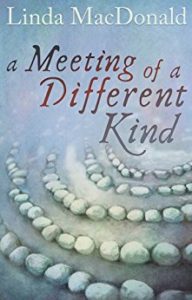 When archaeologist Edward Harvey's wife Felicity inherits almost a million, she gives up her job, buys a restaurant and, as a devotee of Hugh Fernley-Whittingstall, starts turning their home into a small eco-farm. Edward is not happy, not least because she seems to be losing interest in him. Taryn is a borderline manic-depressive, a scheming minx, a seductress and user of men. Edward and Taryn don't know each other but they both know Marianne. To Edward, Marianne is a former classmate who sends him crazy emails. She is Taryn's best friend, and when Marianne meets Edward, she tells Taryn how wonderful he is and that he is not the philandering type. Taryn sees a challenge and concocts a devious plan to meet him during a series of lectures he is giving at the British Museum. When Edward and Taryn's paths cross, questions of friendship, loyalty and betrayal are played out against a backdrop of mental fragility and the destabilising effects of a large inheritance… Set in Broadclyst and Beckenham, with a chapter on the Isles of Scilly, A Meeting of a Different Kind is the stand-alone sequel to Meeting Lydia, continuing the story from the perspectives of two very different characters. Like its prequel, it will appeal to fans of adult fiction, especially those interested in the psychology of relationships.
The Alone Alternative by Linda MacDonald
Former classmates Edward and Marianne, now fifty-five, have experienced a turbulent few years having lost contact with each other and suffered painful disruption to their home lives. Reunited again, this time through Twitter, they set about a search for personal fulfilment, but once again there are obstacles in the way – not least in the form of twice-widowed Jessica, Edward's neighbour, who threatens to destroy their pursuit of happiness and whose behaviour has alarming consequences.

The extraordinary weather conditions prompt Edward and a former colleague to resurrect an idea for a documentary series that sets to challenge consumerist lifestyles. The Isles of Scilly become a model for sustainability and a filming trip to the islands provides an idyllic backdrop to the unfolding romantic tensions.

Set in 2012, the year of the London Olympics, the action alternates between Broadclyst and Beckenham and examines the difficult issues faced in committing to a new relationship in midlife. Could being alone be a preferable alternative?
The Sinking Chef by Sylvia Ashby – this is the second in the Pot Love series. Look out for a very special post on here later this week about these books.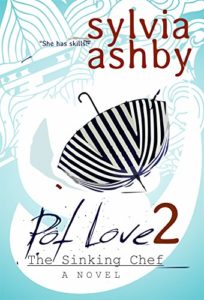 Bridget Jones meets Burnt in this delightful comedy novel about a talented YouTuber and the guy who keeps trying to bring her down. Although part of a series this book is completely standalone, as are all other novels in the Pot Love Series.

In Belsize Park, London, Ashley works hard on her daily YouTube channel "The Sinking Chef". It's filmed right in her kitchen, so she doesn't go out much.

James is a gruff British TV director, turned publisher, who Ashley had a crush on ages ago. She has moved on but when he calls with an offer to take her out to lunch she doesn't say no. It's only lunch – what can go wrong?

The day Ashley meets James for lunch and he promises her a book deal, she makes the worse decision in her life – to hide the book deal from her boyfriend, Giacomo. As things progress Ashley's secrets mount up and other things in her life unravel. Is there a connection? And how is she going to get out of this without losing Giacomo and the life she loves?

Set in the heart of fast-paced London, The Sinking Chef is a charming story of love, recipes, secrets, and the determination to do thinks right by those you love most in your life.
Mad Girl by Bryony Gordon – only 99p at the moment
Bryony Gordon has OCD.

It's the snake in her brain that has told her ever since she was a teenager that her world is about to come crashing down: that her family might die if she doesn't repeat a phrase 5 times, or that she might have murdered someone and forgotten about it. It's caused alopecia, bulimia, and drug dependency. And Bryony is sick of it. Keeping silent about her illness has given it a cachet it simply does not deserve, so here she shares her story with trademark wit and dazzling honesty.

A hugely successful columnist for the Telegraph, a bestselling author, and a happily married mother of an adorable daughter, Bryony has managed to laugh and live well while simultaneously grappling with her illness. Now it's time for her to speak out. Writing with her characteristic warmth and dark humour, Bryony explores her relationship with her OCD and depression as only she can.

Mad Girl is a shocking, funny, unpredictable, heart-wrenching, raw and jaw-droppingly truthful celebration of life with mental illness.
The Little Theatre by the Sea by Rosanna Ley – another 99p bargain
Faye has just completed her degree in interior design when she finds herself jobless and boyfriend-less. While debating what to do next she receives a surprise phone call from her old college friend Charlotte who now lives in Sardinia and is married to Italian hotelier, Fabio.

When Charlotte suggests that Faye relocate for a month to house-sit, Faye wonders if a summer break in sunny Sardinia might be the perfect way to recharge her batteries and think about her future. But then Charlotte tells Faye that there's something more behind the sudden invitation: her friends Marisa and Alessandro are looking for a designer to renovate a crumbling old theatre they own in the scenic village of Deriu. The idea certainly sounds appealing to Faye, but little does she know what she's letting herself in for if she accepts this once-in-a-lifetime opportunity . . .
Secrets. Sisters. The summer that changed everything . . .

Life in the Cornish village of Pendruggan isn't always picture perfect. Penny Leighton has never told anyone why she's estranged from her mother and sister. For years she's kept her family secrets locked away in her heart, but they've been quietly eating away at her. When an unwelcome visitor blows in, Penny is brought face to face with the past. And a postcard, tucked away in a long-hidden case, holds the truth that could change everything.

Young Ella has come back to the place where she spent a happy childhood with her grandmother. Now she's here to search for everything missing in her life. Taken under Penny's broken wing for the summer, the safe haven of Pendruggan feels like the place for a fresh start. Soon, however, Ella starts to wonder if perhaps her real legacy doesn't lie in the past at all.
Summer at the Cosy Cottage Cafe by Rachel Griffiths – had to have this one after reading Jo's review at My Chestnut Reading Tree.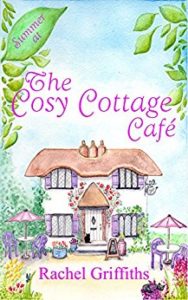 Allie Jones loves her cosy cottage café in the picturesque village of Heatherlea. She has her independence, two grown-up children and two cute cats. Life is settled and she thinks she's happy.

Author Chris Monroe has it all. Critical success, a luxurious London apartment, and the kind of jet-set lifestyle most people dream of. But something's missing.

When a family bereavement throws these two old friends together, they begin to question the true meaning of happiness.

Love is in the air, but do Allie and Chris have room in their hands-on lives for more than a summer fling?
As always I would love to hear any thoughts on these.