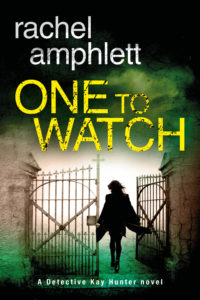 #blogtour – One to Watch by Rachel Amphlett @RachelAmphlett @emmamitchellfpr #guestpost #giveaway
A few weeks ago I took part in the cover reveal for this book and remarked then that it was an eye-catching cover. It looks like the contents of the book are just as exciting. I have a fabulous post from Rachel about her favourite things but first of all here's a bit of information about the book which is published on 6th June 2017.

Sophie Whittaker shared a terrifying secret. Hours later, she was dead.

Detective Kay Hunter and her colleagues are shocked by the vicious murder of a teenage girl at a private party in the Kentish countryside.

A tangled web of dark secrets is exposed as twisted motives point to a history of greed and corruption within the tight-knit community.

Confronted by a growing number of suspects and her own enemies who are waging a vendetta against her, Kay makes a shocking discovery that will make her question her trust in everyone she knows.
One to Watch is a gripping murder mystery thriller, and the third in the Detective Kay Hunter series:
SCARED TO DEATH
WILL TO LIVE
ONE TO WATCH
HELL TO PAY (out 2017)

My Favourite Things by Rachel Amphlett
Because I spend a lot of my time sat in front of a computer screen, either writing my next book or running the marketing and business side of things, I love any excuse to get away from emails and social media and escape to the countryside.
I grew up in the Berkshire countryside in a little market town called Hungerford. My childhood was spent disappearing for hours, on my bike, with my friends exploring the lanes around the town, mucking around with friends on their parent's narrow boats on the Kennet & Avon canal, or exploring the tributaries of the River Avon by canoe.
I'm very lucky in the sense that where we live in Brisbane, we're still close to the countryside – our house is in a suburb at the foot of Camp Mountain (I'll be honest, it's really just a big hill!) and we often see King Parrots, Cockatoos, and wallabies wandering around the neighbourhood.
For a real escape from the day-to-day "busyness", I love nothing more than escaping to the hinterland of the Sunshine Coast. It's only about an hour and a half from where we live, but we recently discovered a place that rents out cabins for long weekend breaks.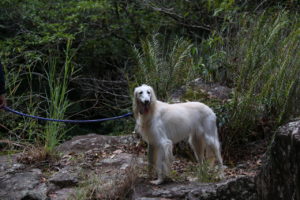 The bonus is, there is no Wi-Fi or mobile phone signal up there, so I get a chance to completely switch off from the world, read books, do some writing and take our dog for walks amongst rainforests, creeks and windswept ridges.
It blows the cobwebs away, and leaves me recharged ready to return to the writing world I live in once more.
That was a lovely post, thank you so much Rachel.
---
There's a Facebook launch party on 6th June and it would be lovely to see lots of people getting together to celebrate publication.
Now I have a fabulous giveaway for you here.
---
This is the start of the tour so why not have a look at what the other bloggers will be posting as it continues.
---

Rachel Amphlett is the bestselling author of the Dan Taylor espionage novels and the new Detective Kay Hunter series, as well as a number of standalone crime thrillers.
Originally from the UK and currently based in Brisbane, Australia, Rachel's novels appeal to a worldwide audience, and have been compared to Robert Ludlum, Lee Child and Michael Crichton.
She is a member of International Thriller Writers and the Crime Writers Association, with the Italian foreign rights for her debut novel, White Gold, being sold to Fanucci Editore's TIMECrime imprint in 2014, and the first four books in the Dan Taylor espionage series contracted to Germany's Luzifer Verlag in 2017