Seven Day Spotlight – w/e 03/09/17
Happy Sunday everybody. Quite a blustery day today and our little boy returns to nursery on Tuesday – does that mean summer is over?
We had a fantastic time yesterday watching Footloose at the Sheffield Lyceum. The cast were amazing, not only did they sing and act but they all played various instruments as well – talk about multi-talented.

This week on my blog it was a little quieter but that may have been the lull before the storm as I have quite a busy September.
On Tuesday I shared my review of The Honey Farm on the Hill by Jo Thomas. I absolutely adored this book.
Then on Friday I reviewed The Accident by S.D. Monghan which is a fast paced thriller.
And then on Saturday I posted a guest post by Joy Ellis about the questions readers that readers often ask. This was part of the blog tour for her new book, The Fourth Friend.
---
So what's been added to my TBR pile this week, you might well ask. I have quite a delightful set of books to share with you 🙂
The Secrets You Keep by Kate White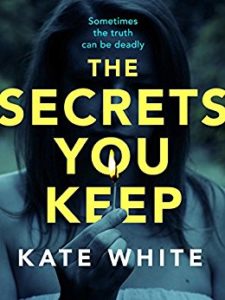 You've lost your memory. A woman has been murdered. Your husband is keeping secrets. How do you know who to trust?

Months after a being involved in a terrible car crash, Bryn Harper is physically healed but her emotional scars remain raw. She has no memory of the accident and is plagued with bad dreams.

When Bryn and her husband, Guy, host a dinner party Bryn swears money has been stolen while Guy seems unfazed. Bryn confronts the caterer that night and is horrified to discover the woman's brutally slain body the next day.

As the case is investigated, Bryn is dragged into a fresh nightmare and learns that Guy is keeping things from her. Another murder occurs and Bryn realises the danger is getting ever closer to home. How well does Bryn really know the man she loves?
The Snow Globe by Judith Kinghorn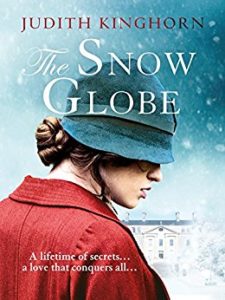 As Christmas 1926 approaches, the Forbes family are preparing to host a celebration at Eden Hall. Eighteen-year-old Daisy is preoccupied by a sense of change in the air. Overnight, her relationship with Stephen Jessop, the housekeeper's son, has shifted and every encounter seems fraught with tension. Before the festivities are over, Daisy has received a declaration of love, a proposal and a kiss – from three different men. Unable to bear the confusion she flees to London and stays with her elder sister.

By the following summer, Daisy has bowed to the persistence of the man who proposed to her the previous year. When the family reunite for a party at Eden Hall and Stephen is once more in her life, it is clear to Daisy she is committing to the wrong person. Yet she also believes that family secrets mean she has no choice but to follow her head instead of her heart. Will love conquer all, or is Daisy's fate already written?
The Body in the Marsh by Nick Louth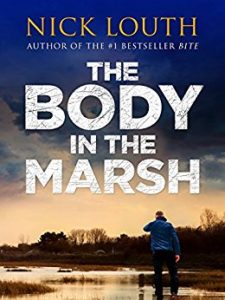 When a woman goes missing, it gets personal for DCI Craig Gillard. But he could never imagine what happens next.

Criminologist Martin Knight lives a gilded life and is a thorn in the side of the police. But then his wife Liz goes missing. There is no good explanation and no sign of Martin…

To make things worse, Liz is the ex-girlfriend of DCI Craig Gillard who is drawn into the investigation. Is it just a missing person or something worse? And what relevance do the events around the shocking Girl F case, so taken up by Knight, have to do with the present?

The truth is darker than you could ever have imagined.
The Beachside Christmas by Karen Clarke – I'm excited about this one as I loved the first two Beachside books.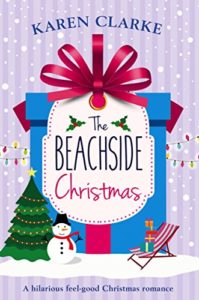 Tinsel, fairy lights and mistletoe… Everything you need for a perfect Beachside Christmas.

When Lily Ambrose needs a fresh start, she remembers her happy childhood holidays in the seaside town of Shipley, and decides it's the perfect place for a cosy Christmas hideaway.

Keen to make new friends, Lily promises to source a celebrity to turn on the Christmas lights. But when reality star Ollie turns up with his cameraman Craig, with plans to make a TV show out of his stay, things quickly go awry.

Ollie is gorgeous but unruly, and soon decides that staging a romance with a normal girl – a girl like Lily – is exactly what he needs to save his fading reputation…

With new neighbours to impress, and Ollie's over-enthusiastic attentions to fend off, can Lily bring the Christmas cheer back to Shipley – and find herself a real kiss under the mistletoe?
The Whitstable High Tide Swimming Club: Diving In by Katie May
In the gorgeous seaside town of Whitstable, brokenhearted Deb begins to swim each day and gathers a new group of friends around her. But can the magic of sea heal the hurt of the past? Or will family ties drag her underwater again?

A heart-warming, funny and poignant story of romance, friendship and second chances. It's also a song to the author's home town of Whitstable, where the sea is smooth, the shingle is painful on bare feet, and the air is full of possibilities.
Lucy's Book Club for the Lost and Found by Emma Davies (pre-order)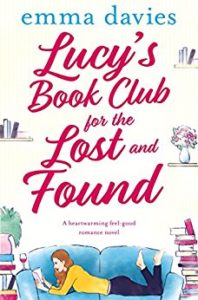 Once upon a time, a woman called Lucy ran a little library with a big heart. It only took one look at the members of her book club for Lucy to see how she could make all their dreams come true…

Full-time carer Lia dreams of learning to dance, but as her mother becomes more reliant on her, that wish may never come true.

Widower Oscar is longing to find the daughter he put up for adoption as a young man, but does she even want to be found?

Single mum Hattie is overweight and unhappy since her cheating ex-fiancé humiliated her at their engagement party.

Sensitive soul Callum is a hopeless romantic and the black sheep of his family. Will he ever find the courage to fight for what he wants?

Lucy has a plan to give these four strangers the happy endings they deserve, and in doing so, she might just find one for herself…
The Seven Imperfect Rules of Elvira Carr
Elvira Carr is twenty-seven and neuro-atypical. Her father – who she suspects was in the secret service – has passed away and, after several Unfortunate Incidents growing up, she now spends most of her time at home with her overbearing mother. But when her mother has a stroke and is taken into care, Elvira is suddenly forced to look after herself or risk ending up in Sheltered Accommodation. Armed with her Seven Rules, which she puts together after online research, Elvira hopes to learn how to navigate a world that's full of people she doesn't understand. Not even the Seven Rules can help her, however, when she discovers that everything she thought she knew about her father was a lie, and is faced with solving a mystery she didn't even know existed . . .
The Cornish Colouring Club by Beth Good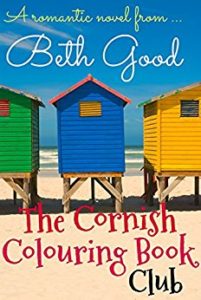 Four twenty-somethings in a Cornish seaside town are in the worst muddle of their lives. Can joining a local Colouring Book Club change their fortunes and colour them happy again? Or have they strayed too far outside the lines?

A perfect feel-good romantic novel set in gorgeous sunny Cornwall!
A laugh-out-loud tale of love, lies and second chances.
Love comes around when you least expect it. Fifty-something widow Emily isn't expecting romance. Nor is she expecting a hunky twenty-something chimney sweep on her doorstep.
Daughter Tabitha knows something isn't quite right with her relationship, while her boss – Abba-loving Meryl – thinks she's found the real deal. Are they both right, or pursuing Mr Wrong?
Emily's sister, Celeste, has the perfect marriage … or does she? Can a fitness tracker lead her down the path to happiness or heartbreak?
Susan is single, overweight and resigned to a life of loneliness. There was the one who got away but you don't get another try, do you?
Prepare for a rollercoaster ride of emotions in a book that will grab your heart, make you smile and wish you had a chimney to sweep.
The Firebird by Susanna Kearsley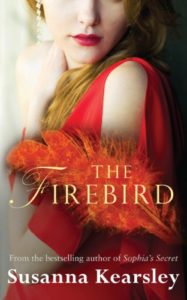 Nicola Marter was born with a gift. When she touches an object, she sometimes sees images; glimpses into its past, and of those who have owned it before. Born with this rare ability, Nicola sees it as something to keep hidden. But when a young woman arrives at the London gallery Nicola works at, offering a wooden carving for sale and claiming it belonged to Russia's Empress Catherine, Nicola faces a dilemma. With no proof of its past, Nicola's boss believes the carving – known as 'the Firebird' – is worthless. But Nicola has held it, and she knows that the woman, who is in desperate need of money, is telling the truth. Compelled to help, Nicola turns to a man she once left, and still loves: Rob McMorran, whose own psychic gifts are far greater than her own. With Rob to help delve into the past, Nicola travels from Scotland to Belgium, and on into Russia. There, in St Petersburg, the once-glittering capital, Nicola and Rob unearth a tale of love and sacrifice, of courage and redemption: a story which will change their lives for ever.
Resisting Mr Rochester by Sharon Booth – I blame Anne Williams at Being Anne for this one as I loved her review of it.
Cara Truelove has always been a romantic, burying her head in books and dreaming of being swept off her feet by her very own Brontë hero. When she was a gullible teenager, she believed boyfriend Seth to be a modern-day brooding Heathcliff. Fourteen years later, when Seth has proved to be more like Homer Simpson, Cara vows never to fall in love again, and turns her back on romance for good.

Leaving Seth behind, Cara secures a job as nanny at Moreland Hall on the Yorkshire Moors, but is shocked to discover her new employer is none other than the tall, dark, and disturbingly handsome Mr Rochester.

Her resolve to be more level-headed is soon tested when strange things begin to happen at Moreland Hall. Why is Mr Rochester's mother hidden away upstairs? What are the strange noises she hears from the attic? Why is the housekeeper so reluctant to leave her on her own? And where is Mr Rochester's mysterious wife?

As events unfold, Cara knows she must keep a cool head, curb her imagination – and resist Mr Rochester at all costs. After all, one Brontë hero in a lifetime is more than enough for any woman. Two would be downright greedy.

Wouldn't it?
The Hygge Holiday by Rosie Blake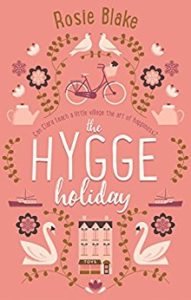 The perfect recipe for hygge this autumn: make a hot chocolate, draw the curtains, snuggle under a blanket and read your way to happiness!

It's autumn in Yulethorpe and everyone is gloomy. It's cold, drizzly and the skies are permagrey. The last shop on the high street – an adorable little toy shop – has just shut its doors. Everything is going wrong for Yulethorpe this autumn. Until Clara Kristensen arrives.

Clara is on holiday but she can see the potential in the pretty town, so she rolls up her sleeves and sets to work. Things are looking up until Joe comes to Yulethorpe to find out exactly what is going on with his mother's shop. Joe is Very Busy and Important in the City and very sure that Clara is up to no good. Surely no one would work this hard just for the fun of it?

Can a man who answers emails at 3 a. m. learn to appreciate the slower, happier, hygge things in life – naps, candles, good friends and maybe even falling in love?
Murder in Little Shendon by A.H. Richardson – my competition win from Jo's Book Blog.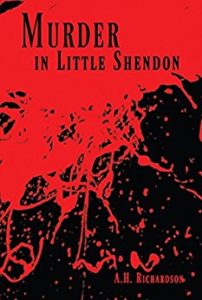 Picture, if you will, a picturesque village called Little Shendon, suddenly caught up in dealing with a murder of one of its citizens — not a particularly well-liked one at that. Which makes it all the more intriguing because the list of suspects becomes very long. This tantalizing tale unfolds with delightful twists and turns to find out whodunit to Mr. Bartholomew Fynche, the murdered shopkeeper.
Fear grips the community as the investigation slowly progresses. Everyone is interviewed; everyone is suspect! From the murdered man's housekeeper to Lady Armstrong, her staff and her nephew. Or could it be the shy librarian new in town? Or the defiant retired army major and his ladyfriend, the post mistress? Or perhaps the weird sisters who live on the edge of town? Then there is the couple who own the local inn and pub, along with the two Americans who are staying there? Even the vicar and his wife fall under the gloom of suspicion.
Uncertainty, wariness, and terror reign as neighbors watch neighbors to discover the evil that permeates their upturned lives. No one feels safe in this charming little village.
A.H. Richardson, noted author, places in your trembling hands a mystery murder that will keep you reading until you learn the details, uncovered by Police Inspector Stanley Burgess and his two amateur detectives, his friend Sir Victor Hazlitt and the famed Shakespearean actor Beresford Brandon. Scratch your head with them over the strange clues that turn up. Follow them as they tread carefully among the landmines that appear innocent as they lie hidden beneath the surface of mystery.
Something evil skulks in this tiny country village. Who is the murderer? And why was this strange uncivil man dispatched in such a seemingly civil community? You are challenged to discover the culprit before the last few pages. And no fair looking ahead — it's the journey that proves the most enticing.
The Designer by Marius Gabriel – this month's Kindle First choice. Typical, normally I don't fancy any of them and this time I liked the sound of three. This was my choice though and the other two went on my wish list.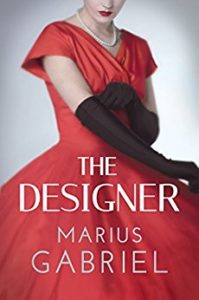 In 1944, newly married Copper Reilly arrives in Paris soon after the liberation. While the city celebrates its freedom, she's stuck in the prison of an unhappy marriage. When her husband commits one betrayal too many, Copper demands a separation.

Alone in Paris, she finds an unlikely new friend: an obscure, middle-aged designer from the back rooms of a decaying fashion house whose timid nature and reluctance for fame clash with the bold brilliance of his designs. His name is Christian Dior.

Realising his genius, Copper urges Dior to strike out on his own, helping to pull him away from his insecurities and towards stardom. With just a camera and a typewriter, she takes her own advice and ventures into the wild and colourful world of fashion journalism.

Soon Copper finds herself torn between two very different suitors, questioning who she is and what she truly wants. As the city rebuilds and opulence returns, can Copper make a new, love-filled life for herself?
The Boardwalk by the Sea: Summer Sundaes by Georgina Troy
Wipe off your flip flops, it's going to be a bumpy ride…

When Sacha Collins, cafe owner and sundae-maker extraordinaire, meets Italian archaeologist, Alessandro Salvatore in Rome, she's grateful to him for being her tour guide. Now he's turned up in the seaside village where she lives, known locally as, The Boardwalk by the Sea and is setting up a gelateria in direct competition to her retro Summer Sundaes Café.

She's only been running her café for two years since taking over from her father. Until now the only other shops on the boardwalk have been a wool shop, an antique shop and a second-hand book shop. These have helped rather than hindered her custom. How will her creative sundaes made from fresh Jersey ice cream compete with his delicious Italian gelato?

Sacha is worried. Is there enough custom for both businesses to thrive? Who is behind the strange changes being made on the boardwalk? And when the oldest resident on the boardwalk is threatened with eviction can Sacha and Alessandro come together and find a way of helping her?

For a peaceful little boardwalk overlooking one of the quieter beaches on the island, there's an awful lot going on and some of it is going to lead to big changes.
The Flower Shop on Foxley Street by Rachel Dove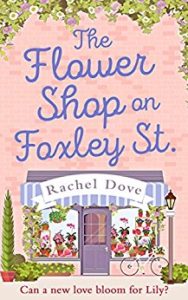 A new love could be about to bloom for Lily in this bright, warm women's fiction title that fans of Holly Hepburn and Cathy Bramley will love.

Lily Rose Baxter loves her little flower shop on Foxley Street and the freedom and independence from her family that it represents.

Lily can't help but feel that something is missing from her life…, but when mysterious stranger Will Singer comes into her shop looking for the perfect bouquet of roses, all that could be about to change.
The St Jude's Book Club members have had enough of reading the same old tripe, week in, week out. Page after page of lacklustre rubbish has taken its toll on their beleaguered club and they need something new for their energetic little group.

When one of them suggests they write something themselves it is taken on board and soon Helen, the local lollipop lady and crazy cat woman, has come up with the idea that they should write their own version of Dick Whittington and then put the show on at the local village hall.

What follows is a light-hearted and amusing tale of friendship and love, jealousy and courage, all played out with a smattering of ambition which is beyond most of the cast.

But can the Book Club really pull it off? Are they able to put their petty differences aside to make a success of the show? And will they all still be on speaking terms come the night of the performance? Only time will tell.
So that's this week's selection. I'd love to hear your thoughts. Have you read any of them or have you added them to your wish list? Have a great week!