#blogtour – The Honey Farm on the Hill by Jo Thomas @jo_thomas01 @headlinepg #bookreview
Oh how lovely this book is. I am so happy to be on the blog tour for it today and will be sharing my review with you but first of all here's what The Honey Farm on the Hill is all about.
Sometimes you have to go back before you can move forwards…

One magical summer Nell fell in love in the mountains of Crete and her life changed for ever.

Eighteen years later, Nell is ready for a new beginning. When she sees a honey farm in the same hilltop town has lost its bees, the opportunity is impossible to resist. Welcomed back to Greece by the warm sun and aroma of wild thyme, Nell finds memories of her past at every turn. But much has changed since she's been away.

As Nell throws herself into restoring the honey farm, she starts to unlock the truth of what happened all those years ago. She soon learns that the course of true love – just like Cretan honey – can be wild and sweet. And well worth the wait…

Jo Thomas takes you there.
---

In true Jo Thomas style The Honey Farm on the Hill has a wonderful location, a lovable but sometimes infuriating heroine, a gorgeous hero and a romance at the heart of it.
Crete is the setting this time and it's put across so magically it made me want to go there and experience the mountains for myself, to eat in Stelios' family restaurant, to spin the honey and meet the wonderful characters.
The main character is Nell. She works in a Christmas decoration factory, has a daughter who has just left home and is in a plodding relationship with Mike. But when everything changes all at once and she is at a loose end for a couple of months she decides to be a WOOFer (World Wide Opportunities on Organic Farms) and returns to the place where she lost her heart when she was 18. This place is Crete and she is to help re-establish a honey farm.
I absolutely loved her hosts, Maria, Kostas and Mitera. They were wonderful, down to earth, honest to goodness people. In fact, with the exception of a couple of characters I loved everyone in this book. The community in Crete is portrayed as being welcoming and warm.
I could see a mile off what was going to happen in the key plots but it didn't matter. The point was that it wasn't about a big reveal but about going on the journey of discovery with Nell. She's a very hot-headed redhead and makes her mistakes but also does all she can to put them right.
This book is absolutely steeped in atmosphere. There are lots of descriptions of food and the smell of the herbs. There is a wild herb that is crucial to the storyline called dittany. I would love to be able to smell it for myself and to taste the honey that comes from the bees that take the nectar from the flowers. Being somebody that hasn't spent an awful lot of time around mountains (for that read none) I didn't find it too hard to imagine Nell's surroundings and to be completely enthralled by them.
I must admit that I shed a few tears at the end of this lovely story. It could have been cheesy but it just worked and I think that was due to the quality of the writing and my desire for everything to be ok in the end because I really cared about what happened to the characters.
Jo Thomas is a purveyor of dreams. I defy anybody to read this book and at the end of it not to dream a little of the Cretan life. It was one of those books where I was desperate to find out how it ended but didn't want it to finish. It's a truly gorgeous read.
With thanks to Headline and Amazon Vine for the review copy and to Becky Hunter for the place on the blog tour. The Honey Farm on the Hill is available now in ebook and paperback.
---
There are a mixture of other reviews and guest posts on the blog tour so please do go and have a look at them.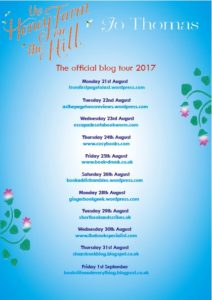 ---

Jo Thomas worked for many years as a reporter and producer, first for BBC Radio 5, before moving on to Radio 4's Woman's Hour and Radio 2's The Steve Wright Show. In 2013 Jo won the RNA Katie Fforde Bursary. Her debut novel, The Oyster Catcher, was a runaway bestseller in ebook and was awarded the 2014 RNA Joan Hessayon Award and the 2014 Festival of Romance Best Ebook Award. Jo lives in the Vale of Glamorgan with her husband and three children.