Seven Day Spotlight – w/e 02/07/17
That's another week gone and we are now into July – my birthday month! Happy Sunday everybody.
Here's what's been happening this week on my blog:
On Tuesday I posted a review of the compelling novella, Secrets of the Italian Gardener by Andrew Crofts. I also posted an extract from We Have Lost the Coffee by Paul Mathews and there's a giveaway still running on that post.
On Wednesday I posted a review of the lovely, gentle read by Fern Britton, The Postcard. And I also posted a promo post for Watching You by Gretta Mulrooney.
Then today I have posted a promo post for Did You Whisper Back by Kate Rigby and there is a giveaway open on that post. And I posted a guest post from Taylor Adams as part of the blog tour for No Exit.
---
And so it's acquisitions time.
If I Die Before I Wake by Emily Koch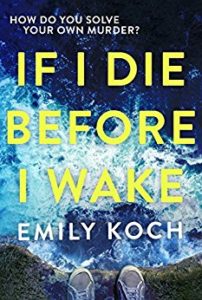 HOW DO YOU SOLVE YOUR OWN MURDER?

Everyone believes Alex is in a coma, unlikely to ever wake up. As his family debate withdrawing life support, and his friends talk about how his girlfriend Bea needs to move on, he can only listen.

But Alex soon begins to suspect that the accident that put him here wasn't really an accident. Even worse, the perpetrator is still out there and Alex is not the only one in danger.

As he goes over a series of clues from his past, Alex must use his remaining senses to solve the mystery of who tried to kill him, and try to protect those he loves, before they decide to let him go.

A stunning edge-of-your-seat debut novel with an unforgettable narrator.
The Cotswold Cookery Club: A Taste of Italy by Alice Ross – this is a pre-order that I just couldn't resist.
Connie has had enough. Enough of the city, enough of her job – and most importantly, enough of her cheating boyfriend! So, when her best friend jets off to sunny Australia for six months and calls on Connie to house and dog-sit, the timing couldn't be more perfect.

Finally free to chase her dreams, Connie sets up her very own Cotswolds Cookery Club – a place to share scrumptious recipes and, more importantly, a lot of wine! Cue Melody, Kate and Eleanor, three very different women who respond to Connie's local advert, all in need of a recipe for happiness…

But with two gorgeous men turning up the heat, Connie may have just ended up with a recipe for disaster!
Out of Practice by Penny Parkes – free at the moment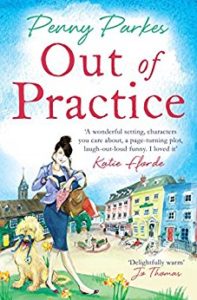 Out of Practice is based around a large country medical practice, which proves to be a hotbed of rivalry, resentment and romance – and that's just the doctors. Think James Herriot meets House.

Meet married mum of two and successful GP Holly Graham as she relocates her family to join the team at The Practice at Beckerford, hoping to find the peaceful life she craves, despite the chaos that comes with her two year old twins and the troublesome state of her marriage. It will certainly be a challenge to keep her private and professional lives separate in such a tight-knit community.

Her colleagues have their own issues to contend with. The gorgeous Dr Dan Carter is struggling with to focus on work and the last thing he needs is any more stress; having his ambitious ex-girlfriend Dr Julia Channing working alongside him isn't really helping. Thankfully, the rather delectable Dr Taffy Jones is on hand to distract Holly from the escalating situation at home.

Feisty octogenarian and resident celebrity, Elsie Townsend, is Holly's favourite patient and saving grace. Elsie's inspirational Life Lessons come at the perfect moment, as The Practice is suddenly under threat of imminent closure and Holly rediscovers her voice and her priorities just in time …
Sam grew up in the shadow of the secret state. Her father was an undercover agent, full of tall stories about tradecraft and traitors. Then he died, killed in the line of duty.

Now Sam has travelled to Hoy, in Orkney, to piece together the puzzle of her father's past. Haunted by echoes of childhood holidays, Sam is sure the truth lies buried here, somewhere.

What she finds is a tiny island of dramatic skies, swooping birds, rugged sea stacks and just four hundred people. An island remote enough to shelter someone who doesn't want to be found. An island small enough to keep a secret…
Spring at Blueberry Bay by Holly Martin
Welcome to beautiful Hope Island where the sea sparkles, the daffodils are blooming and a blossoming romance is just around the corner…

Bella has always had a sunny outlook and caring nature, despite recently falling on hard times. When she finds a handsome homeless man on her doorstep, her kind heart tells her she must help him. So, she invites Isaac into her cottage and into her life in ways she could never have imagined…

But Isaac is not what he seems. He's keeping a huge secret from Bella, yet he never expected to fall for this open, generous and charming woman.

Bella can't ignore the chemistry between her and Isaac, but she's had her trust badly broken in her past. Will she run when she learns the truth about Isaac, or will he be the one man who can help Bella believe in love again?
The Worst Case Scenario Cookery Club by Chrissie Manby – another pre-order I couldn't resist.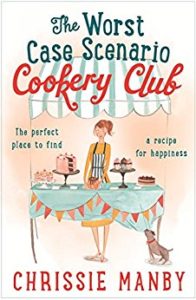 In the quaint seaside town of Newbay, a beginner's cookery course is starting. And three very different students have signed up . . .

Liz's husband has left her for a twenty-something clean-eating blogger, and she's determined to show the world – and her daughter – she's just as capable in the kitchen. John, newly widowed after fifty years of marriage, can't live on sympathy lasagnes forever. To thirty-year-old workaholic Bella, the course is a welcome escape from her high-pressure job. Their only common ground: between them, they can barely boil an egg!

Enter talented chef Alex, who is determined to introduce his pupils to the comforts of cuisine. As Liz, John and Bella encounter various disasters in the kitchen, the unlikely trio soon form a fast friendship. Their culinary skills might be catastrophic – but could the cookery club have given them a recipe for happiness?
The Fatal Coin by Lucienne Boyce
Missing treasure. Murder. One ruthless criminal. And one Bow Street Runner determined to stop him.

In the winter of 1794 Bow Street Runner and amateur pugilist Dan Foster is assigned to guard a Royal Mail coach. The mission ends in tragedy when a young constable is shot dead by a highwayman calling himself Colonel Pepper. Dan is determined to bring Pepper to justice, but the trail runs cold.
Four months later Dan is sent to Staffordshire to recover a recently excavated hoard of Roman gold which has gone missing. Here he unexpectedly encounters Colonel Pepper again. The hunt is back on, and this time Dan will risk his life to bring down Pepper and his gang.

'The Fatal Coin' is a prequel to 'Bloodie Bones', the first Dan Foster Mystery, which was joint winner of the Historical Novel Society Indie Award 2016.
The Dangers of Family Secrets by Debby Holt
'I look back at our married life and I wonder if there was anything real about it at all…' 

Genealogist Freya Cameron has the perfect life. A devoted husband of nearly thirty years and career driven, successful twin daughters.

But what if it's all a lie?

So skilled at excavating her clients' family histories, Freya has no idea why her family are so cold towards her. They know something she doesn't and are determined to make her pay for it.

But sometimes secrets are better not left untold.

The Dangers of Family Secrets is a gripping story about trust, love and the destructive effects secrets have on a family.
You Should Have Left by Daniel Kehlmann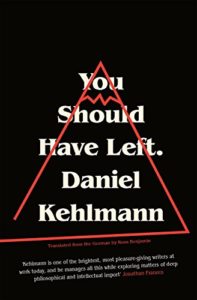 On retreat in the wintry Alps with his family, a writer is optimistic about completing the sequel to his breakthrough film. Nothing to disturb him except the wind whispering around their glassy house. The perfect place to focus.

Intruding on that peace of mind, the demands of his four-year-old daughter splinter open long-simmering arguments with his wife. I love her, he writes in the notebook intended for his script. Why do we fight all the time?

Guilt and expectation strain at his concentration, and strain, too, at the walls of the house. They warp under his watch; at night, looking through the window, he sees impossible reflections on the snow outside.

Then the words start to appear in his notebook; the words he didn't write.

Familiar and forbidding by turns, this is an electrifying experiment in form by one of Europe's boldest writers. The ordinary struggles of a marriage transform, in Kehlmann's hands, into a twisted fable that stays darkly in the mind.
Without a Word by Kate McQuaile
Lillian had phoned telling her to get Skype up and running. 'I have so much to tell you'. Lillian was wearing a white bathrobe and she was in for the evening. Then, suddenly, the knock on the door. 'Sorry Orla, I'd better see who it is' she said, getting up from the sofa. Orla waited. But the seconds became minutes. She didn't know how long she waited before she realised that something terrible had happened.

For more than a decade, Lillian's mysterious disappearance has remained unsolved, and Orla has found it impossible to move on. Then she receives an unexpected visit from Ned Moynihan, the Dublin detective who led the original investigation into Lillian's vanishing. Moynihan has been receiving anonymous notes accusing him of having failed to investigate the case properly. He assumes the notes are coming from Orla. Yet Orla knows nothing of these letters – is somebody trying to tell them the truth about what really happened to Lillian that night?
Another Woman's Husband by Gill Paul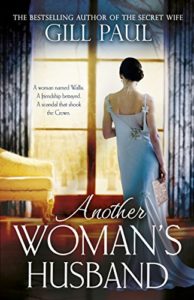 Two women who challenged the Crown.
Divided by time. Bound by a secret…

1911
At the age of fifteen, carefree Mary Kirk and indomitable Wallis Warfield meet at summer camp. Their friendship will survive heartbreaks, separation and the demands of the British Crown until it is shattered by one unforgivable betrayal.

1997
Rachel's romantic break in Paris with her fiancé ends in tragedy when the car ahead crashes. Inside was Princess Diana. Back in Brighton, Rachel is haunted by the accident, and intrigued to learn the princess had visited the last home of Wallis, Duchess of Windsor, only hours before the crash. Soon, the discovery of a long-forgotten link to Wallis Simpson leads Rachel to the truth behind a scandal that shook the world…

Richly imagined and beautifully written, ANOTHER WOMAN'S HUSBAND is a gripping, moving novel about two women thrust into the spotlight, followed by scandal, touched by loss.
The Vintage Girl by Hester Browne
When Evie Nicholson is asked to visit Kettlesheer Castle in Scotland to archive the family heirlooms, she jumps at the chance. Evie's passion for antiques means that, for her, the castle is a treasure trove of mysteries just waiting to be uncovered. But in each heirloom lies a story, and in the course of her investigations Evie stumbles upon some long-buried family secrets. Add handsome, gloomy heir Robert McAndrew and a traditional candlelit gala to the mix and Evie's heart is sent reeling with an enthusiasm that may just extend beyond the Kettlesheer silver…
The Surrogate by Louise Jensen – another pre-order
'You know that feeling? When you want something so badly, you almost feel you'd kill for it?'

Be careful what you wish for…

Kat and her husband Nick have tried everything to become parents, and are on the point of giving up. Then a chance encounter with Kat's childhood friend Lisa gives Kat and Nick one last chance to achieve their dream.

But Kat and Lisa's history hides dark secrets.

And there is more to Lisa than meets the eye.

As dangerous cracks start to appear in Kat's perfect picture of happily-ever-after, she realises that she must face her fear of the past to save her family…
Mary's the Name by Ross Sayers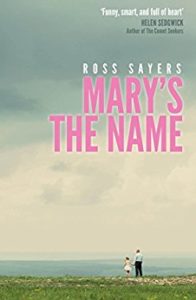 An eight-year-old girl and her granpa are on the run…

"When me and Granpa watched James Bond films, he told me not to be scared because people didn't have guns like that in Scotland. That must've been why the robbers used hammers."

Orphaned Mary lives with her granpa, but after he is mixed up in a robbery at the bookies where he works, they flee to the Isle of Skye. Gradually, Mary realises that her granpa is involved. And the robbers are coming after him–and their money.

Mary's quirky outlook on life, loss, and her love of all things Elvis, will capture your heart. Full of witty Scots banter, Mary's the Name will have you reaching for the hankies, first with laughter, then with tears.
As always, any comments or thoughts are very welcome. Enjoy the rest of your weekend.