#blogtour – Watching You by Gretta Mulrooney @Books_n_all #crime
Today I'm closing the blog tour for Watching You with a promo post. Here's what it's all about:

Who is watching him and what does he want? 

Two years ago someone kidnapped Thomas Maddox's six-month-old son. The case has never been solved and the boy has never been found.

Now someone is watching Thomas and sending him dark emails.  And Thomas keeps suffering nasty accidents.

The police won't do anything more, so Thomas's wealthy grandfather hires Tyrone Swift to shed light on the case.

Can ex-police detective Tyrone Swift get to the bottom of this tangled web of family secrets and pain, and is there any hope of finding the child alive? 

WATCHING YOU is a beautifully written mystery that will have you gripped from start to pulsating finish.

Perfect for fans of Robert Galbraith, P.D. James, or Ruth Rendell.
Here are a few words from Gretta about the book:
I have always enjoyed crime fiction. I like the way the structure and plot allows the writer to explore social mores and changes within the genre. I had been considering a crime novel involving a private detective as this gives the writer scope without being tied into police procedures. Then one morning, Tyrone Swift walked into my imagination almost fully formed. Clearly, he had been lurking there for some time. He then took over and I have had great pleasure from seeing how a decent man makes a good detective but is pretty hopeless at managing his personal life. Watching You is the fourth in the series of Swift novels. I wanted to write a story about a missing child which resonated with deeper and sinister family complexities and to show Swift's frailty as well as his strengths.
---
Why not check out some of the other stops on the tour.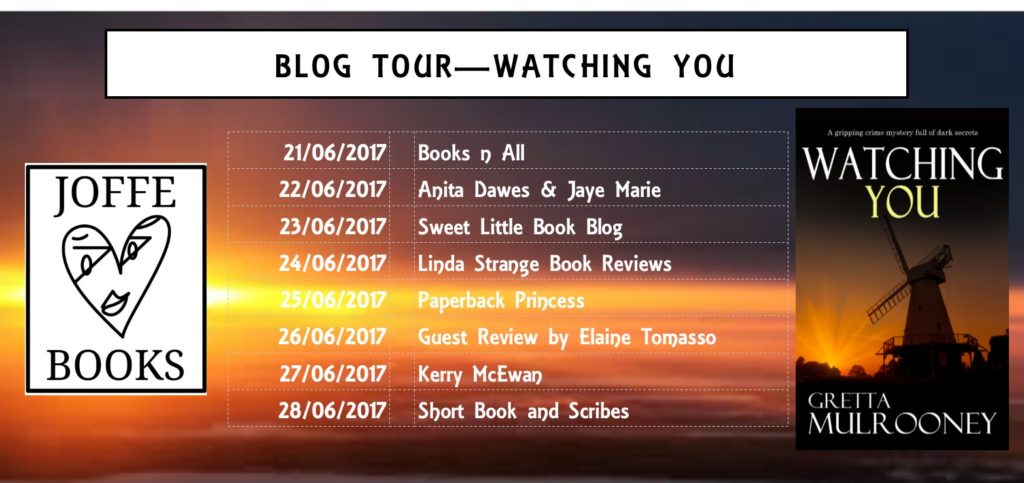 ---

I was born and brought up in London. My parents were Irish. I studied for a B.A. in English at The University of Ulster and subsequently a qualification in Social Work. I taught English in secondary schools, then worked in social care for many years.
I started writing for children in my thirties and had five books published with Poolbeg Press. My first adult fiction novel won a bursary from East Midlands Arts. My first published novel, Araby, was with Harper Collins, followed by Marble Heart. Robert Hale published the next three novels; Fire and Ice, Out of the Blue and The Apple of Her Eye.
I have had two short stories, The Old Master and The Gold Digger, commissioned by and read on Radio Four.
I have always been an avid reader of psychological thrillers and crime fiction and decided, in retirement, to turn to crime. I am currently working on releasing my fourth novel featuring private detective Tyrone Swift."