Seven Day Spotlight – w/e 1/4/18
Welcome to this week's Seven Day Spotlight. Oh, and Happy Easter to you all! I hope there hasn't been too much chocolate indulgence.
So, this week on my blog:
On Monday, I once again took part in the 'It's Monday, What Are You Reading?' meme.
On Wednesday, I reviewed Pen to Paper, a short story collection written by members of the writing group at my local library.
Thursday brought a guest post from Lorraine Hellier, author of children's fantasy The Elf King. She wrote about a typical writing day, or rather the fact that she doesn't really have such a thing.
Friday had two posts. Sue Shepherd, author of Can't Get You Out of My Head wrote a guest post entitled Grandma, We Love You and I also shared a teaser extract.
And I posted an extract from The Little Wedding Island by Jaimie Admans along with a fabulous giveaway.
And finally, on Saturday I posted my review of the amazing, fantabulous The Lido by Libby Page.
---
Here's this week's additions to the reading pile:
Between the Lies by Michelle Adams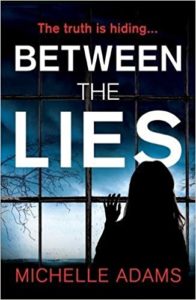 What would you do if you woke up and didn't know who you were?

Chloe Daniels regains consciousness in a hospital with no memory of how she got there.
She doesn't recognise the strangers who call themselves family. She can't even remember her own name.

What if your past remained a mystery?

As she slowly recovers, her parents and sister begin to share details of her life.
The successful career. The seaside home. The near-fatal car crash.
But Chloe senses they're keeping dark secrets – and her determination to uncover the truth will have devastating consequences.

What if the people you should be able trust are lying to you?
Larkinland by Jonathan Tulloch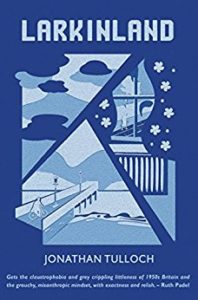 Arriving in 1950s Hull, Arthur Merryweather finds himself lodging with the landlady from hell, and falling in love with fellow librarian Niamh O'Leary. But just as their love threatens to bloom, the mystery of Mr Bleaney, the enigmatic insurance salesman who rented his room before him, threatens to pull the poet into disaster and cast him into the criminal hinterland of 'fish town', that sublimely banal Larkinland 'beached on the mudflats at the end of the railway line, like a brick seal with a woodbine in its gob'.

Hilarious, hugely enjoyable and deeply moving, Larkinland is the most compelling love story, mystery and biographical novel you are likely to read.

A pitch-perfect realisation of Larkin's poetic world, the author also cooks up his own set of moving misadventures, which reveal the loneliness, commonplaces, fears, lusts and hope we all must face. Drawing on meetings with the women in Larkin's life, Larkinland casts startlingly fresh light on one of Britain's greatest ever poets.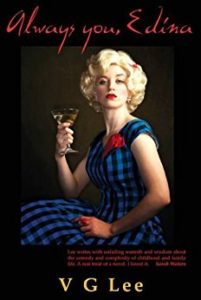 At the beginning of VG Lee's fourth novel, Always you, Edina, Bonnie Benson is visiting her grandmother in the Three Elms Nursing Home. 'Your dad was very different,' her grandmother tells her, 'not so easy to fathom but he had…well I suppose you'd call it sex appeal. Not only did he have it, but he knew he had it'.
Suddenly a childhood memory is triggered taking Bonnie back over four decades to her ten-year-old self living with her family in Birmingham. It is 1964 and Prince Philip is about to open the newly constructed Bull Ring. Bonnie has three idols in her life; Joanna Bayliss, the most popular girl at her school; glamorous, charismatic Aunt Ed, who 'could light up a room – if there was a man in that room'; and Bonnie's father, Ken. Bonnie observes the close relationship between Ed and Ken without comprehending the tragic repercussions it will have on both families.
Things Bright and Beautiful by Anbara Salam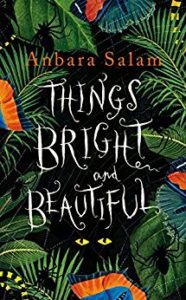 When Bea Hanlon follows her preacher husband Max to a remote island in the Pacific, she soon sees that their mission will bring anything but salvation…

Advent Island is a place beyond the reaches of Bea's most fitful imaginings. It's not just the rats and the hordes of mosquitos and the weevils in the powdered milk. Past the confines of their stuffy little house, amidst the damp and the dust and the sweltering heat, rumours are spreading of devil chasers who roam the island on the hunt for evil spirits. And then there are the noises from the church at night.

Yet, to the amusement of the locals and the bafflement of her husband, Bea gradually adapts to life on the island. But with the dreadful events heralded by the arrival of an unexpected, wildly irritating and always-humming house guest, Advent Island becomes a hostile place once again. And before long, trapped in the jungle and in the growing fever of her husband's insanity, Bea finds herself fighting for her freedom, and for her life.
Bluethroat Morning by Jacqui Lofthouse (pre-order)
Alison Bliss, celebrity model and critically acclaimed writer, walks into the sea one 'bluethroat morning'. In death she becomes a greater icon than in life, and the Norfolk village where she lived is soon a place of pilgrimage. Six years later her husband Harry, a schoolteacher, is still haunted by her suicide and faithful to her memory. Until he meets Helen and they fall in love.

Harry and Helen's relationship initiates a return to the scene of Alison's death where they meet ninety-eight year old Ern Higham, and a tale is revealed that has been generations in the making. As Harry pieces together a tragic history and finally confronts his own pain, he discovers that to truly move forward, first he must understand the past …
Scandal by Sasha Morgan (freebie)
As the new custodian of the ancestral home, Treweham Hall, Tobias Cavendish-Blake soon discovers exactly what he's inherited. Instant financial action is needed if the Hall is to survive the mounting debts it's racking up. Adding insult to injury the family is forced to sell the Gate House on the estate to lottery winners Gary and Tracy Belcher – not the kind of neighbours Tobias was hoping for.

Megan Taylor inherits her grandmother's country cottage in the village of Treweham and decides to make a fresh start there, taking a job at the local country pub.

When Megan meets Tobias, the attraction is clear, but she is determined to resist his charms, put off by his reputation and that of his best friends – the rakish Seamus Fox, son of a millionaire race horse trainer and dastardly jockey Dylan Delany. But Tobias is a hard man to resist…
The Women of Heachley Hall by Rachel Walkley (pre-order)
Miriam has one year to uncover Heachley Hall's unimaginable past and a secret that only women can discover.

The life of a freelance illustrator will never rake in the millions so when twenty-eight year old Miriam discovers she's the sole surviving heir to her great-aunt's fortune, she can't believe her luck. She dreams of selling her poky city flat and buying a studio.
But great fortune comes with an unbreakable contract. To earn her inheritance, Miriam must live a year and a day in the decaying Heachley Hall.
The fond memories of visiting the once grand Victorian mansion are all she has left of her parents and the million pound inheritance is enough of a temptation to encourage her to live there alone.
After all, a year's not that long. So with the help of a local handyman, she begins to transform the house.
But the mystery remains. Why would loving Aunt Felicity do this to her?
Alone in the hall with her old life miles away, Miriam is desperate to discover the truth behind Felicity's terms. Miriam believes the answer is hiding in her aunt's last possession: a lost box. But delving into Felicity and Heachley's long past is going to turn Miriam's view of the world upside down.
Does she dare keep searching, and if she does, what if she finds something she wasn't seeking?
Has something tragic happened at Heachley Hall?
Truestory by Catherine Simpson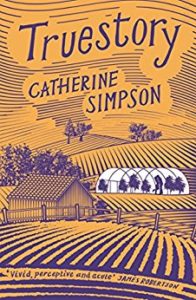 Alice's life is dictated by her autistic son, Sam, who refuses to leave their remote Lancashire farm. Her only time 'off' is two hours in Lancaster on a Tuesday afternoon – and even that doesn't always pan out to be the break she needs. Husband Duncan brings Larry, a rootless wanderer, to the farm to embark on a money making scheme they've dreamed up. Alice is hostile but Larry beguiles Sam with tales of travel in the outside world and, soon, Alice begins to fall for him, too. By turns blackly comic, heart-breaking and heart-warming, Truestory looks at what happens when sacrifice slithers towards martyrdom. By turns happy and sad, ultimately it is a tale of hope.
Do you have any thoughts about these books? I'd love to hear from you.