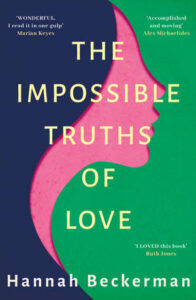 ShortBookandScribes #BookReview – The Impossible Truths of Love by Hannah Beckerman #ImpossibleTruths #BlogTour
Welcome to my stop on the blog tour for The Impossible Truths of Love by Hannah Beckerman. My thanks to Rhiannon Morris from FMcM Associates for the place on the tour and for sending the proof copy of the book for review purposes. It will be published on 5th October in paperback, audiobook and eBook.
---

---
From bestselling author Hannah Beckerman comes a moving story about memory, secrets, and what it really means to feel that you're one of the family.

When Nell's father makes a deathbed declaration that hints at a long-held secret, it reignites feelings of isolation that have plagued her for years. Her suspicions about the family's past only deepen when her mother, Annie, who is losing her memories to dementia, starts making cryptic comments of her own.

Thirty-five years earlier, Annie's life was upended by a series of traumas―one shock after another that she buried deep in her heart. The decisions she made at the time were motivated by love, but she knew even then that nobody could ever understand―let alone forgive―what she did.

As the two women's stories unravel, a generation apart, Nell finally discovers the devastating truth about her mother's past, and her own.

In this beautifully observed and emotionally powerful story of identity, memory and the nature of family, Hannah Beckerman asks: To what lengths would you go to protect the ones you love?
---

---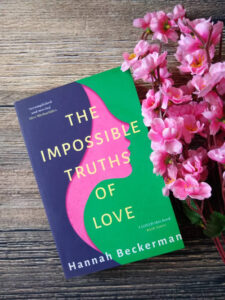 "Grief, she is learning, is love's echo: it is not possible to have one without the other."
The Impossible Truths of Love is a beautifully written family drama, steeped in emotion and intense feelings. Told in alternating chapters 'then' and 'now', we discover the secrets of the past and how they have rippled down over the years.
The book opens with Nell's beloved father seriously ill in hospital. Something that he says to her triggers something in her mind, a feeling of never having quite slotted into her place in her family. The story in the past focuses on Nell's mother, Annie, and the two stories unfold gradually and to great effect. As Annie now has dementia this has an added impact on Nell and her ability to discover the meaning behind her father's words.
Hannah Beckerman expertly led me down blind alleys and threw several curveballs at me in this story. Just when I thought I knew what was going to happen she turned it on its head. The plotting is superb and the way the strands come together is sublime. Although I've come across some of the themes (or what I thought were the themes!) before, this book felt so fresh and far from formulaic.
The writing is extremely emotive, looking at family dynamics and the effects of grief. It asks the reader to imagine how they would respond, how they would deal with the most unexpected traumas, and how they would protect those they love the most. I was particularly intrigued by the relationship between Nell and her older sisters and the way their upbringing had shaped the rest of their lives.
Beckerman is an adept writer of human emotions and of the myriad ups and downs of family life. The Impossible Truths of Love is an absorbing read full of unexpected turns in the road and one which I enjoyed very much.
---

---
---
---
Hannah Beckerman is a novelist and journalist. She is a book critic and features writer for The Observer and FT Weekend Magazine and has contributed to a wide range of  publications from The Guardian to Red magazine. As a regular chair at literary festivals and corporate events she has interviewed a host of authors and celebrities, as well as appearing as a book critic on BBC Radio 2 and Times Radio. Prior to becoming a full-time writer, Hannah worked in television as a producer and commissioning editor for the BBC, Channel 4 and the Discovery Channel USA. She lives in London. The Impossible Truths of Love is her third novel.