ShortBookandScribes #BookReview – Reputation by Sarah Vaughan
A new Sarah Vaughan book is always exciting for me. I've been reading her books since her first book, The Art of Baking Blind. That book was pre-blog but I've reviewed The Farm at the Edge of the World, Anatomy of a Scandal and Little Disasters on here.
My thanks to Jess Barratt at Simon & Schuster for the proof copy of the book. Reputation will be published in hardcover, eBook and audiobook on 3rd March.
---

---
Emma Webster is a respectable MP.

Emma Webster is a devoted mother.

Emma Webster is innocent of the murder of a tabloid journalist.

Emma Webster is a liar.

#Reputation: The story you tell about yourself. And the lies others choose to believe…
---

---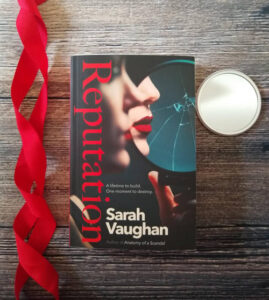 Reputation: A lifetime to build. One moment to destroy. That's the tagline of Sarah Vaughan's latest novel which looks at the heavy burden a woman in the public eye must face.
Emma Webster is an MP. She's bold and confident, fighting for the causes that matter to her. But there's a flip side to the life that she has built for herself and that is that she must endure countless threats, in person and digitally, through emails, social media and messages. She's aware her chosen path from teacher to MP has affected not only her marriage but her teenage daughter's life and her relationship with her. However, there's no doubt Emma is a good woman, is there?
A shocking event turns Emma's life upside down and she must consider not only her own reputation but that of her daughter's too.
This is a fantastic read, and relevant in the #metoo times in which we live, where women are taking a stand against the ever-present threat against them, whilst still looking over their shoulder when they hear footsteps behind them and carrying a set of keys laced through their fingers as a makeshift weapon should they need it. Vaughan writes about this subject perfectly, putting the reader into Emma's shoes as she deals with aggressive constituents and horrifying tweets.
Where Vaughan also excels is her portrayal not only of an MP's life but also of a tabloid journalist's. She's clearly used her background as a political reporter to great effect and this story feels completely authentic and well-drawn. It's a book of two halves and I did find the first half, with the build-up to the event that turns Emma's life upside down, the faster-paced, probably because I knew something major was going to happen, but the second half is just as fascinating as the aftermath unfolds.
Reputation is a gripping and important book. I felt rage for what Emma and her daughter were going through, and unexpectedly I felt tears spring to my eyes for the same reason. It takes guts to put yourself out there in a world of constant movement and instantaneous interactions. It's a thought-provoking story and a cracking good read.
---
---
Sarah Vaughan read English at Oxford and went on to become a journalist. After training at the Press Association, she spent eleven years at the Guardian as a news reporter and political correspondent before leaving to freelance and write fiction. Her first two novels, The Art of Baking Blind and The Farm at the Edge of the World, were followed by her first psychological thriller, Anatomy of a Scandal: a Sunday Times bestseller, and Richard & Judy pick of the decade, developed as a Netflix series starring Rupert Friend, Michelle Dockery and Sienna Miller. Her fourth novel, Little Disasters, a Waterstone's thriller of the month, was published in 2020. Reputation is her fifth novel.