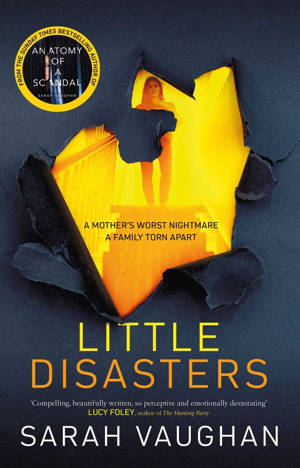 ShortBookandScribes #BookReview – Little Disasters by Sarah Vaughan
I'm so pleased to be sharing my thoughts about Little Disasters by Sarah Vaughan today. I'm a big fan of this author! My thanks to Sarah for very kindly sending me a signed copy of the book.
---

---
You think you know her…
But look a little closer

She is a stay-at-home mother of three with boundless reserves of patience, energy and love. After being friends for a decade, this is how Liz sees Jess.

Then one moment changes everything. 

Dark thoughts and carefully guarded secrets surface – and Liz is left questioning everything she thought she knew about her friend, and about herself.

From the bestselling author of Anatomy of a Scandal – a new thought-provoking novel exploring the complexity of motherhood and all that connects and disconnects us.
---
---
I love Sarah Vaughan's books so Little Disasters was a must read for me. I found it to be a compelling and thought-provoking domestic drama.
It's the story of two women. Liz is a doctor. She's worked hard, but as happens to many women, having children has slowed her career prospects down and given her severe mummy guilt. Jess is a stay at home mother, with a new baby as well as two older boys, and Liz sees her as the perfect, calm, in control parent. But when Jess takes her baby daughter to hospital with an injury that is hard to explain, Liz starts to see beyond her perfect façade, and begins to question what's lurking beneath.
This is a book that throws up many moral and ethical dilemmas, not least of which is what do you do if you don't trust your friend and you have to make a difficult decision to either believe her or follow procedure? Where do your loyalties lie?
I found myself clenching my teeth a lot in a kind of 'eek' expression whilst I was reading. There were plenty of moments where I was empathising with Jess in particular. Motherhood is an amazing and wonderful thing, but it definitely heightens the paranoia and the worry, especially if you are that way inclined anyway. And it's far from easy when a little person relies on you for everything. I felt that there was a real empathy in the writing, and I certainly felt that the things that happened could happen to any one of us. That moment when we take our eye off the ball and lives are potentially changed forever.
I enjoyed the unexpected parallels that the author drew between Liz's childhood and Jess's situation and I thought the plotting was tight. It's not a book of huge revelations, although the author did manage to get one or two in there. It's more of a thoughtful and intelligent read, one that puts not only the characters, but also the reader, in a quandary.
I was expecting something a little more explosive perhaps than I got, given the subject matter and I found it to be measured and level in tone, without quite as many emotional ups and downs as I thought there would be. Having said that, this is a book about feelings and the trials of parenting rather than it being a thriller and I thought that Vaughan tackled a difficult subject with her usual aplomb and sensitivity. It's a great read.
---

---
Anatomy of a Scandal, Sarah Vaughan's 3rd novel and her first courtroom drama/psychological thriller, combines her experiences as a news reporter and political correspondent on the Guardian with her time as a student reading English at Oxford. Translated into 22 languages, it was an instant international bestseller, Sunday Times top five bestseller, and kindle number 1 bestseller. It has been optioned for television and shortlisted for awards in the UK, Sweden and France.
Little Disasters will be published on April 2 in the UK, on August 18, in the US, and in various other countries in 2021. Married with two children, she lives just outside Cambridge, and is currently working on her fifth novel.