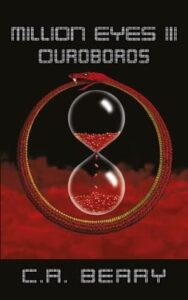 ShortBookandScribes #BookReview – Million Eyes III: Ouroboros by C.R. Berry #BlogTour
Million Eyes III: Ouroboros by C.R. Berry is published by Elsewhen Press and available now in paperback and eBook. My thanks to the author and publishers for the review copy and the place on the tour.
My reviews of the first two books in the trilogy: Million Eyes and Million Eyes II: The Unraveller.
---

---
Time is the Ultimate Deceiver

On a cold morning in 2219, Cara Montgomery and her husband, Jackson, have a frightening encounter on the beach. An encounter that leads to a war with a depraved and relentless alien race, the Shapeless, changing their lives forever.

Three hundred years earlier, Harriet Turner travels to the future to learn the shocking secret behind Victorian London's most notorious serial killer, Jack the Ripper. A mysterious barber, Fred, goes with her, but Fred has a shocking secret of his own.

Hunted by the ruthless Miss Morgan and plagued by visions of a snake eating its own tail, Harriet discovers that the all-powerful Million Eyes isn't the only one with an agenda. Time itself has one too.
---

---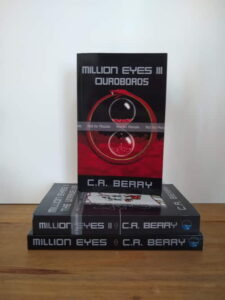 Having read the first two books in the Million Eyes trilogy I was really looking forward to seeing how C.R. Berry would wind everything up. Once again, I was really pleased to see the recap at the beginning (why don't all book series have them?) which served as a really helpful reminder of all that had gone before….and that was a lot!
This book starts well into the future in 2219 with a terrifying alien called the Shapeless doing something rather unpleasant to Jackson Montgomery, witnessed by his wife, Cara. We're also taken to Victorian London with Harriet Turner, who had previously met Jack the Ripper and was horrified by his vicious crimes against women. How these characters are linked to each other and to the previous books is just brilliant. In fact, the whole trilogy is plotted to perfection, with the sort of mind-bending detail that I find thrilling.
I'd say this is a series that needs to be read in order if you're going to get the most out of it. Everything comes full circle in this third book and all the threads are pulled together. I loved the way that I was rapidly transported from one time to another, one chapter in the past and the next in the future, throwing me around time as if I was in a time machine of my own, or in fact had popped one of the little red pills that send the characters through time. I enjoyed the challenge of keeping up with it (I'm not entirely sure I completely managed it but I did well enough) and I thoroughly enjoyed the time I spent reading this book.
Berry has done a fantastic job with the Million Eyes books. These books are clever, twisty, intricate, compelling and exhilarating, with an alternate view of some major aspects of history and a fascinating idea of what the future may hold, all bound up with some fabulous time travelling exploits.
---

---
---
---
C.R. Berry is an ex-lawyer turned full-time writer, whose fiction spans the sci-fi, mystery, conspiracy, historical, fantasy and horror genres – because why have one genre when you can have them all? His favourite characters are usually villains, hence why he likes conspiracy stories, where there are baddies at every turn. Berry was published in Best of British Science Fiction 2020 from Newcon Press with a short story set in the world of the Million Eyes trilogy. He's also been published in magazines and anthologies such as Storgy and Dark Tales, and in 2018 was shortlisted in the Grindstone Literary International Novel Competition. Having completed the Million Eyes trilogy, Berry is working on two further novels. One is a horror called The Puddle Bumps, about a lawyer who links a mysterious kids' TV show to an old murder case. The other is a collaboration with his fiancée Katy called Breaching The Wall, a sci-fi adventure about a spaceship tasked with solving the Universe's greatest mystery: why the wall that surrounds it is collapsing. He lives with Katy in Clanfield, Hampshire, in a house called the Gathered Worlds, named after the intergalactic organisation in Breaching The Wall and, appropriately, because they've themed all the rooms. Their bedroom is a spaceship, their kitchen a 50s diner and their living room a forest. Their office is a nerd's dream, wall to wall with TV and movie memorabilia to fuel the magic that happens there!