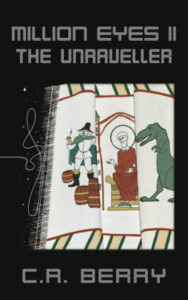 ShortBookandScribes #BookReview – Million Eyes II: The Unraveller by C.R. Berry
Today I'm sharing my thoughts about Million Eyes II: The Unraveller by C.R. Berry, the follow up to Million Eyes which I reviewed in 2020. My thanks to Elsewhen Press and Mark Iles for sending me a proof copy of the book for review purposes. It's available now in paperback and eBook.
---

---
Time is the Ultimate Saviour

Following an impossible discovery in East London, archaeologist Dr Samantha Lester joins forces with software developer Adam Bryant to investigate the events that led to the disappearance of his best friend, Jennifer, and to bring down the people responsible – Million Eyes.
Before long, Lester and Adam are drawn into a tangled conspiratorial web involving dinosaurs, the Gunpowder Plot, Jesus, the Bermuda Triangle, and a mysterious history-hopping individual called the Unraveller, who is determined to wipe Million Eyes off the temporal map.
But as the secrets of Million Eyes' past are revealed, picking a side in this fight might not be so easy.
---

---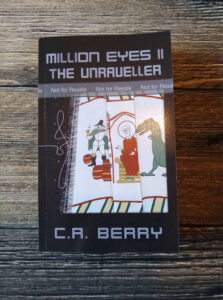 A couple of years ago I read and really enjoyed Million Eyes by C.R. Berry, the first in his time-travelling trilogy. When I picked up Million Eyes II: The Unraveller I was very pleased to see a recap at the beginning which helped me to remember all the twisty timey-wimey goings on in book 1. Book 2 is, I am happy to report, just as twisty and just as much of a crazy romp through time, taking in various well-known events in history.
Million Eyes is a company with eyes everywhere. They're in the auto-drive cars, the computers, the phones. Adam Bryant works for them but when he's contacted by Dr Samantha Lester about the disappearance of his friend, Jennifer, he starts to wonder if the company he works for is all it seems.
The story jumps around in time. We follow Jesus in the year 28, there are dinosaurs 66 million years ago (I loved the plot twist about them), the Gunpowder plot, and more and it's such an engaging and fascinating story. It's fast-paced and exciting and exactly my kind of read, with a mixture of time-travel and conspiracy theories. I love stories that are not told in a linear fashion and this definitely fits the bill. I had to exercise my brain a few times and there were moments of clarity where the only word available to me was 'wow'.
I'm really looking forward to book 3 now as I need to know what's going to happen next. Berry isn't afraid to take out his main players so I wonder who will take centre stage next time. Million Eyes II: The Unraveller is a quirky adventure through time with a hint of The Da Vinci Code about it. If you like time travel and history then I'd recommend the series.
---
---
C.R. Berry started out in police stations and courtrooms – ahem, as a lawyer, not a defendant – before taking up writing full-time. He's currently head of content for a software developer and writes fiction about conspiracies and time travel. (Note: he's not a tin foil hat wearer, doesn't believe 9/11 was an inside job, and thinks that anyone who believes the Earth is flat or the Royal Family are alien lizards needs to have their heads examined.) Berry was published in Best of British Science Fiction 2020 from Newcon Press with a Million Eyes short story. He's also been published in magazines and anthologies such as Storgy and Dark Tales, and in 2018 was shortlisted in the Grindstone Literary International Novel Competition. In 2021, he bought his first house with his girlfriend, Katherine, in Clanfield, Hampshire, discovering whole new levels of stress renovating it (not helped by a rogue builder running off with most of their budget). The couple are now in the fun stage, going full-on nerd and theming all the rooms – their bedroom is a spaceship, their kitchen a 50s diner. Now that the dust is settling, Berry is refocusing on the final book in the Million Eyes trilogy and getting back to writing his first collaborative novel with Katherine: a space-set adventure with aliens, terrorists, a mysterious wall that surrounds the universe and – of course – conspiracies.