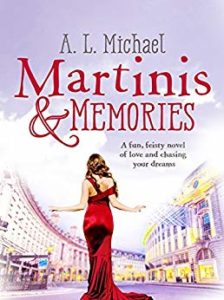 ShortBookandScribes #BookReview – Martinis and Memories by A.L. Michael @almichael_ @canelo_co #BlogTour
I'm so pleased to be taking part in the blog tour today for Martinis and Memories by A.L. Michael. I'm sharing my review and if you'd like to read my thoughts on the first two books in the Martini Club series then here are the links:
My thanks to Ellie Pilcher from Canelo for the place on the tour and the review copy via Netgalley.
---

A fun, feisty novel of love and chasing your dreams

Bel Hailstone has spent the past decade building her dream – Soho's best burlesque club – from the ground up. But now The Martini Club is under threat and it will take everything in Bel's power to resist encroaching developers and save her pride and joy.

Amidst the chaos Bel's past comes knocking with the unexpected arrivals of her still-not-quite-ex-husband, her estranged mother and Brodie Porter – the boy who got away all those years ago.

To keep her beloved club afloat – not to mention her sanity – Bel will have to accept help for the first time in a long time, put the past to rest and claim the happy ever after she once thought was lost for good.
Links to Book:
---
Having loved the first two books in the Martini Club series, I was so pleased to be able to read book three, especially as it focuses on exactly the person I hoped it would, Bel Hailstone, owner of the legendary Martini Club. You don't need to have read the previous books as they all work as standalone reads, but there are a few crossover characters.
We see a very different, more vulnerable side to Bel in Martinis and Memories. Having spent the last eight years building up the club and escaping her past, it all returns at once and takes her unawares. For the first time in ages she feels cast adrift by everything that's happening to her and her strong facade crumbles away.
I really felt for Bel but I loved how, once she learned to accept a bit of help, everyone rallied round and showed how much they respected and loved her. The Martini Club sounds like the perfect place to work where everyone is part of a family. I particularly liked Sam, her landlord and father figure. Also, it was great to see the return of Jacques, her right-hand man at the club.
With a focus on burlesque, the club came across as a quite amazing place. The author puts it across so well and her descriptions of the clothes, the surroundings, the food and the cocktails made me wish I could see the place for myself.
I loved Bel's sass and style. She'd be a fantastic friend to have. In fact, there are so many wonderful people in A.L. Michael's series. This final instalment was a real pleasure from start to finish, an easy read but one with lots of layers.
---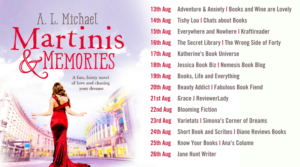 ---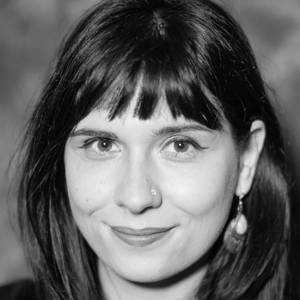 A.L. Michael is the author of 13 novels. Almost all of them are snarky love stories where difficult women learn to embrace vulnerability. Andi works as a content writer, so no matter what she's doing, she's all about the words. She has a BA in English Literature, an MA in Creative Business and an MSc in Creative Writing. She is represented by Hayley Steed at Madeleine Milburn.