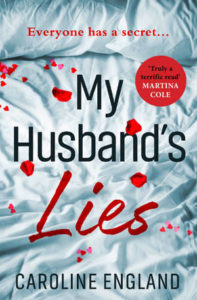 #bookreview – My Husband's Lies by Caroline England @CazEngland @AvonBooksUK #BlogTour #Extract
Last year, I took part in the blog tour for Caroline England's first book, Beneath the Skin. At the time, I was disappointed because I couldn't fit in a read of the book, but I did have a fab guest post from Caroline instead. So, when the opportunity to be a part of the tour for My Husband's Lies, Caroline's second book, came up, I knew I really really wanted to read this one. And wow, it's an amazing read! So you can get a little taster of your own, I've got an extract to share with you today as well as my review. I'd like to thank Avon Books for the review copy via Netgalley and Sabah Khan for the place on the tour.
---

Do you really know your friends?

On the afternoon of Nick and Lisa's wedding, their close friend is found poised on a hotel window ledge, ready to jump.

As the shock hits their friendship group, they soon realise that none of them are being as honest with themselves – or with each other – as they think.

And there are secrets lurking that could destroy everything.
Tense, disturbing and clever, My Husband's Lies is a breath-taking read, perfect for fans of Lucy Clarke and Erin Kelly.
You can get the ebook now for a bargain 99p and it's also available in paperback.
---
The tagline of this book is 'Everyone has a secret…'. Well, there are quite a lot of characters and it's fair to say that there are an awful lot of secrets floating around. What a tangled web of a story!
Other reviewers have likened My Husband's Lies to a soap opera and yes, it definitely has that 'ending on a cliffhanger with the most amazing turns to the story' feel to it. The A Team consists of Will, Dan, Nick and the honorary boy, Jen, who've known each other since school and are still just as good friends in their 30s. The action kicks off straightaway with one of the characters appearing to be about to jump off a hotel window ledge. The reason why doesn't become clear for some time, but in the meantime we are thrown curveball after curveball in the lives of these fabulous characters.
One thing I would say is that this is very much an ensemble piece and, as such, no particular character stood out as a main player. And each of those characters has a partner, parents and other family members who play a part in the story. So there's quite a lot of people to try and remember. I think a crib sheet would have been a good idea. But each character is relevant to the story, particularly in how the parents' actions shaped their children's lives, and so this is not a complaint, merely an observation.
This book is deliciously twisty. Each chapter left me gagging for more, only to move on to another character in the next chapter and lead me into their life and their problems….and repeat. It's incredibly well-plotted, very well-written and completely engrossing. It's a bit like being a fly on the wall and seeing deep into the lives and inner feelings of your subject.
And that ending! It shocked me to the core and I was muttering away to myself, hoping I was wrong about what was about to happen. I shall say no more but I'm a bit bereft about having to leave the characters behind. Whilst I think the ending worked extremely well, I would love to see a return to Will, Nick, Dan and Jen – a sequel perhaps.
I'm writing this review in the evening, having finished the book in the morning. Normally, I just move straight on to the next book but I'm finding I'm still thinking about My Husband's Lies. It's one of those books that has burrowed its way into my mind and my heart. It's an absolutely brilliant domestic drama and, in case you haven't guessed, I loved it!
---

His head propped on his hand, Dan slouches at the kitchen table, unshaved. The pine table still wobbles and the floorboards feel cold beneath his bare feet. He can smell yesterday's omelette, but none of those things are the problem. The house is old and retains odours; he likes it that way.

Wearing her dressing gown, Geri stretches and yawns as she enters, then starts with surprise. 'Oh Dan! I thought you'd gone to work. Sorry, I dropped off again. What time is it?'

He shrugs and pushes his half-eaten breakfast away. The cereal was soft and tasteless. He wasn't hungry enough to make the effort with toast.

'Eight? Eight fifteen?'

'Shouldn't you be dressed by now? Is someone else opening up today?'

'Nope.'

Geri rakes her fingers through his uncombed hair. 'Then, shouldn't you …?'

'None of the other staff arrive until half past nine. And why should they? No one looks at properties at the crack of dawn. I'm just the idiot who turns up an hour before everyone else because a conveyancer's lot is not a happy one. And as for bloody Salim—'

'A sleeping partner who sleeps?' She looks at him thoughtfully. 'Are you OK, Dan? You've seemed a bit jaded this week.'

He pulls her gently towards him, his face meeting her protruding belly. Resting his head against it, he plants a soft kiss, inhaling a comforting smell he couldn't describe if he tried. 'I'm just jealous. I want to stay at home with you and Henrietta.'

'Henrietta? Very Jane Austen. So, the baby is a girl today?'

'Yes, she told me this morning when you were sleeping.'

'Well, Henrietta says it's time for Daddy to get shaved and dressed.'

He puts his hand to his chin, feeling the bristles for a few moments. He has what Jen Kenning always describes as 'Irish stubble', black and soft but persistent. He can't be bothered to shave. 'How about a beard?'

'A beard?' Geri says slowly, then laughs. 'OK. Let's see how it goes.'
I think Dan was my favourite character and I loved the changes he went through in the story.
---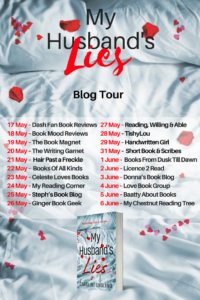 ---

B
orn Yorkshire lass, Caroline studied Law at the University of Manchester and stayed over the border. Caroline was a divorce and professional indemnity lawyer and instigated her jottings when she deserted the law to bring up her three lovely daughters. In addition to the publication of her short story collection, Watching Horsepats Feed the Roses by ACHUKAbooks, Caroline has had short stories and poems published in a variety of literary publications and anthologies. She was shortlisted for the Impress Prize 2015, in the Pulp Idol 2016 finals and long listed for the UK Novel Writing Competition 2017.
Her debut novel, Beneath the Skin, was published by Avon HarperCollins on 5 October 2017. Her second novel My Husband's Lie's was published by Avon HarperCollins on 17 May 2018.