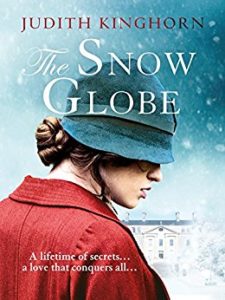 #blogtour – The Snow Globe by @JudithKinghorn @canelo_co #bookreview #extract
I'm delighted to be taking part in the blog tour today for The Snow Globe by Judith Kinghorn. Thank you to Ellie Pilcher from Canelo for the place on the blog tour and the review copy via Netgalley.
I have my review and an extract to share with you but first of all here's what the book is about:

A beautiful story of enduring love and heartbreaking choices.

As Christmas 1926 approaches, the Forbes family are preparing to host a celebration at Eden Hall. Eighteen-year-old Daisy is preoccupied by a sense of change in the air. Overnight, her relationship with Stephen Jessop, the housekeeper's son, has shifted and every encounter seems fraught with tension. Before the festivities are over, Daisy has received a declaration of love, a proposal and a kiss – from three different men. Unable to bear the confusion she flees to London and stays with her elder sister.

By the following summer, Daisy has bowed to the persistence of the man who proposed to her the previous year. When the family reunite for a party at Eden Hall and Stephen is once more in her life, it is clear to Daisy she is committing to the wrong person. Yet she also believes that family secrets mean she has no choice but to follow her head instead of her heart. Will love conquer all, or is Daisy's fate already written?
---

When Noonie moved into Eden Hall, she had brought with her the accumulation of a lifetime, albeit distilled, and the relics and heirlooms of other lifetimes before hers. The room, Mabel thought now, resembled an aging, overdressed woman no longer confident of her style, or of any one style. And yet there remained—here and there—the trace of some former discernment, a singular mind. But silks once vibrant were now sun bleached; velvets once sumptuous, worn and faded. The room was choked with too much of everything, and even Mabel's cherished Meissen porcelain and Viennese glass were quite lost in the sea of clutter.

As the ormolu clock on the mantelshelf belatedly chimed five, Mabel noticed car headlights on the driveway.

'Someone's here… looks like a station taxi,' said Daisy.

But no one was due to arrive, not yet. 'Possibly a delivery,' Mabel suggested, turning to Mr. Blundell as he crossed over the hallway in answer to the bell. She heard the distant sound of the Dutch clock on the wall in the kitchen, the cuckoo clock down the passageway, and made a mental note to speak to Blundell about the clocks not keeping time. Then she heard the voice: 'Hello, Blundy, how are you? Isn't it bloody freezing?'

Dosia.

'Surprise?' repeated Dosia seconds later. 'But I sent you a telegram to say I was coming earlier.'

'Oh yes, there was a telegram… I forgot to tell you,' said Daisy, turning to the hallway table.

Mabel took the telegram from Daisy's hand: PLANS CHANGED STOP ARRIVING TODAY STOP ON THE FOUR TWENTY STOP.

The telegram had arrived that afternoon while Mabel was out delivering cards and had lain on the table, disappearing beneath a pile of yet more cards.

'I can't believe it's happened again,' said Mabel, throwing down the telegram and putting her head in her hands. The last time Dosia had visited there'd been a similar mix-up with train times and no one had been at the station to meet her.

'You really should have telephoned,' Mabel went on, helping her sister-in-law out of her moth-eaten fur and forgetting for a moment that Dosia had yet to have a telephone installed at her London flat, or rather, that Dosia refused to have a telephone installed at her London flat on grounds of its being a 'completely unnecessary expense.'

'Now, where's the rest of your luggage, dear?' Mabel asked.

'That's it.'

Dosia pointed down to an unusually small suitcase, similar to one Daisy had once used for her doll's clothes.

'That's it?'

'You know me, Mabe. I'm not a fusspot when it comes to fashion. And I thought this should see me through,' Dosia added, running her large hands over her tweed-clad hips.

It was her usual garb, that tweed skirt—always slightly askew at the hem, a familiar brown sweater, woolen stockings and laced leather brogues. As ever, there was no trace of makeup on Dosia's aging yet still innocent face, and her baby-fine hair, which she claimed to have had 'done' especially for Christmas, stood up on end when she removed her battered cloche hat.

'Rather sweet, isn't it?' said Dosia, swiveling the felt hat on her hand. 'I got it at the Save the Children jumble sale. Sixpence! Can you imagine? Daylight robbery, really, but naughty old Beatrice has made a bed of my other,' she said, referring to one of her numerous cats.

Christened Theodosia Hermione Evangeline Forbes, Dosia was Howard's only surviving sibling. Howard and Dosia's two brothers had been killed in the war, along with Dosia's fiancé, Hugh. Like her brother, Dosia was tall and broad shouldered and had a long stride. Unlike her brother, she was what Mabel deemed a free spirit and had, in her youth, been arrested a number of times for chaining herself to railings and throwing bricks through shop windows in support of Votes for Women.

It was still queer to think of Dosia in jail… A criminal? It was a ridiculous notion, Mabel thought, smiling and nodding to Blundell as he lifted the tiny and quite obviously weightless case. 'The usual room, thank you, Mr. Blundell,' said Mabel.

As Dosia fell into an armchair in the drawing room, Mabel noticed the thick plumes of dust rise. She would need to speak to Nancy again about Hilda. And as Dosia went on to explain that her train had been delayed due to 'some poor wretch' throwing herself onto the line at Woking, Hilda herself appeared with a tray of tea and her usual surly expression.

'Always happens this time of year,' said Hilda, bending over, slopping milk into cups. 'My ma says it's 'cause folk can't face being stuck with their families at Christmastime. Makes 'em go a bit loopy.'

'Yes, thank you, Hilda,' said Mabel.
---
If you like the sound of The Snow Globe then here are the buying links you need:
And please do have a look at the other blogs taking part in the tour.
---
The Snow Globe starts in 1926, just before Christmas, when 18 year old Daisy Forbes gets out the snow globe that was a gift from her father, just as she does every Christmas. But this Christmas everything is about to change. Daisy is about to be pursued by three very different men and not only that, things are changing for her mother and father as well.
If you like your historical fiction without any time slip mysteries and just set in one era in the past then this is a perfect read. It captures the 1920s well, a time of upstairs and downstairs (although the lines are a bit blurred in this case) and parties, as well as the aftermath of World War I and the loss of so many men.
I did sometimes find Daisy a little silly but she was also young and naive. I liked Stephen, one of her suitors: the one she was closest to but the one most unlikely to succeed. I also thought Daisy's mother, Mabel, was a well-written character. As is often the case with this kind of story, I really liked reading about the servants, how they lived and the gossip they shared.
I wouldn't say The Snow Globe is a story with a huge amount of substance but it's got love stories at its heart and is a light, gentle and pleasurable read. I found myself transported to 1920s Surrey and London and enjoyed my time there.
---

Judith Kinghorn is the author of four novels: The Echo of Twilight, The Snow Globe, The Memory of Lost Senses and The Last Summer. She was born in Northumberland, educated in the Lake District, and is a graduate in English and History of Art. She lives in Hampshire, England, with her husband and two children.