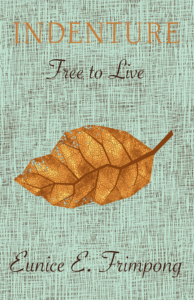 #blogtour – Indenture by Eunice E. Frimpong @Authoright #bookreview #extract
This is something a bit different for me today as Indenture is a short book of poetry.

Refreshing and uplifting, Frimpong's poetry will kindle pursuit of resolution and truth.
Indenture, a legal contract, has long held an historic association with slavery.
Indenture: Free to Live by Eunice E. Frimpong explores far-ranging themes including wealth, addiction and purpose, to challenge our perceptions of enslavement in the present era.

These poems are designed to reveal dimensions of a pressing contract, with the promise of freedom.

Lovingly composed, to anchor souls.

How'll I control

What you do, what you say,

When you hurt me

And you don't say:

"Sorry."

How'll I forget,

Move on,

When I'm hurt, inside,

Unfair.

Give what I deserve, say:

"Sor…"

…you walk care free, what about me?
I don't read much poetry so I have very little to compare Indenture to. I do want poetry to be accessible though and by and large the poems in this short collection are.
There are just nine poems to choose from. I rather liked the first one about a green leaf. The theme of the poems is one of modern day enslavement. I can see in the green leaf poem that the enslavement might be one of looking at your peers and wondering why you're not the same but that's just my interpretation.
In other poems I think I recognise feeling enslaved by your feelings for somebody, being enslaved by food, forbidden liaisons and fear, amongst others.
I'm sure somebody cleverer and deeper than me could find hidden meanings and metaphors in the poems. I simply took them at face value, reading the words and taking what I could from them.
Indenture is an interesting collection. If you enjoy poetry and you like to investigate the meaning of the words rather than it simply being spelled out for you then this could be a collection for you.
---
If you like the sound of Indenture then here are the buying links:
With thanks to Rachel Gilbey at Authoright for the place on the blog tour. And please do have a look at the other blogs taking part.
---

Originally born in Ghana, Eunice E. Frimpong came to live in London as a child. She attended the University of Manchester and abroad at the University of Missouri where she studied history and became more involved in her Christian faith. She has worked as a teacher to children with special education needs and disabilities and still works as an educator in London. This is her first book.