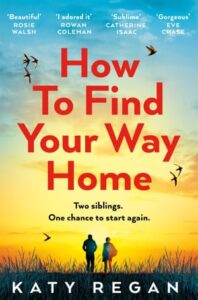 ShortBookandScribes Q&A with Katy Regan To Celebrate Paperback Publication of How To Find Your Way Home
Today, to celebrate paperback publication day, I'm delighted to be sharing a Q&A with Katy Regan, author of How To Find Your Way Home. This is a gorgeous story of a brother and sister, close as children but whose lives as adults have gone in very different directions. I read and reviewed it last year on hardcover publication day and you can read my review here. I love the paperback cover which sets the scene for the story beautifully.
---

---
What if the person you thought you'd lost forever walked back into your life?

In March 1987, four-year-old Stephen Nelson welcomes his new baby sister, Emily. Holding her for the first time, he vows to love and protect her, and to keep her safe forever.

Thirty years later, the two have lost touch and Stephen is homeless. Emily, however, has never given up hope of finding her brother again, and when he turns up at her office, she thinks her wish has come true. But they say you should be careful what you wish for – because there is a reason the two were estranged . . .

As the two embark on a birding trip together, Emily is haunted by long-buried memories of a single June day, fifteen years earlier; a day that changed everything. Will confronting the secrets that tore them apart finally enable Emily and Stephen to make their peace – not just with their shared past and each other, but also with themselves?

Haunting, beautiful and uplifting, Katy Regan's How to Find Your Way Home is about sibling love, the restorative power of nature and how home, ultimately, is found within us.
---
---
Q1. I really loved How To Find Your Way Home. Can you tell me a little about the storyline and where your inspiration came from? Why did you decide to write about a brother and sister, homelessness and bird-watching?
A1. I'm so glad you enjoyed the book! Inspiration for the storyline came from two main sources: the first was a friend's brother, Justin, who suffers from serious mental health issues but finds huge resilience and joy in his hobby of birdwatching. I was really interested in why and how that was, and wanted to write something about the restorative power of nature, focusing (because Justin was able to be on hand with his knowledge!) on birdwatching and what birds in particular can teach us about life.
The second was the fact that I was volunteering at a homeless shelter and from talking to people there I started to wonder  – if siblings are brought up in the same way with the same opportunities, why might one of them end up homeless and not the other? Coming up with the reason for that, was the basis of the plot for How to Find Your Way Home.
Q2. If How to Find Your Way Home was to be made into a film or television adaptation who would be your ideal choices to play the main characters?
A2. Ooo I love that question! I often have an actor in mind whilst I am writing, it really helps me to get into character.
For Stephen I had Joe Gilgun in my head. For Emily, it changed so many times over the (very long time!) it took me to write the book from Saoirse Ronan to Billie Piper.
Alicia was a very young Brenda Blethyn in my head, but obviously we couldn't turn back time so maybe someone like Keeley Hawes. For Mitch, it has to be the actor Mark Strong.
Q3. Can you tell me more about how you became a writer? If you weren't a writer what path do you think you would have taken instead?
A3. I was a magazine journalist first – and still do lots of journalism. I was features editor of Marie-Claire where I also wrote a column. That column became my first book and it went from there. I didn't actually set out to be a novelist  – I didn't think I could!
I think if I hadn't have become a writer I'd have done something to do with caring – a social worker or psychologist. I've always been interested in what makes us tick, what undoes us and what heals us. I also had a brief past life as a would-be actress  / dancer at stage school!
Q4. Do you plot your stories meticulously or do you just write and see where it takes you?
A4. I wish I could plot meticulously! I've tried but I just can't. My books are always organic and a kind of layering process – they will typically begin with a character and a problem, or even just a scene in my head that I really want to write and it grows from there.
Q5. Could you tell me about your writing day? Where do you write and do you have a daily routine?
A5. At the moment, writing novels has to be fit around my other jobs as a copywriter and journalist so there's not really a routine, except trying to do something – at the very least an hour – every day. If I am into writing a book and am doing it full-time, then I try to do eight half hour sessions – so that's four full hours – of working on the book (absolutely no looking at emails of the internet!) per day.
My best time is first thing or late in the evening when things are at their quietest. So, my routine might be get up, go straight to my desk at home and do a couple of hours. Then, I quickly find I need a change of scenery so will go and work in the local library or cafes – but I am finding it harder to write in cafes because they all play music. Often, I do another hour or so around 9pm.
Q6. Do you have time to read and if so what kind of books do you enjoy? What was the last book you read?
A6. I love reading but apart from on train journeys I only ever read in bed – before I go to sleep – every single night, or else I can't sleep! I read everything from fiction to autobiography, but you just can't beat a wonderful novel. If I don't have a decent novel on the go to look forward to every night, I feel a bit bereft
The last book I read was So Much Life Left Over by Louis de Bernieres  – it was kind of slow and meandering but beautiful.
Q7. I have to ask, after writing this book with such a strong focus on bird-watching, do you have a favourite bird and if so, why that bird in particular?
A7. I'd have to say a swift! They are the main bird in the book and play a big part in the plot. I spoke to lots of swift conservation enthusiasts and what I learned about this little migratory bird was mind-blowing to me. In particular, how they can find their way back to the same branch on the same tree every March when they come back to the U.K. having flown thousands of miles from the Sahara.
Q8. Do you have any interesting writing quirks?
A8. Only that I work in half-hour slots with five-minute breaks in-between. Also, I can't work with any music – I like to hear my characters' voices as I write.
Q9. What are you planning to write next and where will it take us?
A9. I've begun a new novel after a bit of a break. All I will say, is that it's about rebirth and it's a dark comedy. At least it is at the moment ! That may of course change…..
Q10. Finally, what message would you like the reader to take away after reading How to Find Your Way Home?
A10. That really, the only thing separating you and the homeless person on the street, is luck, a few wrong turns…so, acknowledge them, respect them  – they may have things to teach you about life and resilience. Everyone has a valuable story.
_________________________
Thank you for such excellent answers, Katy. Your next book sounds intriguing and I will definitely want to read it when it's published. I love your choices for the cast (you can never go wrong with Keeley Hawes!). That fact about swifts is incredible! Congratulations on paperback publication.
---

---
Katy Regan grew up near Morecambe in Lancashire. She began her writing career as a magazine journalist, and is ex-Features Writer and Commissioning Editor of Marie Claire, where she also had a long-standing and popular column, 'And then there were three… sort of' about her unconventional route to motherhood. She has written for most national magazines and newspapers. She has also written two self-help books (a cause for great amusement among those who know her well.)
She lives in Hertfordshire with her son. When she's not writing, she mainly loves swimming in freezing cold lakes, reading and going on mini-breaks. How To Find Your Way Home is her sixth novel.