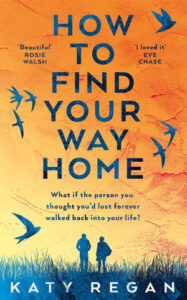 ShortBookandScribes #PublicationDay #BookReview – How To Find Your Way Home by Katy Regan
Today is publication day for How To Find Your Way Home by Katy Regan. You can find my thoughts below. My thanks to Rosie Friis from Mantle for the proof copy of the book. You can buy it now in hardcover and eBook.
---

---
Sometimes you need to be lost before you can find your way home…

What if the person you thought you'd lost forever walked back into your life?

On a sunny morning in March 1987, four-year-old Stephen Nelson welcomes his new baby sister, Emily. Holding her for the first time, he vows to love and protect her, and to keep her safe forever.

Nearly thirty years later, the two have lost touch and Stephen is homeless.

Emily, however, has never given up hope of finding her brother again and when he arrives at the council office where she works, her wish comes true. But they say you should be careful what you wish for – and perhaps they're right, because there is a reason the two were estranged . . .

As the two embark on a birding trip together, Emily is haunted by long-buried memories of a single June day, fifteen years earlier; a day that changed everything. Will confronting the secrets that tore them apart finally enable Emily and Stephen to make their peace – not just with their shared past and each other, but also themselves?

Haunting and beautiful, How to Find Your Way Home, Katy Regan's second novel for Mantle, is about sibling love, the restorative power of nature and how home, ultimately, is found within us.
---

---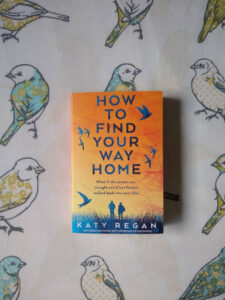 Stephen and Emily are brother and sister. Now in their thirties, Stephen is 4 years older than Emily and for the last two decades their lives have been very different. Emily has a good job and a gorgeous flat whilst Stephen is homeless, living on the streets. Emily hasn't seen him for a long time but has never given up hope and a chance encounter brings Stephen back into her life.
This is a lovely story of the strong bonds of childhood and about how what happens in those formative years can echo down the years into adulthood. There's a lot of back story to why Stephen is homeless and estranged from his family and it surprised me in places. Katy Regan has managed to keep this story tender and thoughtful without making it hard to bear.
I really liked Stephen and Emily as characters. I loved the flashbacks to their childhood memories and in particular to Stephen's love of birdwatching which is something that binds the two of them in the past and the present. I don't know much about birds but I really enjoyed the references to them in this book, especially swifts who find their way home every year, just as Emily always hoped Stephen would.
How To Find Your Way Home is a sad and moving story but ultimately uplifting and full of heart and meaning. Regan is a fabulous writer, conveying emotion and feeling so beautifully.
---
---
Katy Regan grew up near Morecambe in Lancashire. She began her writing career as a magazine journalist, and is ex-Features Writer and Commissioning Editor of Marie Claire, where she also had a long-standing and popular column, 'And then there were three… sort of' about her unconventional route to motherhood. She has written for most national magazines and newspapers. She has also written two self-help books (a cause for great amusement among those who know her well.)
She lives in Hertfordshire with her son. When she's not writing, she mainly loves swimming in freezing cold lakes, reading and going on mini-breaks. How To Find Your Way Home is her sixth novel.