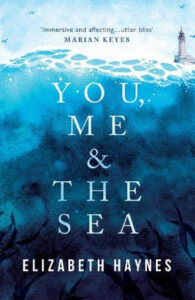 ShortBookandScribes #BlogTour #Extract from You, Me and the Sea by Elizabeth Haynes
Welcome to my stop on the blog tour for You, Me and the Sea by Elizabeth Haynes. I have an extract to share with you today. My thanks to Emma Dowson from Myriad Editions for asking me to be a part of the tour. I do have a copy of the book, which is available now in ebook and will be published in paperback on 11th February, and I hope to be sharing my thoughts with you very soon.
---

---
Compelling, moving and teeming with feral desire: Elizabeth Haynes's new novel is an intoxicating story of love and redemption, set on a wild and windswept Scottish island.

Rachel is at crisis point. A series of disastrous decisions has left her with no job, no home, and no faith in herself. But an unexpected job offer takes her to a remote Scottish island, and it feels like a chance to recover and mend her battered self-esteem.

The island's other inhabitants are less than welcoming. Fraser Sutherland is a taciturn loner who is not happy about sharing his lighthouse – or his precious coffee beans – and Lefty, his unofficial assistant, is a scrawny, scared lad who isn't supposed to be there at all.

Homesick and out of her depth, Rachel is sure she's made another huge mistake. But, as spring turns to summer, the wild beauty of the island begins to captivate her soul.
---

---
You can download the beginning of chapter 1 by clicking here.
Hope you enjoy it.
My copy of the book came beautifully presented by the author.
---

---
---
---
Elizabeth Haynes is a former police intelligence analyst who lives in Norfolk with her husband and son. Her first novel, Into the Darkest Corner, was Amazon's Best Book of the Year 2011 and a New York Times bestseller. Now published in 37 countries, it was originally written as part of National Novel Writing Month (NaNoWriMo), an online challenge to write a 50,000 word novel in the month of November.
She has written a further three psychological thrillers—Revenge of the Tide, Human Remains and Never Alone—and two novels in the DCI Louisa Smith series, Under a Silent Moon and Behind Closed Doors.
Next came her highly praised historical novel The Murder of Harriet Monckton (a Sunday Times Summer Read) which is based on the 1843 unsolved murder of a young school teacher in Bromley, Kent.
Elizabeth's latest novel, You, Me and the Sea is a contemporary story of love and redemption set on a remote, windswept Scottish island.