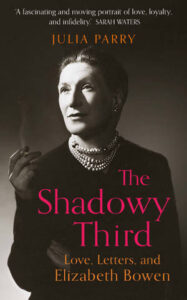 ShortBookandScribes #BlogTour #Extract from The Shadowy Third by Julia Parry
It's my stop on the blog tour for The Shadowy Third by Julia Parry and I'm delighted to have an extract from chapter 1 to share with you. I have a copy of the book and I'm really looking forward to reading it. It sounds right up my street, and just look at the beautiful cover. My thanks to Anne Cater of Random Things Tours for the place on the tour and to Duckworth for kindly sending me a copy of the book.
---

---
'A fascinating and moving portrait of love, loyalty and infidelity.' Sarah Waters

A sudden death in the family delivers Julia a box of love letters. Dusty with age, they reveal an illicit affair between the celebrated twentieth-century Irish novelist Elizabeth Bowen and Humphry House – Julia's grandfather.

So begins an intriguing quest to discover and understand this affair, one with profound repercussions for Julia's family, not least for her grandmother, Madeline. This is a book about how stories are told in real life, in fiction and in families.

Inspired by Bowen's own obsession with place and memory, Julia travels to all the locations in the letters – from Kolkata to Cambridge and from Ireland to Texas. The reader is taken from the rarefied air of Oxford in the 1930s, to the Anglo-Irish Big House, to the last days of Empire in India and on into the Second World War.

The fascinating unpublished correspondence, a wealth of family photographs, and a celebrated supporting cast that includes Isaiah Berlin and Virginia Woolf add further richness to this unique work.

The Shadowy Third opens up a lost world, one with complex and often surprising attitudes to love and sex, work and home, duty and ambition, and to writing itself. Weaving present-day story telling with historical narrative, this is a beautifully written debut of literary and familial investigation from an original and captivating new voice.
---

---
Chapter 1

Oxford: Encounters

The linen is crisp, the light abundant through high stained-glass windows. There is a clink of glasses, innuendo, and clever chatter. A luncheon party in Oxford in 1933.

The host, thick-necked and tipping into portliness, eyes the table with satisfaction. His chosen men, bright young fellows of the college, are acquitting themselves well. The woman on his right, intelligent and bold-featured, is a superb addition to the group – all the better for not being part of the university.

She, for her part, loves a good meal, particularly if served with wine and virility. There is nothing quite like being the one clever woman in the room. Deftly she slips impressions of the table up her imaginative sleeve. She's already written a version of her host, with his air of cultured complacency, into an earlier novel of hers.

Further down the table sits a young man. Square-faced, taciturn. Here is the Oxford he has been aiming for, yet one he now fears he might lose. Here too a woman unlike any he has met – spirited, older, other. It is essential to catch her eye, pique her curiosity, be memorable.

2011

This was the start of the affair between the brilliant novelist and short story writer Elizabeth Bowen, and my grandfather, Humphry House. A story contained in a box of letters that for years had lain, largely forgotten, in my uncle John's attic – a heart left to beat unheard.

Opening the cardboard box one afternoon at his house, I was greeted by a chaos of paper of various weights and sizes. Large manila envelopes, the texture of old skin, bore simply the information: 'E. B. to H. H.' and 'H. H. to E. B.' Some envelopes had a visible date in the postmark: others merely a year added tentatively in pencil near a peeling green stamp of George V. I took all the letters and sorted them loosely into piles. 1933: first six months, 1933: second six months, 1934, 1935, after 1935, dateless.

The letters from Elizabeth to Humphry sat on one side of the sofa, his to her on the other. Only then, when I saw them all laid out, did I fully realise our family's good fortune. Unusually, we had ended up with both sides of the correspondence. The whole relationship was there at my fingertips.

Elizabeth leapt off the page immediately – her energy, her breathless handwriting, her imperatives: 'Stop worrying about your heart and try and have a better brain.' I heard the dynamic voice not just of one of my favourite novelists, but of one of the great writers of the twentieth century. I was plunged into new worlds – of the Anglo-Irish big house, of bohemian London in the 1930s, of the last days of Empire in India. Beyond the personal dramas, the correspondence gave me a fascinating glimpse of the interwar period. There was much discussion of women's roles, in an era that afforded them greater freedoms whilst still keeping them harnessed to societal expectations.

I devoured the letters, gripped by their brilliance and slightly starstruck by Elizabeth herself. My grandfather, whom I never met, was a tangible presence for the first time in my life. And yet I could not help thinking of my grandmother, the unscripted third player in this vivid tale of love and betrayal.

Five hours flew by, and then there was John again, asking if I was ready for a drink.

I had tried, albeit inexpertly, to line up the letters on the sofa so that the back and forth element of the correspondence could be appreciated by the next reader, whoever that might be. My suggestion for reorganisation was rejected, kindly but firmly. Back in their separate crepey manila envelopes they went, into the box, and off into the recesses of the house.

What impact did the affair have on my family? Why had my grandmother preserved the love letters another woman had written to her husband? Did the relationship spill over into the work of Elizabeth Bowen, as family folklore told?

All those questions remain unanswered. Six months later my dear uncle died quite unexpectedly, and the tattered old box came to me.
---

---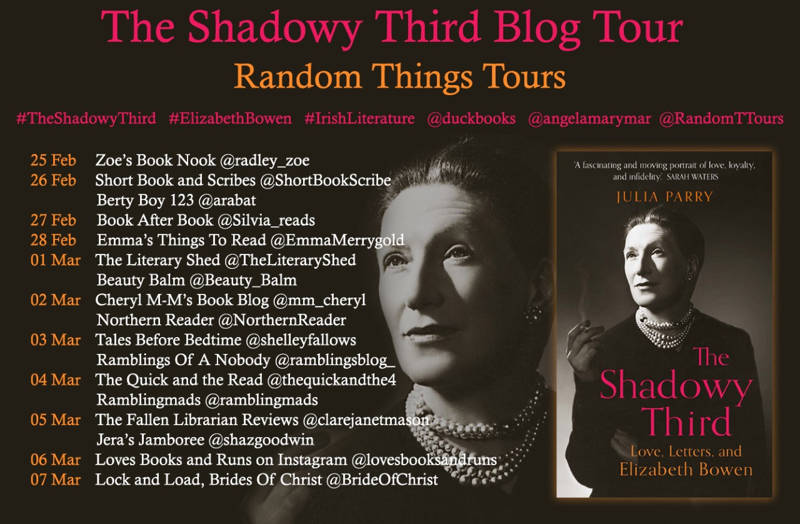 ---
---
Julia Parry was brought up in West Africa and educated at St Andrews and Oxford. She
teaches English literature and has worked as a writer and photographer for a variety of
publications and charities. She lives in London and Madrid. This is her first book.