ShortBookandScribes #BlogTour #Extract from Secrets at Meadowbrook Manor by Faith Bleasdale @FaithBleasdale @AvonBooksUK
Welcome to my stop on the the blog tour for Secrets at Meadowbrook Manor by Faith Bleasdale. I have a fab extract to share with you today. This is the second book in the Meadowbrook Manor books and if you'd like to read an extract from book one, A Year at Meadowbrook Manor, then click here. My thanks to Sabah Khan from Avon Books for the place on the tour.
---
When Gemma Matthews is hired to transform Meadowbrook Manor into a boutique hotel, she can't believe her luck.

She packs her bags and moves to Meadowbrook to start her dream job, but her life is quickly turned upside down. From dealing with the petty squabbles of the dramatic Singer
siblings to cleaning up donkey poo, Gemma soon realises she has her work cut out for her. Neverthless, she's
determined to make the hotel a success, especially when she starts falling for the dangerously attractive Freddie Singer.

But Gemma has a secret she's desperate to protect, and she knows the truth could jeopardise everything…
---

As she stepped into the grand hallway she felt herself shaking slightly – she was in the house! Just as she imagined herself being. The entrance hall seemed as big as her nan's bungalow, where she had lived all her life. With its polished parquet flooring, art dominating the walls, and the biggest vase of fresh flowers on an antique carved console table, it was unlike anything Gemma had ever seen. As Pippa grabbed her arm reassuringly, Gemma was rendered mute.

'So, where shall we start?' Pippa clapped her hands together. 'I know, I'll show you to your room. It was Harriet's room, but she doesn't live at the house anymore, so I thought I'd put you in there; it's such a lovely room. Also, it'll give you a feel for what the hotel might be like. God, can you imagine we are going to have paying guests here one day! I almost can't believe it's actually going to happen!' Pippa was hopping around, she was so animated and effervescent, the human equivalent of champagne, Gemma thought.

'I know, although of course there's a long way to go,' Gemma cautioned, trying to chase the blind panic away as it threatened to floor her. 'But it'll be lovely to see my room and get rid of my bags. Honestly, Pippa, I really want to thank you again – this is a great opportunity.' Gemma sounded like a stranger to herself as she spoke. She needed to collect herself, to stop acting so weirdly lest she lose the job before she even started.

'Oh no, thank you, I just knew that you were the one to help us from the moment I met you . . . no, before that, when I read your letter and CV, and I also know we are going to be the best of friends.'

Gemma was startled as Pippa engulfed her in a second embrace.

Settled into what was now her bedroom for the foreseeable future, she finally remembered to breathe. If Meadowbrook was to be her home for at least six months, while she helped the Singer family set up their hotel, she needed to think of it as such. She wasn't sure she would ever get used to the luxury she found herself in, but she was going to have to try. She needed to start embracing her good fortune rather than behaving like a rabbit caught in the headlights. After all, Pippa was so welcoming; she could only hope the rest of the Singers would be the same.

She unpacked her case; she hadn't brought too much with her, some work suits and a limited casual wardrobe. She didn't have far to go to the bungalow in Bristol if she needed anything else, but it felt presumptuous turning up with too much.
---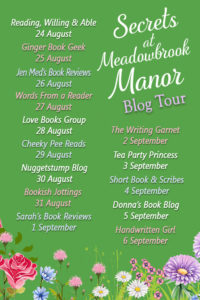 ---

Faith lives in North Devon, a single mum. She grew up in North Devon, studied History in Bristol, then moved to London – spending some time living in Singapore. Returning to North Devon when her child was born and now lives an idyllic countryside and beach life – normally in the rain.