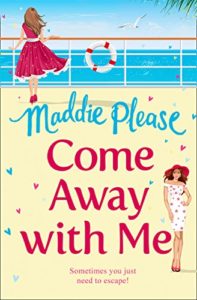 ShortBookandScribes #BlogTour #Extract from Come Away With Me by Maddie Please @MaddiePlease1 @AvonBooksUK
Welcome to my stop on the blog tour for Come Away With Me by Maddie Please. My thanks to Sabah Khan from Avon Books for the place on the tour. I have a lovely extract to share with you today so do please read on.
---

Somewhere beyond the sea…

When Alexa Fisher finds herself trapped on a twelve-day cruise to celebrate her younger sister's hen-do – just the two of them – she wishes she'd jumped overboard.

Despite the age difference, India has always been the judgemental sibling, and there's been even more friction than usual since 'the big engagement'. With India constantly obsessing over wedding plans, Alexa has never felt more single, or more of a failure.

She longs to find a man who was funny, handsome and faithful, but when she meets the enigmatic (and gorgeous) Gabriel Frost on the cruise, he seems to be as cold as his name suggests. Or is he…?

Set sail for an adventure on the high seas, it's time for Alexa to discover that sometimes, romance can surprise you!
---

I wondered where he was going. He had missed the flight to Miami by now and also flights to Dubai, Rome, Sydney and loads of other places. I knew this because I had a special app on my laptop. I liked to fantasise about where I would go on holiday … if I ever had time to go on holiday, which I hadn't for the last four years. As I've said, a weekend in Paris in November in the rain does not count as a proper holiday.

Perhaps he was a businessman travelling alone to some vital financial conference where he would address the World Bank about foreign aid? Or perhaps he was going to present a proposal to a board of shifty-looking venture capitalists for some huge office tower block in downtown Manhattan? Either way he was gone.

India wandered about looking out of the windows and fidgeting while I sat eating pretzels and sipping champagne. I tried to relax and look cool and not like someone who was in the habit of slinging drinks around.

'Can we go to duty free now?' she said at last. 'It's still over an hour till our flight. I want to find a lipstick to wear at the wedding.'

I resisted the temptation to groan and we gathered up our bags and made our way into consumer paradise, avoiding the huge bears, remote-control helicopters and iPad covers, and heading straight for the make-up. I didn't really mind although I wouldn't have admitted it to my sister. To be honest I'm especially keen on those dinky little palettes of eyeshadows and blushers with the tag 'Airport Exclusive'. There's just something about 'travel-size' products I can't get enough of. Within seconds India found a male assistant to help her. I was just having an enjoyable few minutes playing with a battery-operated pig when she found me.
---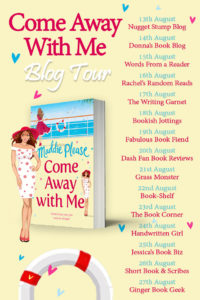 ---

Maddie Please was born in Dorset, brought up in Worcestershire and went to university in Cardiff.
Following a career as a dentist, Maddie now writes full time, and lives in Devon with her exceptionally handsome and supportive husband.