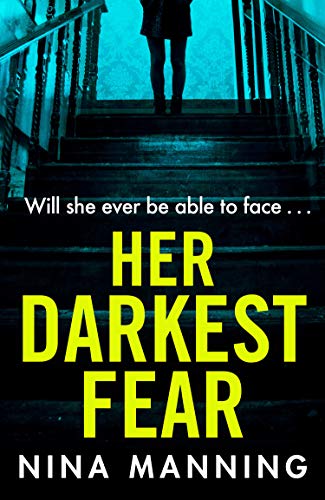 ShortBookandScribes #BlogTour #Extract and #AudioExtract from Her Darkest Fear by Nina Manning @BoldwoodBooks
I'm delighted to welcome you to my stop on the blog tour for Her Darkest Fear by Nina Manning. I have not only a written extract to share with you but also an audio one for your delectation. My thanks to Megan from Boldwood Books for the place on the tour.
---

---
One mother's past could cost her everything…

Frankie Keegan is struggling.
While she tries to make strides in her career, life at home is slowly unravelling as she is haunted by the secrets of her past.

Someone else remembers…

As the dark nights draw in, the anniversary of the loss of her brother looms and Frankie is drawn back to the memories of that fateful night 20 years previously. As she descends into a guilt-ridden state, she begins to suspect that someone else is also remembering that night and they are determined to terrify her…

Can she confront her past before it's too late?

From the bestselling author of The Daughter In Law, a gripping psychological thriller about family, secrecy and grief – with a twist you won't see coming. Perfect for fans of K L Slater, Shalini Boland and Lisa Jewell.
Amazon link to Her Darkest Fear – only £1.59 for the ebook!
---

---
* * *

I took a subtle look in my compact mirror. I had tied my dark brown hair back into a severe ponytail, and now, as the time was ticking on, I regretted doing it. I wanted to let it down, to feel the protection of it round my face.

I threw the compact back into my bag and began to play with my wedding ring, a rose gold band with sapphire green stones. It never seemed to sit straight, it always slid off to the left. As I sat, anxiously waiting, I twisted it back to the middle of my finger and wondered if the ring that never did quite fit was a representation of what Damian and I had become. I thought again about the person in the shadows and how they had once fitted so perfectly into my life.

* * *

'Mrs Keegan, you can go in now. It's Room Three, just round to the left there,' the receptionist said and I smoothed down my suit and threw my bag over my shoulder.

'Thanks.' I glided past the oversized desk she was cocooned in and where an elaborate display of white and pink lilies was situated just to her right. They were usually my favourite flower but suddenly the scent of them in my nostrils was too overpowering and I felt my gut tighten with nerves.

I walked around the corner, stood outside the boardroom, and gave a firm knock on the heavy wooden door.

'Come in.'

And I heard for the first time that deep modulated disembodied voice.

Him. The man who would change everything from that moment on.
And here's the audio extract:
---

---
---
---
Nina Manning studied psychology and was a restaurant-owner and private chef (including to members of the royal family). She is the founder and co-host of Sniffing The Pages, a book review podcast. Her debut psychological thriller, The Daughter in Law, was a bestseller in the UK, US, Australia and Canada. She lives in Dorset.