#blogtour – Christmas at the Log Fire Cabin by Catherine Ferguson @_cathferguson @AvonBooksUK #extract
I'm so pleased to be taking part in the blog tour for Christmas at the Log Fire Cabin by Catherine Ferguson today. Thank you to Sabah Khan from Avon Books for the spot on the tour.
Just look at that lovely cover and that cosy cabin. So inviting! I have an extract to share with you but first let's see what the book is about.

When Poppy's boyfriend Harrison proposes the week before Christmas and gives her twelve days to decide, she doesn't know what to do. With the festive season in full swing, it's make or break time for the couple and the clock is ticking…

Meanwhile, Poppy's best friend Erin is desperate for the pair of them to fulfil their dream of setting up a dinner party catering company – and when an opportunity arises at a luxury log fire cabin, the girls take their chance to impress. But they hadn't bargained on the owner of the cabin being quite so attractive – or having quite such a sexy voice.

As the twelve days tick on, will Poppy realise that Harrison is the one for her? Or will it be love in the lodge when the new year comes?

Lose yourself this Christmas in the new novel from the brilliant Catherine Ferguson, perfect for cosying up with by the fire.
---

'So, as I was saying before Erin arrived, if you were to transfer your savings into this high-interest account, I think you'd be onto a winner.'
Turning, he catches me stifling a yawn and smiles. 'You don't really care, do you?'
I grin at him. 'Yes, I do. Honestly! But you're so much better at this stuff than I am, so I suppose I just rely on you to tell me what's best.'
He shrugs and runs a hand through his blond waves. 'Well, what I think is best …' He reaches an arm around my waist and drops a kiss on my neck. 'Come on, wriggle closer,' he murmurs.
I smile and hitch along the sofa, snuggling up to him. Perhaps we'll forget about numbers for a while – a very long while.
'That's better,' he says, tapping my back and returning to the laptop. 'You can see the screen properly now. Now, high-interest savings.' He rubs his hands together then peers eagerly at the screen. I study him affectionately, like a mum watching her kid tear the wrapping off a Christmas present.
'Unless –' He turns with a sexy glint in his eye and my spirits rise. 'What do you say to throwing caution completely to the wind?'
'I'm all for that,' I murmur, running my hand along his thigh. I wonder what he has in mind? Sex on a week night, perhaps?
He pats my knee and gives me a cheerful wink. 'Brilliant. We'll go for investment funds, then, shall we? Let's live dangerously.'
'Oh. Right.'
After a while, my mind starts to wander.
I keep thinking about Erin planning her romantic night with Mark. Perhaps I should do something similar. Harrison always says sex is best left for weekends when he's got more energy, but I'm sure I can persuade him that a little mid-week spontaneity would be nice.
I spring up off the sofa.
'Where are you off to?'
I wink at him. 'Wait and see.'
Upstairs, I rummage in my underwear drawer and find my one pair of black stockings. I'm out of practise so it takes me the best part of fifteen minutes to get them on smooth and straight. But when I wriggle into the close-fitting little red dress I bought to wear at Harrison's work do last Christmas, I'm feeling really quite sexy. Adjusting my hair, I allow some dark tendrils to fall down, framing my face. A slick of scarlet lipstick and an extra coat of mascara and I'm ready for anything!
I navigate the carpeted stairs carefully in my black patent high heels and strike a pose in the living-room doorway. 'What do you think?'
'About what, Puss?' Harrison is focusing hard on the screen.
'About this dress you chose for me last Christmas?' I experiment with a sexy pout in profile.
'Hm?' he murmurs, still not looking up.
I sigh, feeling a bit of an idiot standing there in my best harlot outfit, knowing I come a poor second to a graphic of the FTSE 100.
'Harrison!
---
If you like the sound of it then Christmas at the Log Fire Cabin is available now in ebook and in paperback from 30th November.
And please do check out the other blogs taking part in the tour.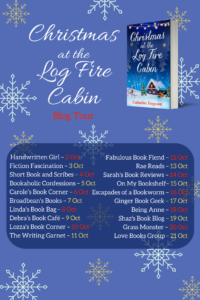 ---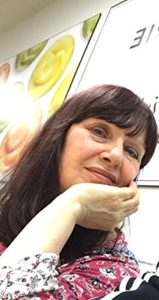 Catherine Ferguson burst onto the writing scene at the age of nine, anonymously penning a weekly magazine for her five-year-old brother (mysteriously titled the 'Willy' comic) and fooling him completely by posting it through the letterbox every Thursday.
Catherine's continuing love of writing saw her study English at Dundee University and spend her twenties writing for various teenage magazines, including Jackie and Blue Jeans, and meeting pop stars. Then she got serious and worked as a sub-editor at the Dundee Courier before moving to Surrey and setting up an organic veg box delivery business.
Her first novel, HUMBUGS AND HEARTSTRINGS, is very loosely based on Dickens' A CHRISTMAS CAROL and was the launch title for Avon's brand new imprint, Maze. Her latest, THE SECRETS OF IVY GARDEN, will be published in April 2017.
Catherine lives with her family in Northumberland.
Author bio and photo taken from the author's Amazon page