Seven Day Spotlight – week ending 26/02/17
This week I have been honoured to have been on two blog tours for two fabulous books. The first was Sealskin by Su Bristow, a magical story about the legend of the Selkies, and the second was for Bad Little Girl by Frances Vick, a psychological thriller with a difference.
I've had a very restrained week for acquisitions – I'm really pleased as it means this post doesn't take as long to write!!! Let's see if I can tempt any of you with any of this week's books.
The Vanishing of Audrey Wilde by Eve Chase – author of Black Rabbit Hall which I am sure I will like if I ever get round to reading it!
From the present day. . .

Applecote Manor captivates Jessie with dreams of hazy summers in the Cotswolds, the perfect place to bring up her children. But the house has an unsettling history and strange rumours surround the estate. . .

to the fifties. . .

When teenage Margot and her three sisters arrive at Applecote during the heatwave of '59, they find their aunt and uncle still reeling from the disappearance of their daughter, Audrey, five years before. Drawn into the life Audrey left behind and the mystery of her vanishing, the stifling summer takes a shocking, deadly turn.
Will to Live by Rachel Amphlett – there's no link to it on Amazon yet, but while you wait you could read the first one, Scared to Death.
Reputation is everything

When a packed commuter train runs over a body on a stretch of track known to locals as 'Suicide Mile', it soon transpires that the man was a victim of a calculated murder.

As the investigation evolves and a pattern of murders is uncovered, Detective Sergeant Kay Hunter realises the railway's recent reputation may be the work of a brutal serial killer.

With a backlog of cold cases to investigate and attempting to uncover who is behind a professional vendetta against her, Kay must keep one step ahead of both the killer and her own adversaries.

When a second murder takes place within a week of the first, she realises the killer's timetable has changed, and she's running out of time to stop him…

Will to Live is the second book in a new crime thriller series featuring Kay Hunter – a detective with a hidden past and an uncertain future…

If you like Angela Marsons, Peter James and Robert Bryndza, you will love Rachel Amphlett's new series.
From the Shadows by Neil White – creepy cover, right?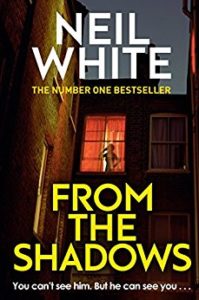 He hides in the shadows, watching, waiting, until the time is right . . .

Mary Kendricks, a smart, pretty, twenty-four-year-old teacher, has been brutally murdered and Robert Carter is accused of killing her.

When defence lawyer, Dan Grant inherits Carter's case only weeks before the trial starts, everyone expects him just to babysit it, but Dan's not that kind of lawyer. He'll follow the evidence – wherever it takes him.

But as Dan and his investigator Jayne Brett look into the case, they discover that there is more to it than meets the eye. In order to do their jobs they need to push the limits of the system, even if it means putting themselves in danger.

Together they will get to the truth – whatever the cost . . .
The Dead of Winter by Billy McLaughlin – a novella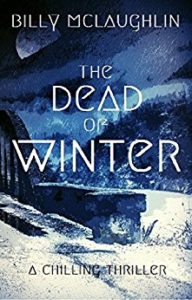 One missing baby! One runaway teenager! Coincidence?

Detective Kevin Wallace doesn't think so. And neither do the residents of Golf Road, who are all too quick to point the finger at a man with severe learning disabilities. As Wallace and a colleague, who has already experienced the ugly nature of this particular community, get closer to the truth they may not like what is hidden behind closed doors.
This Much is True by Jane Sanderson
The one thing keeping her family together is the lie that could tear them apart…

After decades in a deeply unhappy marriage, Annie Doyle can barely bring herself to care that her husband Vince is finally about to die.

But as the family gathers to see out his final days, Vince utters a single word that will change everyone's lives forever:

'Martha.'

Who is Martha? And why is Annie so quick to dismiss the mention of her name?

As Annie's long-held secrets start to emerge, the lives of everyone she holds dear will be changed forever.
A Talent for Murder by Andrew Wilson
'I wouldn't scream if I were you. Unless you want the whole world to learn about your husband and his mistress.'

Agatha Christie, in London to visit her literary agent, boards a train, preoccupied and flustered in the knowledge that her husband Archie is having an affair. She feels a light touch on her back, causing her to lose her balance, then a sense of someone pulling her to safety from the rush of the incoming train. So begins a terrifying sequence of events. Her rescuer is no guardian angel; rather, he is a blackmailer of the most insidious, manipulative kind. Agatha must use every ounce of her cleverness and resourcefulness to thwart an adversary determined to exploit her genius for murder to kill on his behalf.