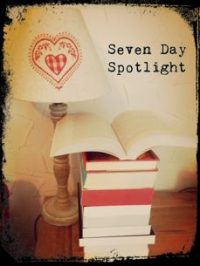 Seven Day Spotlight – week ending 25/12/16
So, just in case you are all sat around, stuffed with turkey and pigs in blankets and wondering what to spend your Christmas money on, or are just bored and looking for something to do, I thought I would post this as usual but just a day later than normal. Hope you all had a tremendous Christmas.  We are surrounded by Thomas the Tank Engine and his friends!
This week I reviewed The Phantom Tree by Nicola Cornick which I thought was a fantastic read.  Watch out for the guest feature on publication day (29th December) where she talks about how she weaves together fact and fiction.
I thought I was going to have a very quiet week in terms of acquisitions but alas it was not to be.  A number of review books coming through and the 12 Days of Kindle sale made my list just as long as ever.
Review books:
Everything but the Truth by Gillian McAllister
It all started with the email.

It came through to her boyfriend's iPad in the middle of the night. Rachel didn't even mean to look. She loves Jack, and she's pregnant with their child. She trusts him. But now she's seen it, she can't undo that moment, or the chain of events it has set in motion.

Why has Jack been lying about his past? Just what exactly is he hiding? And doesn't Rachel have a right to know the truth at any cost?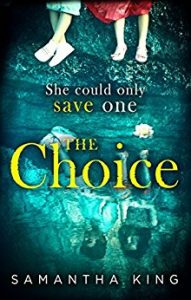 For fans of The Couple Next Door, I See You and The Widow, The Choice is a hypnotic suspense debut from a remarkable new talent and explores the terrifying Sophie's Choice scenario: What if you had to choose between your children?

Then:

Madeleine lived for her children. She'd always believed she'd die for them, too. But on the morning of her twins' tenth birthday her love was put to the test when a killer knocked on their door and forced her to make a devastating choice: which child should live, and which should die – her son, or her daughter?

Now:

Madeleine stands silent on the periphery of her now fractured family, trying desperately to unravel why her world was so suddenly blown apart. But while everyday life continues around her, memories of everything leading up to that tragic day return in agonising flashes.

And that's when she realises her family's life still hangs terrifyingly in the balance…
Dare to Remember by Susanna Beard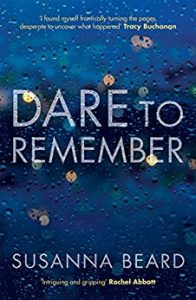 Reeling from a brutal attack that leaves her best friend dead and her badly injured, Lisa Fulbrook flees to the countryside to recuperate. With only vague memories of the event, she isolates herself from her friends and family, content to spend her days wandering the hills with her dog, Riley.

However, Lisa is soon plagued, not only by vivid flashbacks, but questions, too: how did their assailant know them? Why were they attacked? And what really happened that night?

As she desperately tries to piece together the memories, Lisa realises that there's another truth still hidden to her, a truth she can't escape from. A truth that may have been right in front of her all along.
Bad Little Girl by Frances Vick
'I'm not safe – you have to help me…'

Little Lorna Bell is from a notorious family on a rundown estate. Everyone thinks she's a nasty piece of work. The schoolchildren call her a thief. But Lorna's hair is matted, her shoes pinch her feet and school teacher Claire Penny can't help herself; some kids just need a bit more support, a bit more love, than the rest.

As the bond between teacher and pupil grows stronger, Claire sees Lorna's bruises, and digs to uncover the disturbing tale behind them. Heartbroken, Claire knows she has to act. She must make Lorna safe.

Just when Claire thinks she has protected Lorna, a chance encounter brings enigmatic stranger Marianne Cairns into their lives. Marianne seems generous and kind but there is something about her story that doesn't quite add up. Why does she feel so at home, and why is Lorna suddenly so unsettled?

Claire has risked everything to save Lorna. But what can save Claire from the shocking truth?
Five years ago, Rosa walked to the end of the pier in the dead of night. She looked into the swirling water, and jumped. She was a brilliant young Cambridge student who had just lost her father. Her death was tragic, but not unexpected.

Was that what really happened?

The coroner says it was. But Rosa's boyfriend Jar can't let go. He sees Rosa everywhere – a face on the train; a figure on the cliff. He is obsessed with proving that she is still alive. And then he gets an email.

Find me, Jar. Find me, before they do…

Is Rosa really dead? And, if she is, who is playing games with the ones she left behind?
Let The Dead Speak by Jane Casey – I love the Maeve Kerrigan series so snapped this up. = Just need to catch up with the previous one first.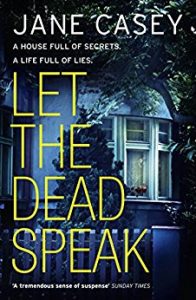 A murder without a body
Eighteen-year-old Chloe Emery returns to her West London home one day to find the house covered in blood and Kate, her mother, gone. There may not be a body, but everything else points to murder.

A girl too scared to talk
Maeve Kerrigan is young, ambitious and determined to prove she's up to her new role as detective sergeant. She suspects Chloe is holding something back, but best friend Bethany Norris won't let Maeve get close. What exactly is Bethany protecting Chloe from?

A detective with everything to prove
As the team dig deeper into the residents of Valerian Road, no one is above suspicion. All Maeve needs is one person to talk, but that's not going to happen. Because even in a case of murder, some secrets are too terrible to share…
Miss Boston and Miss Hargreaves by Rachel Malik
An enthralling, incredibly moving novel with a crime at its heart, based on the extraordinary life of the author's own grandmother

During the Second World War, Rene Hargreaves leaves her children with her aunt and boards a train without buying a return ticket, so sure is she that she never wants to see her husband again.

Instead she starts a new life as a Land Girl on Starlight Farm. She finds its owner Elsie Boston and her country ways strange at first, yet as their relationship develops they become inextricably dependent on each other, long after the war has ended. When their shared life is suddenly threatened by a visitor who comes to stay, and something that happens not long after, they must begin to fight a war of their own against not just their community, but the nation's press, and the full force of the law.
A Kindle freebie, for children but I thought it sounded lovely.
Lotte's War: Bunkers, Bombs and Barrage Balloons by Lotte Moore
Lotte's War tells the story of one 5-year-old girl's experiences living in Britain during the Second World War. The war was a time of hardship, heroism and hope. As a child, Lotte may not have been fully aware of the dangers and struggles around her, but her memories of rationing, evacuation, barrage balloons, bombing, blackouts and bunkers give an incredible insight into life during wartime Britain. Lotte's War shows what children did, how they survived rationing, how they coped as evacuees, and what they felt about the war. Lotte talks about the bravery shown by people and the amazing friendships that she made. Lotte Moore shares her memories of an incredible life with today's young generation, so they can experience a unique view of Britain through the eyes of a child in World War II.
Kindle bargains:
Best Seller: A Tale of Three Writers by Terry Tyler
Three women, one dream: to become a successful author.

Eden Taylor has made it—big time. A twenty-three year old with model girl looks and a book deal with a major publisher, she's outselling the established names in her field and is fast becoming the darling of the media.

Becky Hunter has money problems. Can she earn enough from her light-hearted romance novels to counteract boyfriend Alex's extravagant spending habits, before their rocky world collapses?

Hard up factory worker Jan Chilver sees writing as an escape from her troubled, lonely life. She is offered a lifeline—but fails to read the small print…

In the competitive world of publishing, success can be merely a matter of who you know—and how ruthless you are prepared to be to get to the top.
Tiggy by Miss Read – this one has been on my wish list for ages so I was pleased to see it come up this week.
An enchanting true story about a cat who came to stay by the bestselling author of the Fairacre series.

'Never again,' they said, when their beloved cat was run down on the busy road near the cottage where they lived.

But they hadn't reckoned on Tiggy. A stray cat fiercely protective of her kittens, Tiggy was soon befriended by Miss Read – although it took some time before Tiggy allowed her kittens to go anywhere near the house.

Written with the charm that made Miss Read a bestseller, this delightful book tells how a small stray cat, struggling to look after her kittens, won a home, a hearth and a name from the author and her husband. Tiggy's resourcefulness, perseverance and indomitable spirit are beautifully observed, and Miss Read's affectionate admiration of the newcomer will touch the hearts of cat lovers everywhere.
Black flowers for the missing ones mean they're never coming back…

This is not a story about a girl who disappears.
This is the story of a little girl who comes back.

As if from nowhere, she appears one day on a seaside promenade, with a black flower and a horrifying story about where she's been. But telling that story will start a chain reaction of dangerous lies and deadly illusions that will claim many more victims in the years to come.

When Neil Dawson's father commits suicide, he is obviously devastated. But through his grief, Neil knows something isn't right. Among his father's possessions, he finds a copy of an old novel, The Black Flower. Opening it will take Neil into an investigation full of danger, pain and subterfuge. Hannah Price is also mourning her father, having followed his footsteps into the police force. When she gets assigned to Neil's father's case, it will lead her on a journey into her own past and to the heart of a shattering secret.
The Co-op's Got Bananas: A Memoir of Growing Up in the Post-War North – if this book is anything like as engaging as the memoirs of Hunter Davies' late wife, Margaret Forster, then I'm in for a treat.
Despite the struggle to make ends meet during the tough years of warfare in the 1940s and rationing persisting until the early 1950s, life could still be sweet. Especially if you were a young boy, playing football with your pals, saving up to go to the movies at the weekend, and being captivated by the latest escapade of Dick Barton on the radio. Chocolate might be scarce, and bananas would be a pipe dream, but you could still have fun. In an excellent social memoir from one of the UK's premier columnists over the past five decades, Hunter Davies captures this period beautifully. His memoir of growing up in post-war North of England from 1945 onwards, amid the immense damage wrought by the Second World War, and the dreariness of life on rationing, very little luxuries and an archaic educational system, should be one that will resonate with thousands of readers across Britain.
The Plumberry School of Comfort Food by Cathy Bramley
Verity Bloom hasn't been interested in cooking anything more complicated than the perfect fish finger sandwich, ever since she lost her best friend and baking companion two years ago.

But an opportunity to help a friend lands her right back in the heart of the kitchen. The Plumberry School of Comfort Food is due to open in a few weeks' time and needs the kind of great ideas that only Verity could cook up. And with new friendships bubbling and a sprinkling of romance in the mix, Verity finally begins to feel like she's home.

But when tragedy strikes at the very heart of the cookery school, can Verity find the magic ingredient for Plumberry while still writing her own recipe for happiness?
Seven Steps to Happiness by Stella Newman – I loved The Dish by the same author.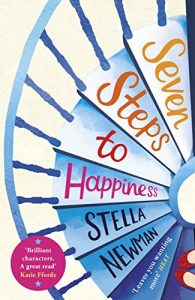 Is there a formula for happiness?

If it's Netflix, two-for-one Malbec and the perfect toasted-cheese sandwich, Lenny has it covered. But when her friend Juliet finds herself at rock bottom, Lenny realises it's going to take more than that to fix her.

Luckily help is at hand in the form of HappyGuru: a plan which promises happiness in seven easy steps. So when Lenny is asked to research it, she puts scepticism aside and persuades Juliet they should give it a go.

The friends quickly find themselves immersed in mindfulness, juice cleanses and death-defying circus stunts. Yet as Juliet becomes increasingly buoyant, things only get more complicated for Lenny.

Can it be that happiness is only seven steps away?
And then I got two books for Christmas.  I had asked for Twelve Doctors of Christmas and got surprised with Time Lord Fairy Tales.  I'm already well stuck into the former and am enjoying the time travel adventures.  Both are gorb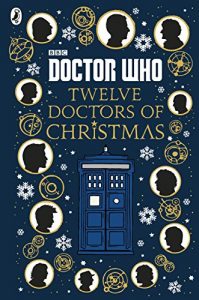 Have I managed to tempt you with any of these?