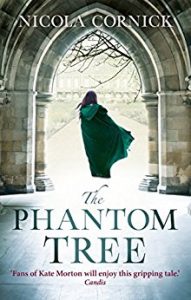 The Phantom Tree by Nicola Cornick @NicolaCornick @HQStories
"My name is Mary Seymour and I am the daughter of one queen and the niece of another."

Browsing antiques shops in Wiltshire, Alison Bannister stumbles across a delicate old portrait – supposedly of Anne Boleyn. Except Alison knows better… The woman is Mary Seymour, the daughter of Katherine Parr who was taken to Wolf Hall in 1557 as an unwanted orphan and presumed dead after going missing as a child.

The painting is more than just a beautiful object from Alison's past – it holds the key to her future, unlocking the mystery surrounding Mary's disappearance, and the enigma of Alison's son.

But Alison's quest soon takes a dark and foreboding turn, as a meeting place called the Phantom Tree harbours secrets in its shadows…
I do love a dual time frame book and The Phantom Tree definitely fits the bill.  We follow Alison Bannister as she finds a portrait hanging in a gallery.  She knows it's Mary Seymour, daughter of the late Queen, Katherine Parr, and it's exactly what she has been looking and waiting for.  That's the story in the present day and then we also have the story of Mary herself in the mid-1500s as she struggles to survive in a precarious world.  But The Phantom Tree also has an extra factor and I'm not going to reveal what it is.  It becomes clear very early on in the book and I found it completely unexpected so I hope it has the same effect on other readers.
Being more partial to contemporary stories I usually enjoy the present day strand in dual time frame books more than the one in the past but in this case I think I was more captivated by the brilliantly drawn Mary, who is such an interesting character.  She's quietly feisty with some hidden facets to her personality.  However, I did also find Alison's story compelling as she investigates what happened to Mary and tries to uncover the meaning of the imagery in the portrait and the mysterious contents of a box found with it.
Fact and fiction are weaved together beautifully by Nicola Cornick.  I didn't know when I was reading it how much was based on fact but it certainly piqued my interest and I would like to know more about the characters in the 1500s.  I started off enjoying this book and then found myself completely pulled into it to the extent that I felt absolute amazement at one plot development and immense sadness at another.  I really cared about the main players.
I found this to be a fascinating read, full of twists and turns.  The two different periods are weaved together effortlessly to make an absolutely gripping read.  I loved it!
With thanks to the publishers and Netgalley for the review copy.  The Phantom Tree is published on 29th December 2016 by HQ at Harper Collins.
***Look out for my guest post from Nicola Cornick coming soon.***