Seven Day Spotlight – w/e 07/05/17
As predicted, it was quite a quiet week on my blog. Next week is going to be much busier. This week I was on the blog tour for The Blood Detective by Dan Waddell. See my review here. I also took part in the cover reveal for One to Watch by Rachel Amphlett and posted a link to my Author Meets Reviewer Q&A with Isabel Ashdown on the Nudge website.
Not so quiet for acquisitions though, although it could be a lot worse.
One to Watch by Rachel Amphlett – it's a fab cover isn't it? The whole series sounds brilliant.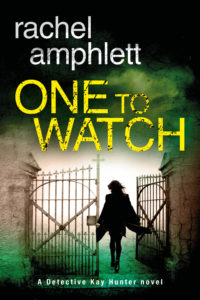 Sophie Whittaker shared a terrifying secret. Hours later, she was dead.

Detective Kay Hunter and her colleagues are shocked by the vicious murder of a teenage girl at a private party in the Kentish countryside.

A tangled web of dark secrets is exposed as twisted motives point to a history of greed and corruption within the tight-knit community.

Confronted by a growing number of suspects and her own enemies who are waging a vendetta against her, Kay makes a shocking discovery that will make her question her trust in everyone she knows.
The Silence by Katharine Johnson – The Tuscan setting really appeals to me about this one and you can pre-order it for only £1.99.
Doctor Abby Fenton has a rewarding career, a loving family, an enviable lifestyle – and a secret that could destroy everything.

When human remains are discovered in the grounds of an idyllic Tuscan holiday home she is forced to confront the memories she has suppressed until now and relive the summer she spent at the villa in 1992. A summer that ended in tragedy. The nearer she gets to the truth the closer she comes to losing her sanity.

In order to hold onto the people she loves most, she must make sure they never discover what she did. But the reappearance of someone else from that summer threatens to blow her secret wide open.
The Big Little Wedding in Carlton Square by Lilly Bartlett – currently free
When Emma's boyfriend Daniel pops the question with a ring the size of a small country, she suddenly realises just how different they are. She's the Eastenders to his Made in Chelsea. She wants a low-key wedding with close friends and family in Uncle Colin's pub, while Daniel's mother is expecting a society do that their high-brow guests won't forget!

How on earth can Emma put together a celebration fit for Lords and Ladies on a shoestring budget? Not to mention the fact her cross-dressing Uncle Barbara wants to be a bridesmaid, her best mate Kelly can't stand Daniel's best friend Cressida, and her dad is too proud to accept any help from Daniel's family towards the costs.

There's three months to go until the big day. Will Emma's happy-ever-after end in disaster?
and The Second Chance Cafe in Carlton Square by Lilly Bartlett – available for pre-order at 99p.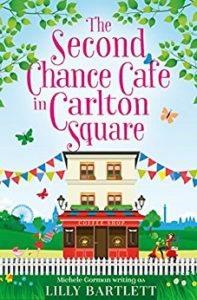 One chance isn't always enough…

Everyone expects great things from Emma Billings, but when her future gets derailed by an unexpected turn of events, she realizes that getting back on track means traveling in a different direction.

She finds that new path in the closed-down pub on Carlton Square. Summoning every ounce of ingenuity, and with the help of her friends and family, she opens the Second Chance Café. The charity training business is meant to keep vulnerable kids off the streets and (hopefully) away from the Metropolitan Police, and her new employees are full of ideas, enthusiasm … and trouble. They'll need as much TLC as the customers they're serving.

This ragtag group of chancers have to make a go of a business they know nothing about, and they do get some expert help from an Italian who's in love with the espresso machine and a professional sandwich whisperer who reads auras, but not everyone is happy to see the café open. Their milk keeps disappearing and someone is canceling the cake orders, but it's when someone commits bloomicide on all their window boxes that Emma realizes things are serious. Can the café survive when NIMBY neighbors and the rival café owner join forces to close them down? Or will Emma's dreams fall as flat as the cakes they're serving?
Silver by Mark Fowler – this is not the first book by this author that has caught my eye because of its unusual storyline – 99p at the moment.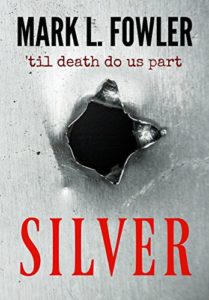 A writer murdered.

A reader with a dangerous obsession. 

A killer who shouldn't exist. 

When romance novelist Joy Haversham is murdered she leaves behind a husband, daughter and Silver,  a disturbing, unfinished manuscript the publishing world are desperate to read. But her grieving husband,  Roger, refuses to allow publication. Roger wants to lock himself away with his memories. But the fans have other ideas.

Nick Slater, a former reporter and successful novelist who covered the trial, remains obsessed with the unanswered questions surrounding Joy's death. Determined to learn the truth Nick finds himself in trouble. And the evidence he will find is … impossible.
Hygge and Kisses by Clara Christensen – I got this on Netgalley but didn't realise it was only the first few chapters. It sounds lovely and hygge is very current.
The perfect feel-good novel to curl up with – light some candles, wrap yourself in a blanket and relax …

Bo, 26, has always been careful, cautious. However, she's just been made redundant and her life plan is beginning to unravel. Before she starts immediately applying for other jobs in a panic, her friend Kirsten persuades her to take a holiday, to visit Kirsten's mother's house in Aslbrog, North Jutland, a part of Denmark Bo is ashamed to admit she has never heard of.

'What's the weather going to be like?' she asks Kirsten hopefully, scrolling her cursor over the budget airlines webpage. 'Terrible,' Kirsten replies, 'London is positively Mediterranean by comparison, and of course it's November so it'll be dark seventeen hours a day. But no one goes to Denmark to get a tan. You need a change of scene and to blow away the cobwebs, and trust me, Skagen will do that. Besides, the summerhouse is cosy whatever the weather, and you never know who else will be around.'

A few clicks later and there is no going back. And Bo's life plan is about to be entirely rewritten.
Seven Days in May by Kim Izzo – I think this one sounds like a fascinating book.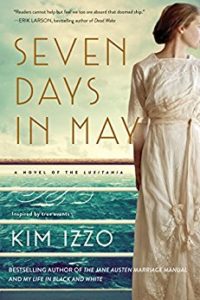 As the First World War rages in continental Europe, two New York heiresses, Sydney and Brooke Sinclair, are due to set sail for England. Brooke is engaged to marry impoverished aristocrat Edward Thorpe-Tracey, the future Lord Northbrook, in the wedding of the social calendar. Sydney has other adventures in mind; she is drawn to the burgeoning suffragette movement, which is a constant source of embarrassment to her proper sister. As international tempers flare, the German embassy releases a warning that any ships making the Atlantic crossing are at risk. Undaunted, Sydney and Brooke board the Lusitania for the seven-day voyage with Edward, not knowing that disaster lies ahead.

In London, Isabel Nelson, a young woman grateful to have escaped her blemished reputation in Oxford, has found employment at the British Admiralty in the mysterious Room 40. While she begins as a secretary, it isn't long before her skills in codes and cyphers are called on, and she learns a devastating truth and the true cost of war.

As the days of the voyage pass, these four lives collide in a struggle for survival as the Lusitania meets its deadly fate.
The American Girl by Rachael English – I keep hearing great things about this one.
Boston 1968. Rose Moroney is seventeen, smart, spirited – and pregnant. She wants to marry her boyfriend. Her ambitious parents have other plans. She is sent to Ireland, their birthplace, to deliver her daughter in a Mother and Baby home – and part with her against her will.

Dublin 2013. Martha Sheeran's life has come undone. Her marriage is over, and her husband has moved on with unsettling speed. Under pressure from her teenage daughter, she starts looking for the woman who gave her up for adoption more than forty years before.

As her search leads her to the heart of long-buried family secrets, old flame Paudie Carmody – now a well-known broadcaster – re-enters the frame.

From Boston to rural Ireland; from Dublin back to Boston, The American Girl is a heart-warming and enthralling story of mothers and daughters, love and cruelty and, ultimately, the embrace of new horizons.
Obsession by Amanda Robson – another one I keep hearing about and only 99p.
One evening, a wife asks her husband a question: who else would you go for, if you could?

It is a simple question – a little game – that will destroy her life.

Carly and Rob are a perfect couple. They share happy lives with their children and their close friends Craig and Jenny. They're lucky. But beneath the surface, no relationship is simple: can another woman's husband and another man's wife ever just be good friends?

Little by little, Carly's question sends her life spiralling out of control, as she begins to doubt everything she thought was true. Who can she trust? The man she has promised to stick by forever, or the best friend she has known for years? And is Carly being entirely honest with either of them?

Obsession is a dark, twisting thriller about how quickly our lives can fall apart when we act on our desires.

Perfect for fans of B A Paris and Paula Hawkins.
The Library at the Edge of the World by Felicity Hayes-McCoy – I couldn't resist this one with it being about libraries and it's only £1.99 at the moment.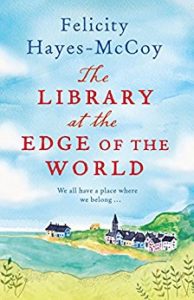 Local librarian Hanna Casey is wondering where it all went wrong …
Driving her mobile library van through Finfarran's farms and villages, she tries not to think of the sophisticated London life she abandoned when she left her cheating husband. Or that she's now stuck in her crotchety mum's spare bedroom.
With her daughter Jazz travelling the world and her relationship with her mother growing increasingly fraught, Hanna decides to reclaim her independence.
Then, when the threatened closure of her library puts her plans in jeopardy, she finds herself leading a battle to restore the heart and soul of the fragmented community.
Will she also find the new life she's been searching for?
Do let me know if you have any thoughts about any of these.