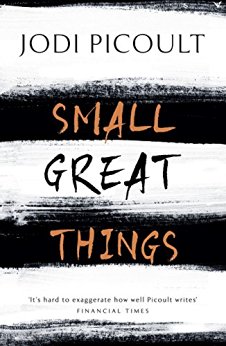 Small Great Things by Jodi Picoult
Jodi Picoult is one of those hit and miss authors for me. She's written what I think are brilliant books (The Storyteller, Leaving Time) but some of her others don't grab me in the same way.
Small Great Things follows Ruth Jefferson, a black labour and delivery nurse. She is part of a small team and is the only black member of that team. When a couple, Turk and Brit Bauer, who are white supremacists, come into the hospital to have their baby Ruth is not on duty but when she is assigned to them after the birth they ask that she does not have contact with their baby or care for him. When their baby later dies after a routine procedure Ruth finds herself being held responsible.
Ultimately this is a book that is all about prejudice, looking at it from both sides. I must admit it was quite an eye-opener for me and it certainly made me think. But it was also quite a slow read and I have to say I didn't fully engage with the characters, despite the emotive subject matter. The lawyer, Kennedy McQuarrie was probably my favourite because I liked her style. I really felt for Ruth but somehow didn't quite sympathise with her in the way I think the author intended, and I think she could have been better drawn. And the Bauers, well they were totally unlikeable as you might expect. The book ended on an unexpected note and I'm still not sure what I make of it.
There was a section that moved me to tears and Jodi Picoult certainly does have the power in her writing to pull on the heartstrings. Sometimes though, it feels like she is going through a list of controversial topics and ticking them off one by one. I wonder what will be next.
3/5
With thanks to the publishers and Netgalley for the review copy.  Small Great Things is published on 22nd November 2016 by Hodder & Stoughton.