ShortBookandScribes #PublicationDay #BookReview – The Surplus Girls by Polly Heron @CorvusBooks
I'm delighted to be reviewing The Surplus Girls today, on Publication Day!! Happy Publication Day to Polly Heron and my thanks to Corvus for the copy of the book for review purposes.
---
After the loss of war, can there be hope for the future?

Manchester, 1922.

Belinda Layton is a surplus girl. One of the many women whose dreams of marriage perished in the Great War, with the death of her beloved fiancé, Ben. After four years of mourning, she's ready to face the future, even though Ben's family is not happy to see her move on, and her own only cares about getting hold of her meagre factory wages.

Then, Belinda joins a secretarial class and a whole new world opens up to her as she quickly finds herself drawn to beguiling bookshop owner Richard Carson. But after all the loss and devastation she has experienced, can she really trust him with her heart?
---

I love a saga and that period after the First World War is such an interesting one, both for returning soldiers and the women who all of a sudden found themselves contemplating a future with no men left to marry. Therefore I was very drawn towards The Surplus Girls.
It's Manchester in 1922 and Belinda Layton is a mill worker. Having lost her fiancé in the war, she's faced with a life of having to fend for herself and for that reason she wants to try and better herself by getting an office job. But at 20 she's considered too old for the office junior jobs which are the starting point in office work so she joins the brand new business school set up by Miss Hesketh and Miss Patience Hesketh (that's how they introduce themselves as Patience is the younger of the two spinster sisters) hoping to improve her situation in life.
Poor Belinda. She's stuck between a rock and a hard place really. She has a difficult family background so she's always trying to help out there, but she lives with her late fiancé's mother and grandmother who are determined to prolong their mourning forever, including Belinda in that lifelong mourning. Imagine, a 20 year old unable to wear colour, unable to move on to another relationship. Belinda is such a lovely character even though her situation would try the patience of a saint! Thankfully, she is able to find a new position in a bookshop and this leads to all sorts of new experiences for her.
I thought the characters in this book were very well drawn and from all walks of life. I think the most interesting were the Misses Hesketh, middle-aged and well to do, yet actually rather poor. Despite that, they constantly tried to help others including Belinda and her family.
The author has plotted her story well and really highlighted how different life was only just over 100 years ago. There's also a clever little twist towards the end. I liked that there was such positivity in the story despite the circumstances in which the characters found themselves. This is my first book by this author (in either of her guises) and I'd definitely read another as this was a really pleasant and engaging read.
---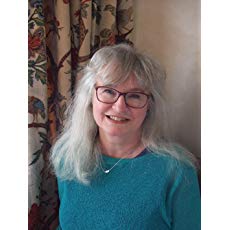 Polly Heron lives on the beautiful North Wales coast with her husband and their two rescue cats. She is originally from Chorlton-cum-Hardy in Manchester, where her family has lived for several generations and which provides the setting for her family sagas.
The Surplus Girls series focuses on the young women whose lives were changed for ever by the Great War. The huge loss of life among the soldiers meant that many girls lost potential husbands and a generation of young women found themselves in the position of having, without the necessary training or education, to face a future of fending for themselves.
Polly Heron also writes as Susanna Bavin.
Author bio and photo taken from Amazon