ShortBookandScribes #PublicationDay #BookReview – The Family Holiday by Elizabeth Noble #BlogTour
It's been lovely to read an Elizabeth Noble novel again. It feels like too long since I last read one. It's publication day today so congratulations, Elizabeth! My thanks to Ella Watkins from Michael Joseph for the place on the tour and the fabulous proof copy of the book for review purposes.
---

---
The Chamberlain family used to be close.

Charlie and Daphne were happily married, and their children Laura, Scott and Nick were inseparable. But then, inevitably, the children grew up and their own messy lives got in the way.

Since Daphne died, Charlie can't help but think about happier times for the Chamberlain family – before his children drifted apart. His wife was the family's true north, and without her guidance, Charlie fears his kids have all lost their direction.

For his eightieth birthday, all Charlie wants is to bring his family together again. And by some miracle, they've all said yes.

So, for the first time in a long time, the Chamberlains are going on a family holiday.

It's only ten days . . . how bad could it be?
---
---
An Elizabeth Noble book is a bit like a warm hug. It envelops you completely and makes you feel all fuzzy inside.
Would you want to go on holiday with your whole extended family? Parents, siblings and children? I guess some families would enjoy it more than others. When Charlie Chamberlain is about to be 80 years old he decides that he would like to get all of his family together for a big celebration, and why not make it a holiday?
So Charlie, along with his children, Laura, Scott and Nick and their own families, descend on a beautiful Cotswold house for ten days. What can go wrong? Well in actual fact, very little. There's the usual family dramas but overall this is a heart-warming family story, filled with the odd squabble but mostly love and kindness for each other.
It's quite a large book at 400+ pages and there's a fair bit of setting up the characters and their situations before the holiday begins, but I felt this was necessary to introduce everybody and their individual set up before putting them into an extended family environment. Charlie is a delight, but is a bit lost without his late wife, Daphne. Laura's marriage has ended, Scott's is just beginning, and Nick has suffered a tragedy. Each has their cross to bear but the holiday is just what they need to heal them.
The chapters are fairly short and each one focuses on one of the family members. I think the changing perspective meant I couldn't race through the book but the writing certainly flowed beautifully.
The Family Holiday is written with Noble's customary warmth and tenderness. It's thoughtful and sensitive, dealing with some sad themes but it's ultimately uplifting. A tear did come to my eye at one point, but ultimately I closed the book feeling satisfied and pleased for the characters (oh and with maybe a tiny crush on Joe). This book was a delight to read.
---

---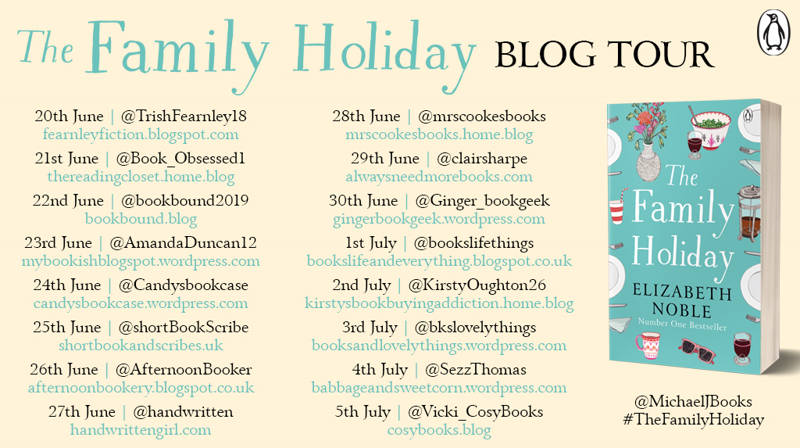 ---

---
Elizabeth Noble is the author of several previous Sunday Times bestsellers: The Reading Group, which reached Number One, The Friendship Test (formerly published as The Tenko Club), Alphabet Weekends, Things I Want My Daughters to Know, The Girl Next Door, The Way We Were, Between a Mother and her Child and Love, Iris. Her last two books were also Richard & Judy Book Club selections. The Family Holiday is her ninth novel. She lives in Surrey.