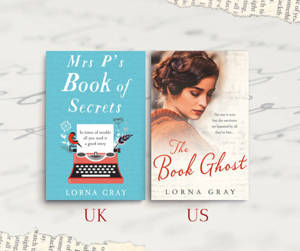 ShortBookandScribes #PublicationDay #BookReview – Mrs P's Book of Secrets by Lorna Gray @MsLornaGray @0neMoreChapter_ #30DaysofBookBlogs
I'm very pleased to be taking part in Lorna Gray's #30DaysofBookBlogs today with a review of her new book, Mrs P's Book of Secrets. And it's publication day so congratulations Lorna, I hope you have a wonderful day and thank you for asking me to read your book and be a part of your book blogger appreciation.
---

The Cotswolds, Christmastime 1946

A young widow leaves behind the tragedy of her wartime life, and returns home to her ageing aunt and uncle. For Lucy – known as Mrs P – and the people who raised her, the books that line the walls of the family publishing business bring comfort and the promise of new beginnings.

But the kind and reserved new editor at the Kershaw and Kathay Book Press is a former prisoner of war, and he has his own shadows to bear. And when the old secrets of a little girl's abandonment are uncovered within the pages of Robert Underhills's latest project, Lucy must work quickly if she is to understand the truth behind his frequent trips away.

For a ghost dwells in the record of an orphan girl's last days. And even as Lucy dares to risk her heart, the grief of her own past seems to be whispering a warning of fresh loss…

Mrs P's Book of Secrets will be published in the US as The Book Ghost.
Mrs P's Book of secrets is on Amazon UK
The Book Ghost is on Amazon.com
---
I'm quite clear on what initially drew me to this book. It was the family publishing business amidst the post-war paper rationing. I thought it was a unique and interesting focus for a story. Set in 1946, Mrs P's Book of Secrets is a complex and intriguing tale.
Mrs P is Lucinda Peuse, working at her uncle's publishers. I had to smile as she worried about whether people were calling her Mrs P or Mrs Pea. She's a war widow and so has returned to her aunt and uncle's only to find that Robert Underhill is now living there and has also taken a job as editor at the publishers leaving her to step down to a secretarial role and live above the 'shop' so to speak.
This book is set in a really interesting time. The war has just ended but it took a long time for things to get back to normal afterwards. One thing that comes across from early on is how qualified Lucy is to do an editor's job and yet her uncle has passed her over for a man. I expect he wouldn't get away with it now! I did like Lucy's little bit of feistiness, her little digs at Robert when it seemed like he might be patronising her (although I'm not sure he actually was).
There's also a side story, a mystery surrounding the disappearance of a young girl which comes to light when Lucy meets an author, although in actual fact this is not really a mystery read, more a look at how people coped trying to return to everyday life after the devastation of a war.
Lorna Gray's writing is elegant and in depth. I felt like her prose could have been written in the era the book is set. It has that feel about it, a sense of a simpler time in many ways, even though the after war years were so difficult. There feels like none of the frantic pace of modern day life in this story. This modern day reader would perhaps have preferred a slightly faster paced read but that is personal taste and this book would definitely suit those who like to immerse themselves in a book and savour every word.
I will admit this book wasn't quite what I expected. I think I had in mind a fairly light-hearted story whereas it's much more serious. It's also a book that needs a fair amount of concentration to get to the heart of the story. Nevertheless, Gray has a flair for description and has clearly done her research to transport the reader back to the post-war era.
---

Lorna Gray is passionate about understanding the past and takes much of her research from spoken history. She loves the fact that writing gives her the excuse to ask people about their memories, and treasures the unique little insights that every new conversation has to offer.
She writes post-WWII fiction and is published by an imprint of Harper Collins. Her titles are In the Shadow of Winter, The War Widow, The Antique Dealer's Daughter and newest release Mrs P's Book of Secrets.
She is also a published illustrator and her work has featured in a number of archaeological reports, children's books and non-fiction titles.
Above all, Lorna loves a good adventure. She doesn't mind whether it comes in the form of a good book, a film or rambling about the ruins of a castle as long as it is guaranteed to have a happy ending. She is married and lives in the Cotswolds, UK. She is very active on Facebook and would be delighted to meet you there.