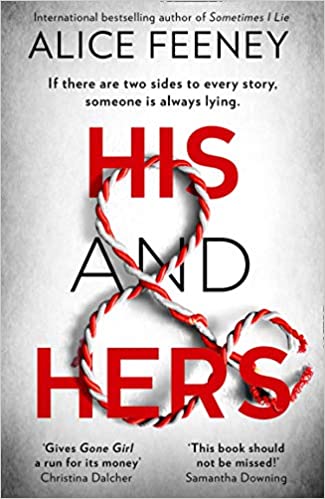 ShortBookandScribes #PublicationDay #BookReview – His and Hers by Alice Feeney @HQstories
I'm sharing my review of His and Hers by Alice Feeney today as part of the publication day blogger takeover. This book is amazing! My thanks to HQ for sending me a proof copy of the book for review purposes.
---

---
If there are two sides to every story, someone is always lying…

Jack: Three words to describe my wife: Beautiful. Ambitious. Unforgiving.
Anna: I only need one word to describe my husband: Liar.

When a woman is murdered in Blackdown village, newsreader Anna Andrews is reluctant to cover the case. Anna's ex-husband, DCI Jack Harper, is suspicious of her involvement, until he becomes a suspect in his own murder investigation.

Someone is lying, and some secrets are worth killing to keep.
---

---
Wow, what a book. What. A. Book!
This is my first Alice Feeney book and I'm annoyed, seriously annoyed, that I haven't read her first two yet. His and Hers is absolutely fantastic.
It gets off to a flying start with Anna Andrews turning up for her work as a BBC news presenter. Straightaway I was intrigued. I don't think I'd ever given any thought to how news programmes are made up, the newsreader writing their own content, reporters vying to get airtime etc. Unfortunately, by the end of the day Anna is no longer the news reporter and is back out in the field, sent to the small village of Blackdown to report on the body of a woman found in the woods.
Anna's story is the 'Hers' strand and the 'His' strand is that of DCI Jack Harper, the officer in charge of the investigation and, rather coincidentally, Anna's ex-husband. We hear from each of them in alternate chapters and I can honestly say I didn't want to leave either of them behind each time the attention moved from one to another.
One thing that struck me from the off was the quality of Feeney's writing. I commented to a friend early on that it was going to take me ages to read the book as I kept rereading passages that I marvelled at. I don't necessarily expect that in a psychological thriller. However, it didn't take me ages at all, in fact I raced through it and read the last 100 pages in one hungry gulp, until way past my bedtime. I didn't even want to look at the clock as I knew the spell would be broken. And what an ending. I was totally gripped by the unfolding drama. If I'd not had to be quiet I'd probably have been shouting to myself.
His & Hers is a story that is so twisty and so full of the unexpected. I honestly didn't know who to trust and I kept veering between the various characters as to who was good and who was bad. The author truly kept me guessing right up to the very end with curveball after curveball.
So, to conclude, in case you didn't know, I loved this book! It's intelligent, and it's expertly and tightly plotted with not a single loose thread in the whole story. God, it's just brilliant!
---

---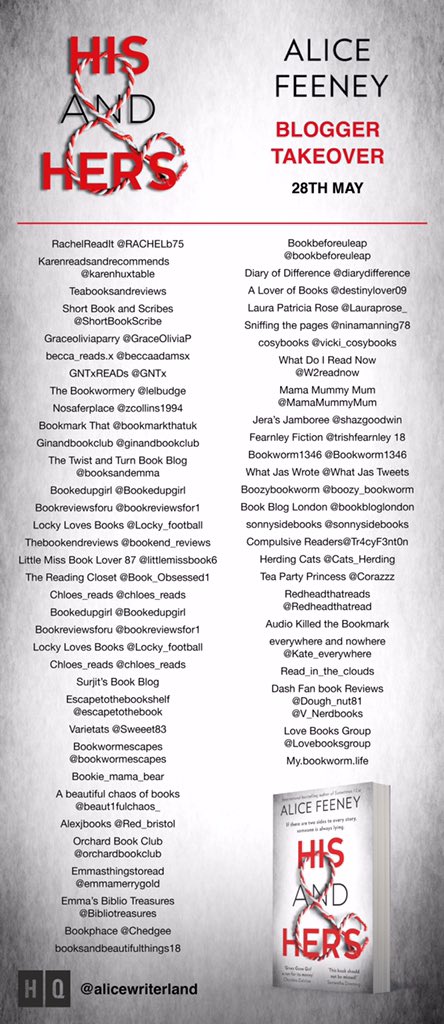 ---
---
Alice Feeney's debut novel, Sometimes I Lie, was a New York Times and international bestseller. It has been translated into over twenty languages, and is being made into a TV series by Ellen DeGeneres and Warner Bros. starring Sarah Michelle Gellar. Her second novel, I Know Who You Are, is out now.
Alice has lived in London and Sydney and has now settled in the Surrey countryside. She writes in her garden shed with her dog, a giant black Labrador who is scared of feathers. Her third thriller, His and Hers, is published in 2020.