ShortBookandScribes #PublicationDay #BookReview – Becoming Ted by Matt Cain #BlogTour
Becoming Ted is published by Headline today in hardcover, eBook and audiobook. Wishing Matt Cain a very happy publication day!
My thanks to Joe Thomas from Headline for sending me a proof copy of the book and for the place on the blog tour.
---

---
A charming, joyful and surprising story about love, friendship and learning to be true to yourself, Becoming Ted will steal your heart.

Ted Ainsworth has always worked at his family's ice-cream business in the quiet Lancashire town of St Luke's-on-Sea.

But the truth is, he's never wanted to work for the family firm – he doesn't even like ice-cream, though he's never told his parents that. When Ted's husband suddenly leaves him, the bottom falls out of his world.

But what if this could be an opportunity to put what he wants first? This could be the chance to finally follow his secret dream: something Ted has never told anyone …
---

---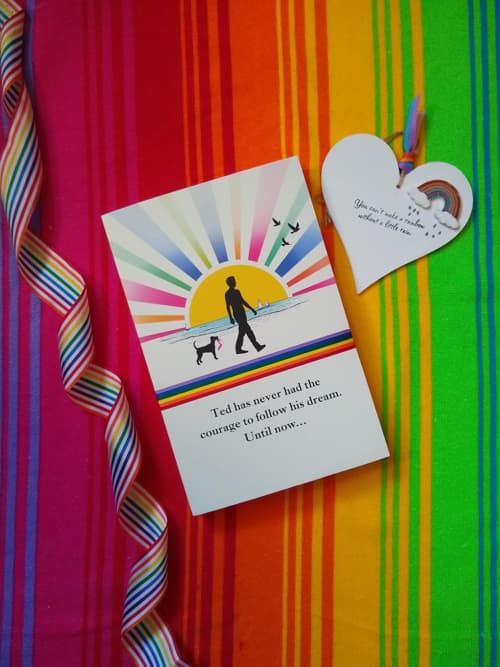 Becoming Ted tells the story of Ted Ainsworth, a kind and gentle man with a side of himself that he's kept hidden away for most of his life. He works in the family business, a drool-inducing ice cream parlour (those flavours!) in a small Lancashire town but it's not his dream. His dream is much bigger and bolder but it's only when his husband leaves him that he starts to unfurl and begins to believe in himself. This rainbow butterfly is about to emerge from his chrysalis!
This book is an absolute delight from start to finish. I thought it was wonderful to follow Ted on his journey and witness his huge transformation (I'm trying not to give anything away but it's quite radical and was so much fun). I loved Ted a lot but I also loved the supporting characters, Stanley, Alison, Denise and Oskar. Each had their own story to tell which not only made them a more rounded character to read about but also fed into Ted's own story and helped him on his way to fulfilling his ambitions. Like an iceberg, there's a lot more to this book than you can see from the surface.
Matt Cain is a wonderful writer. He has a down-to-earth style which makes me laugh out loud and he writes with such warmth and understanding. I particularly appreciated the fact that he didn't feel the need to send Ted down an obvious path with regard to his husband and just let him banish his inner demons and believe in himself.
This story of a man daring to dream and working hard to make his dream come true is joyful and inspirational. Matt Cain has become an author whose books I wouldn't hesitate to pick up and Becoming Ted is, as Ted would say, ACE!
---

---
---
---
Matt Cain is an author, a leading commentator on LGBT+ issues, and a former journalist. He is currently a presenter for Virgin Radio Pride UK, was Channel 4's first Culture Editor, Editor-In-Chief of Attitude magazine, and has judged the Costa Prize, the Polari Prize and the South Bank Sky Arts Awards. He won Diversity in Media's Journalist Of the Year award in 2017 and is an ambassador for Manchester Pride and the Albert Kennedy Trust, plus a patron of LGBT+ History Month. Born in Bury and brought up in Bolton, he now lives in London.