ShortBookandScribes #BookReview – Women of Steel by Michelle Rawlins
I'm so happy to be sharing my thoughts on Women of Steel by Michelle Rawlins today. I enjoyed this book so much. My thanks to the author for very kindly sending me a copy of the book with no expectation of a review.
---

---
True stories of love and loss during WWII, from the tough Northern women who kept the foundry fires burning.

When war broke out, the young women of Sheffield had their carefree lives turned upside down. With their sweethearts being sent away to fight, they had no choice but to step into the men's shoes and become the backbone of the city's steel industry. Through hard toil and companionship, they vowed to keep the foundry fires burning and ensured that soldiers had the weapons, planes and ships needed to secure victory over Hitler.

When the men returned from the front in 1945, many of these women tragically found themselves discarded 'like yesterday's fish and chip wrappers'. But decades later, a grassroots campaign spearheaded by the elderly Women of Steel finally brought their remarkable story to light.

Women of Steel is the last chance to hear these unsung heroines' voices, as they share first-hand how a group of plucky young women rallied together to win the war for Britain.
---

---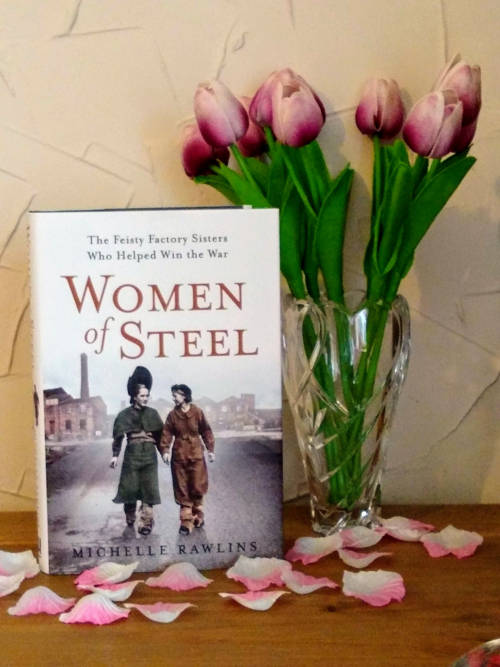 As a born and bred Sheffielder, Women of Steel was a must-read for me. Michelle Rawlins has delved deeply into the lives of the women of Sheffield who kept the steel industry running when the men went to war. Predominantly focusing on the Second World War, the role of women during the First World War is not overlooked.
For a non-fiction book to engage me it has to have an element of warmth, a feeling of not just giving facts but doing so with care and attention. Rawlins has achieved this with Women of Steel and many times I found tears springing to my eyes as I read of what the women and their families endured.
Feisty is the word to describe these incredible women. Some of them chose to sign up to do these jobs in an industry that was exclusively the domain of men until they were called away to war, but some of them were conscripted. Either way, each of them put their back into it and did all they were asked and more. I loved reading of the ways they proved themselves to the foremen and co-workers who didn't think they were capable of the kind of heavy-duty work that was required of them.
Rawlins has done an incredible amount of research and quite clearly enjoyed it all. She spent time with some of the women and their families to build up a real sense of camaraderie and pulling together. There is no doubt that these are the women who helped to win the war.
Whilst I rejoiced in their strength, I was also horrified at what they endured, the hardships, the terrible sights, particularly after the Sheffield blitz, and the psychological effects that their husbands came home with. Several times I had my hand over my mouth with shock.
Women of Steel is a wonderful book. It not only brings wartime in Sheffield to life, but also reminds us that many people did so much behind the scenes and made so many sacrifices. Thankfully the women finally got the recognition they deserved, some 70 years after the end of the war, and now with this book their individual stories are being heard. Michelle Rawlins has such a delightful writing style and I was so pleased to hear she has been commissioned to write a fiction series about the women of steel.
---
---
Michelle is an award-winning journalist with 20 years' experience, based in Yorkshire.
Women of Steel statue image (c) Artaxerxes100. This file is licensed under the 
Creative Commons Attribution-Share Alike 4.0 International license.