ShortBookandScribes #BookReview – Wahala by Nikki May
Today I'm sharing my thoughts about Wahala by Nikki May which will be published by Doubleday in hardback and eBook on 6th January 2022. I highly recommend you get yourself a copy as soon as you can get your hands on one. My thanks to Hayley Barnes for sending me a proof copy for review purposes.
---

---
Ronke, Simi, Boo are three mixed-race friends living in London.
They have the gift of two cultures, Nigerian and English.
Not all of them choose to see it that way.

Everyday racism has never held them back, but now in their thirties, they question their future. Ronke wants a husband (he must be Nigerian); Boo enjoys (correction: endures) stay-at-home motherhood; while Simi, full of fashion career dreams, rolls her eyes as her boss refers to her urban vibe yet again.

When Isobel, a lethally glamorous friend from their past arrives in town, she is determined to fix their futures for them.

Cracks in their friendship begin to appear, and it is soon obvious Isobel is not sorting but wrecking. When she is driven to a terrible act, the women are forced to reckon with a crime in their past that may just have repeated itself.

Explosive, hilarious and wildly entertaining, this razor-sharp tale of love, race and family will have you laughing, crying and gasping in horror. Fearlessly political about class, colourism and clothes, the spellbinding Wahala is for anyone who has ever cherished friendship, in all its forms.
---
---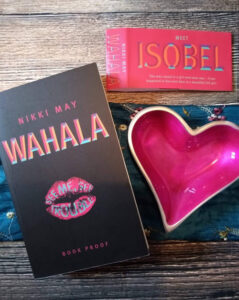 Sex and the City with a killer edge? For fans of Expectation and Queenie? I thought Wahala was sure to be my kind of read and I was right. I absolutely loved every page of it.
Three close friends: Ronke, Boo and Simi. They're all English/Nigerian and embrace both cultures in varying degrees. They're successful and clever but like most people they have their problems and their secrets. The story begins with Isobel, an old friend of Simi's, being introduced to the group and from there the trio's friendship and their individual lives are threatened. Isobel is very much a cuckoo in the nest, although none of them realise it as Isobel is devious and on a mission to divide and conquer.
This is an incredible debut from Nikki May. The writing is astute and exciting, the reader a fly on the wall as each woman is played to great effect by Isobel. The chapters are told alternately from each point of view and I found it fascinating to watch Isobel weaving her web and just waiting for Ronke, Boo and Simi to fly right into it and get caught.
Ronke was my favourite character without a doubt, but each of them is brilliantly portrayed. This book is so real and is a perfect portrayal of the ups and downs of friendships. I loved all the Nigerian cultural references and the traditional food. If you read this book and it makes you hungry then there are a few recipes at the end to try out.
Wahala is a dazzling, rich and effervescent read. It's relevant and full of life, and that aforementioned killer edge was unexpectedly shocking. Just fantastic in every way.
---

---
Born in Bristol and raised in Lagos, Nikki May is Anglo-Nigerian. At twenty, she dropped out of medical school, moved to London, and began a career in advertising, going on to run a successful agency. Her debut novel WAHALA was inspired by a long lunch with friends. It will be published around the world and is due to be turned into a major TV serial. Nikki lives in Dorset with her husband and two standard Schnauzers.