ShortBookandScribes #BookReview – Ting-A-Ling The Old Ambulance by Harry Goldstar @fayerogersuk, @authoright #TingALing #ChildrensBooks
I'm delighted to be taking part in the blog tour for Ting-A-Ling The Old Ambulance by Harry Goldstar today. You can read my thoughts below. My thanks to Faye Rogers for the place on the tour and to Authoright for the review copy of the book.
---

Welcome to the world of Ting-a-Ling. The friendliest old ambulance there ever was. With line drawn illustrations for YOU to colour in helping you to familiarise yourself personally, with Ting-a-Ling, his owner and restorer Alf, his mum, and Mr .Grimsby the boss of the big ambulance station. Open the cover and jump into a whole NEW world of ambulance stories and adventures.

Designed in a quirky style encompassing story telling entertainment colouring and education suitable for both younger readers and adults alike. Truly an all in one compendium. Just like the filling in a sandwich, the best bit's inside.

Simple and easy to read. The stories are written with a smattering of comical northern dialect in bite size chapters so as not to be taxing on the brain.

Have difficulty in reading? Written by a dyslexic who knows what a struggle it can be. This book really is here to help YOU!

If Ting-a-Ling had wings I would say welcome to the flying start. This book is the first in a series in the making where you will meet Ting-a-Ling and his friends.

TRY ME. If not for yourself. Think of someone else. Possibly a little person who the stories are written for.

You will love Ting-a-Ling. EVERYONE does!
---
You actually get two books for your money with Ting-A-Ling The Old Ambulance. The first one tells the story of how ambulance man, Alf, stumbles across an old ambulance in a field one day and decides to rescue and restore it. Once he has done so he rings the bell and the sound it makes is "ting-a-ling", hence the name.
The second story is A Call Sign for Ting-A-Ling. The old ambulance and Alf are invited to an ambulance show where there is a surprise for Alf: the mayor is going to officially name Ting-A-Ling, but not only that, he gets his very own call sign!
The writing is sweet and amusing, and definitely northern I would say. The illustrations are pretty simple pencil drawings but still effective in adding something to the telling of the tales.
All in all, engaging stories which are great for children of around the 5-7 age group.
---

---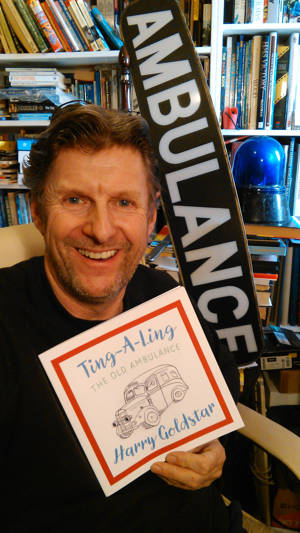 Born in Lincolnshire, the author draws on his northern roots with northern colloquialisms throughout these stories. As a child, the author was diagnosed with a life-threatening disease which he fought head on, however it has affected every day of his life since. A keen lover of older vehicles and all things transportation. The author has a practical, hands on approach, and fascination of how they work along with a love of the tools required in general. The author is an active supporting member of a prestigious living historic steam railway run as a charity for the benefit of others. He is also a volunteer trustee of a disability information service empowering the less able to live better and fulfilling lives and trying to change the perception of disability. He currently resides in King's Lynn.