ShortBookandScribes #BookReview – Tick Tock by Mel Sherratt @writermels @AvonBooksUK #BlogTour
I'm so pleased to be sharing my review of Tick Tock by Mel Sherratt today as part of the blog tour. I loved the first in the DS Grace Allendale series, Hush Hush, and I loved Tick Tock too. My thanks to Sabah Khan from Avon for the place on the tour and for sending a review copy of the book.
---

TICK…

In the city of Stoke, a teenage girl is murdered in the middle of the day, her lifeless body abandoned in a field behind her school.

TOCK…

Two days later, a young mother is abducted. She's discovered strangled and dumped in a local park.

TIME'S UP…

DS Grace Allendale and her team are brought in to investigate, but with a bold killer, no leads and nothing to connect the victims, the case seems hopeless. It's only when a third woman is targeted that a sinister pattern emerges. A dangerous mind is behind these attacks, and Grace realises that the clock is ticking…

Can they catch the killer before another young woman dies?
---
I was so pleased when I heard about Tick Tock, the second book to feature DS Grace Allendale and her colleagues. I loved Hush Hush, the first in the series.
So Grace is back. She's still with Simon, the journalist, which sometimes makes things a little awkward (the relationship between the police and the press is a tricky one) but she's determined to make it work. His daughter, Teagan, isn't all that keen, mind.
When a teenager from a school in Stoke is found murdered during a cross-country run (oh the hell of those!) Grace and her team are called in to investigate. What I do find interesting with these books is that Grace is a DS, so not the highest officer, and yet she's the main character. It's quite unusual I think. Anyway, she's a force to be reckoned with, especially when, a few days later, a woman is found murdered in a similar way. Is this a serial killer?
I think Tick Tock got off to a slower start than Hush Hush but I was soon completely engrossed by it. There's a lot less about Grace's family issues, although they do play a part. What I really enjoyed was the good old-fashioned policing that helps the police to solve the crimes. As one of the characters says, it's often about dotting the i's and crossing the t's.
Short chapters really keep up the pace and kept me turning those pages. Tick Tock is exciting and thrilling, particularly towards the end when the whole thing is coming to a conclusion. I hope there will be another outing for Grace as she's a stellar policewoman and a fabulous character. I really loved Tick Tock.
---

---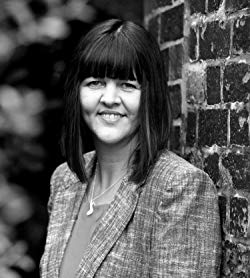 Mel Sherratt has been a self-described "meddler of words" ever since she can remember. She lives in Stoke-on-Trent, Staffordshire, with her husband and her terrier, Dexter (named after the TV serial killer, with some help from her Twitter fans), and makes liberal use of her hometown as a backdrop for some of her writing.
Author photo taken from Amazon